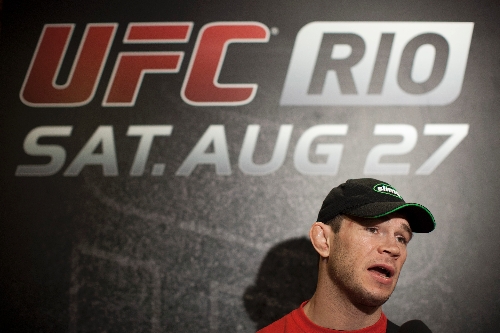 A stunning upset of Mauricio "Shogun" Rua in 2007 was not Forrest Griffin's greatest career accomplishment.
The victory did, however, propel Griffin from popular reality show winner to legitimate Ultimate Fighting Championship contender.
Now the 32-year-old Las Vegan has to do it all over again if he hopes to return to the pinnacle of mixed martial arts. Griffin and Rua will meet for the second time Saturday at UFC 134 in Rio de Janeiro.
In the first meeting, Griffin was viewed as a showcase opponent for Rua, one of the biggest stars in Japan's Pride Fighting Championships. In Rua's UFC debut, U.S. fans figured to watch him steamroll Griffin, the charismatic winner of the first season of "The Ultimate Fighter," and become more marketable for a title shot.
Someone forgot to inform Griffin. He was on his way to a decision victory over Rua before locking in a choke and forcing Rua to tap out with 15 seconds remaining in the fight. Griffin followed by defeating Quinton "Rampage" Jackson to win the light heavyweight title.
"Winning TUF was the biggest thing I've ever done and winning the belt would be the second-biggest thing I've ever done, so (beating Rua) is definitely below those things, but obviously it was pretty big for me at the time," Griffin said. "It's what got me a title shot."
Griffin has heard all the excuses fans and experts gave for how he was able to upset Rua, then widely regarded as the top light heavyweight in the world. Griffin acknowledges that some of those reasons were justified and said Rua, who also went on to win the light heavyweight belt, has grown more comfortable in the UFC.
"That was his first fight in UFC. It was his first fight in a cage. It was his first fight without kicks on the ground," Griffin said. "So, it's different."
After defeating Rua and Jackson, Griffin lost the belt to Rashad Evans and then was embarrassed by Anderson Silva in his next fight.
He has rebounded to win his last two fights, also over former champions in Tito Ortiz and Rich Franklin, and could be a win or two from getting right back into a crowded title picture.
Griffin knows duplicating his victory over Rua won't be easy, especially in his opponent's home country of Brazil, but he said there are no easy fights at the upper levels of UFC anyway.
He just hopes he can catch Rua on another off night.
"You watch Shogun and you see how good he fought against Chuck Liddell and you just try to be ready for that Shogun, not necessarily the Shogun I fought," Griffin said. "It seemed like when he fought Chuck, he was 100 percent on his game. Hopefully, that's not the guy that will show up, but that's the guy you want to be ready for."
The oddsmakers clearly expect a good version of Rua, who will be fighting in his native country for the first time since 2003. He is nearly a minus-250 betting favorite over Griffin.
Contact reporter Adam Hill at ahill@reviewjournal.com or 702-224-5509.