LOS ANGELES — Henry Cejudo thought it was a bad dream.
Perhaps it was just wishful thinking, but when the 2008 Olympic wrestling gold medalist woke up the day after losing his first UFC flyweight title shot to Demetrious Johnson in April 2016 the result didn't seem real.
"I was like, 'When is this fight happening?' " Cejudo recalled with a laugh Thursday at the downtown Sheraton Grand. "I'm not even going to lie. It was brutal.
"It took me a few weeks to get over. Maybe a month. I moved on and when I did, I realized that I just had to get better."
Cejudo had long been tabbed as a massive threat to Johnson's title reign, which is now the longest in UFC history. Yet when he finally got the chance in the cage, he suffered the same fate as all the other challengers who have taken aim at Johnson's belt.
"Two minutes, 49 seconds," Cejudo bluntly states of the time of the knockout in the first round as a result of a knee and a series of punches in his first professional loss that night.
"I actually felt like I cheated Demetrious Johnson out of a good fight," Cejudo said. "That's just the competitor in me. He's a great champion, and I didn't give him my best."
He will get a do-over Saturday night on the main card of UFC 227 at Staples Center. Cejudo insists he won't be the same fighter Johnson crushed two years ago.
While he insists he hasn't been obsessed with Johnson, he traveled the world to discover new and different training methods in order to improve and sharpen his skillset.
"I've done my homework," says Cejudo, who listed in Brazil, Thailand and Holland as places he has spent time preparing for this fight. "I can't wait until Saturday."
Cejudo, 31, was the youngest American to become an Olympic champion in freestyle wrestling when he captured the gold medal in Beijing. He retired from the sport after coming up just short of making the team in 2012, but a few months later announced he would pursue a career in mixed martial arts.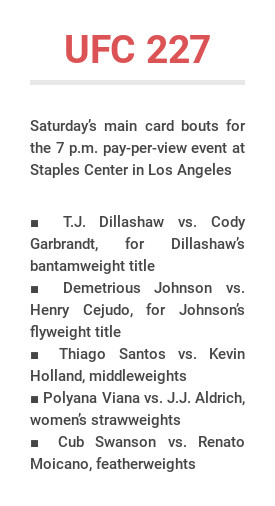 It made sense for someone who had been fighting his whole life.
Cejudo, the son of undocumented immigrants from Mexico, was constantly on the move all over the southwest as a child as he and his seven siblings along with their mother tried to stay away from his father.
Somehow, he managed to find the stability to finish his high school wrestling career with a 150-0 record and four state titles.
He sported a 10-0 record in MMA before the loss to Johnson.
Cejudo dropped his next fight after that defeat, though he put up a valiant effort in a razor-thin split-decision to Joseph Benavidez in a bout where Cejudo was docked a point.
He bounced back with two consecutive wins to earn another title shot, though Cejudo is focused on more than just the belt.
"(This is) about dethroning the guy that has dominated the flyweight division since the beginning," Cejudo said of the opportunity before him on Saturday night, "That means more to me than 10 pounds of plated gold.
"This would be the cherry on top. It would mean a lot to me and my community. I represent a lot of different people and I'm so blessed."
The bout is part of a 7 p.m. pay-per-view card headlined by a bantamweight title bout between champion T.J. Dillashaw and former champ Cody Garbrandt.
More MMA: Follow all of our MMA and UFC coverage online at CoveringTheCage.com and @CoveringTheCage on Twitter.
Contact Adam Hill at ahill@reviewjournal.com or 702-277-8028. Follow @AdamHillLVRJ on Twitter.