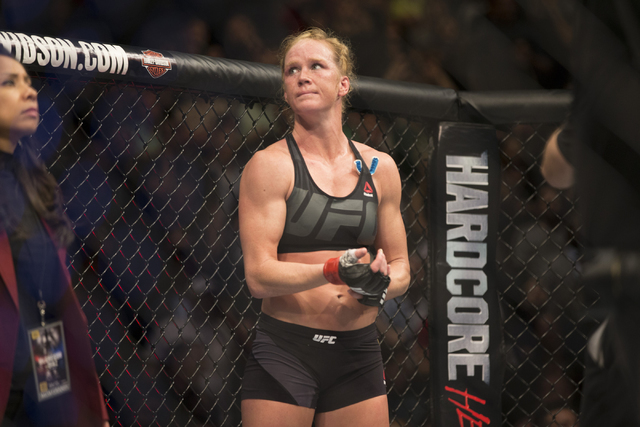 One magical moment helped lift Holly Holm to the heights of her profession when a head-kick knockout of Ronda Rousey in November gave her the UFC women's bantamweight title.
A momentary lapse four months later took it all away.
Holm learned how important every second can be in a fight when she was submitted by Miesha Tate in March in the fifth and final round of a bout she was controlling.
While losing the belt was difficult, the 34-year-old hopes she can learn from her mistake as she begins her climb back to the top of the division with a headlining matchup against Valentina Shevchenko on the UFC on Fox 20 card Saturday night in Chicago.
"I do feel like maybe I didn't fight with the same sense of urgency in the last round that I should have been," Holm said. "I should have been fighting with that same sense of urgency that I was fighting with in the first round, so it was that moment that I just made a bad decision. I didn't react the right way in the fight and (I had) just a little lack of focus right there, but I'm going to learn from the situation and move forward."
She has shown that ability in the past. While Holm had never lost a mixed martial arts bout before March, she did lose twice in her storied professional boxing career. Both times she bounced back with a victory.
Holm hopes to do the same thing against Shevchenko, a highly decorated Muay Thai fighter who is coming off a loss to current champion Amanda Nunes.
"Coming off of a loss definitely fuels my fire," Holm said. "I want to come back. I do have that drive. Who wants two losses back-to-back? I hate to lose no matter what, so I'm definitely thirsty right now. It's motivated me this training camp to want to keep learning and getting better, for sure."
Shevchenko also hopes to get back on track in her pursuit of the title, though she's probably thankful to just be competing.
She was dining with her coach Pavel Fedotov in Lima, Peru, when the restaurant was robbed in May. Fedotov, who fired back and killed one of the assailants, was shot in the left side of the abdomen during the incident and spent several days in the hospital.
"He's recuperating and it's lucky for me that he is (well enough to) be in my corner. It means a lot to me, so I'm very happy that it's in the past," the 28-year-old said. "It was exactly in the middle of my training camp preparation. When it all happened it was a very hard shock for me because all week I could not train and I could not think about anything more. I just was spending all my time in the hospital near by him, so it was a difficult time for me, but even in this moment (he) said after a few days staying in the hospital that we need to go forward and we need to focus on the fight."
Shevchenko said she never considered dropping out of the fight despite the chaos. She knows how important the opportunity is for her, as a main event victory over Holm could put her in a position to reach her goal of winning the title.
Holm has already been there once. While she wants to wear the belt again, she knows she can't win it until she earns another chance to fight the champion.
"I want to win and I've got to win in order to get back there," she said. "In order to get a chance you obviously have to work your way up, and so that is my goal. That's what I want to get back to, but I do know that it is just one fight at a time and I'm just focused on Valentina right now. She's a very tough opponent, and I'm not looking past her."
She's also not taking the experiences she's had for granted. The soft-spoken, pleasant girl from Albuquerque, New Mexico, enjoyed the spotlight during her time as champion, hitting the late-night talk show circuit and rubbing elbows with celebrities after she ended Rousey's reign.
Holm insists she was focused on the fight against Tate and all the newfound distractions didn't impact her performance. She has made a conscious decision to ride the wave.
"It's definitely a lot and it's crazy at times, but I feel like life is awesome," she said. " I want to take in each experience as it comes and just enjoy the ride. I just want to take it in. I don't want to get to all the way to the end of my career and think, 'Oh my gosh, all that really happened?' I want to experience it as it's here and be as real as I can with it as it's here. But with that said, just wanting to put in the hard work because I want to make it all worth it."
The bout headlines a card, which also includes a lightweight bout between contenders Edson Barboza and Gilbert Melendez, that airs at 5 p.m. on Fox. The preliminary card also airs on the network, beginning at 3.
Contact reporter Adam Hill at ahill@reviewjournal.com or 702-224-5509. Follow @adamhilllvrj on Twitter.
RELATED
Former UFC champ Holly Holm: 'You're never promised another opportunity' at a title