Holly Holm might want another fight before Ronda Rousey rematch
December 14, 2015 - 5:48 pm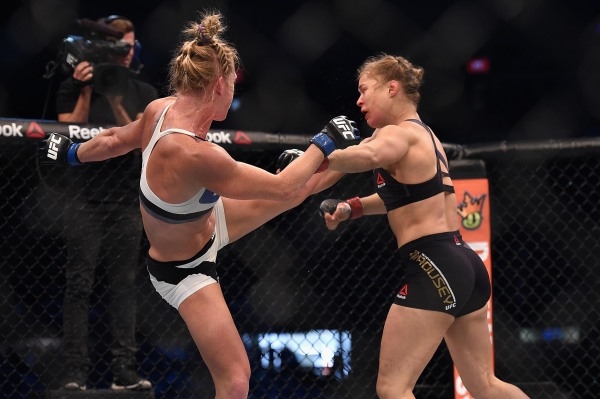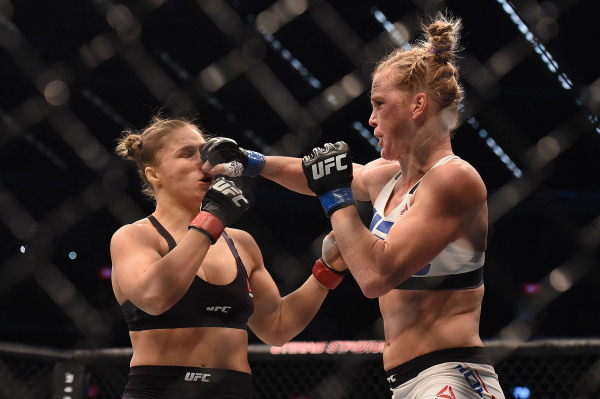 UFC women's bantamweight champion Holly Holm says she is perfectly fine giving former champ Ronda Rousey a rematch at UFC 200 inside the new Las Vegas Arena on July 9.
She's just not certain that should be her next fight.
During a question-and-answer session with fans at the MGM Grand on Friday, Holm indicated she prefers to stay busy and would prefer to fight sooner than the date that has been proposed by Ultimate Fighting Championship officials.
"That seems like a long time," she said. "Maybe that will be two fights from now. I don't know."
UFC president Dana White told the Review-Journal that while the fight is not official, the organization is working toward booking the rematch of the bout Holm won by second-round knockout for UFC 200 and that Holm will not fight anyone else before then.
"It's Rousey," he said of Holm's next fight.
Holm said throughout her time as a world champion professional boxer, she liked to fight four times a year. But she's also not one to handpick opponents.
"I've never picked a fight in my life. I've never said, 'This is the opponent I want.' Even before the Ronda fight everyone said it was too soon for me, but it's not one I picked. I always say whatever opportunity is in front of me, I'm going to make the most of it and that's why I'm standing here today," she said. "Whatever they bring to me. But I'd like to fight sooner rather than later. I don't want to sit on the side. We'll see what happens."
In the meantime, Holm wants to avoid just resting on her laurels after the dominant performance in the win over Rousey.
"It's never perfect. Even now, with the belt, people are like, 'You've made it.' I didn't make it. I'm still going," she said. "I don't want to feel like I've made it. I still have a lot to learn and a lot to do. There's always perfection I can be shooting for. There's always things I can get better at. I'll be tweeking things for sure."
ROUSEY STILL NOT TRUMP FAN — White came out strong in endorsing Republican candidate Donald Trump for president this week.
Trump still won't be getting the vote of one of White's biggest stars Ronda Rousey, who White called "a close friend" this week when he revealed he has talked to the former women's bantamweight champion about seven times a day since she was knocked out by Holm to lose her belt on Nov. 14 in Melbourne, Australia.
Rousey had a well-documented spat in the media with Trump after he claimed she had endorsed him and then she denied it as she went public with her support of Bernie Sanders.
Trump gloated on Twitter after her loss.
"Glad to see that @RondaRousey lost her championship fight last night. Was soundly beaten — not a nice person!" he posted.
Rousey was asked by a reporter from TMZ at Los Angeles International Airport on Saturday what she thought about White's endorsement of Trump.
After a pause, she took the high road.
"Me and Dana talk about a lot of things, but politics isn't part of our conversation," she said.
SUPER BOWL CARD TAKES SHAPE — In addition to the main event, the UFC's annual Super Bowl weekend card had several prominent fights announced this weekend.
A heavyweight title rematch between champion Fabricio Werdum and former champ Cain Velasquez will headline the Feb. 6 event at MGM Grand. Also, former welterweight champion Johny Hendricks will fight rising star Stephen Thompson.
Las Vegan Roy Nelson will meet Jared Rosholt in a heavyweight bout and Josh Burkman takes on KJ Noons in a lightweight fight.
UFC BACK ON FOX — After a busy week of fights in Las Vegas, the UFC will return to action on Saturday with a network television card on Fox.
Donald "Cowboy" Cerrone will challenge Rafael dos Anjos for the lightweight title in the main event. Former heavyweight champion Junior dos Santos returns to action after more than a year to fight Alistair Overeem.
Also, lightweight contenders Michael Johnson and Nate Diaz square off on a main card that airs live at 5 p.m.
Contact reporter Adam Hill at ahill@reviewjournal.com or 702-224-5509. Follow him on Twitter: @adamhilllvrj