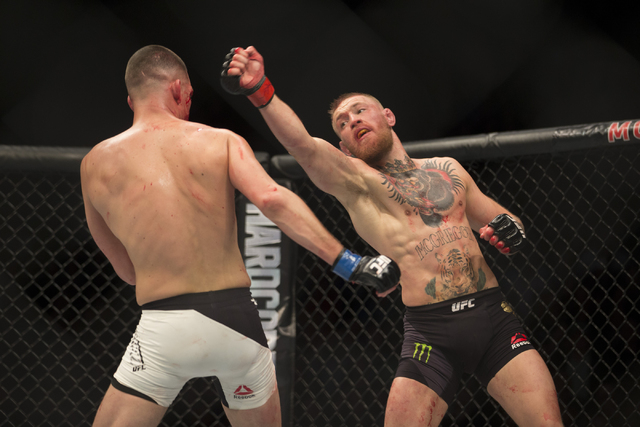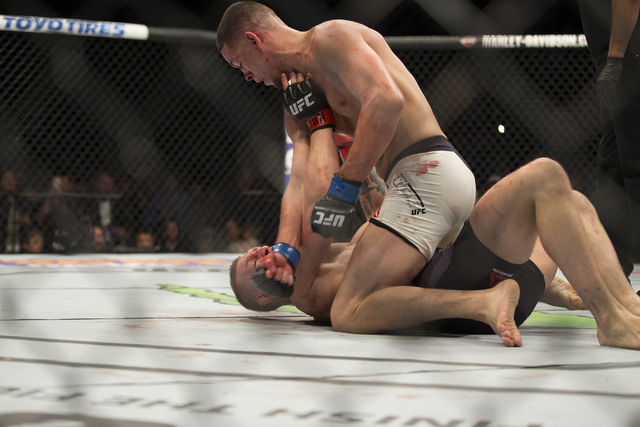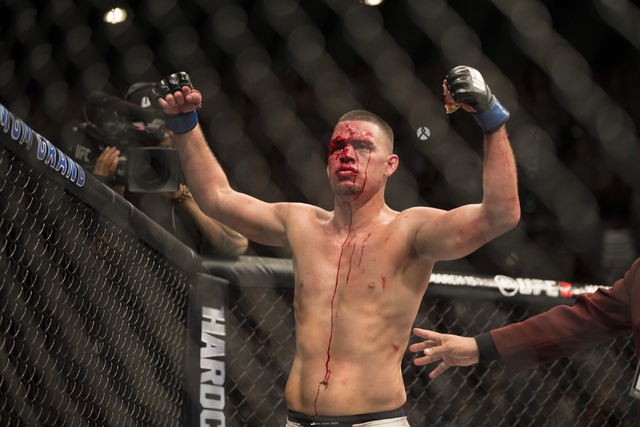 Las Vegan Miesha Tate pulled off a stunning comeback to submit Holly Holm in the fifth round to win the Ultimate Fighting Championship women's bantamweight title from the woman who shocked the world with a win over Ronda Rousey in November.
Somehow, Saturday night got even crazier from there at the MGM Grand Garden.
Nate Diaz submitted Conor McGregor, the organization's unquestioned biggest star, in the second round of the main event of UFC 196 after McGregor had battered Diaz for most of the fight.
Diaz accepted the fight on less than two weeks' notice at the welterweight limit of 170 pounds. He usually fights at 155 pounds, and McGregor is the 145-pound champion.
"These things happen," a humbled McGregor said in the cage after the fight. "I took a chance going up in weight. It didn't work out. It is what it is. I was inefficient with my energy. I respect Nate. He took the fight on short notice."
Diaz, the right side of his face bleeding badly, started to turn the tide midway through the second round. He landed a series of good left hands, prompting a hurt McGregor to shoot for an unexpected takedown.
Diaz took advantage, working to full mount and landing several big punches. McGregor tried to roll over, but Diaz took his back and flattened him out.
He locked in a choke, and McGregor quickly tapped at 4:12 of the round to end his 15-fight winning streak.
"I'm always in good shape," Diaz said. "I peak as I go. I thought I landed with some good punches that got him off. I started off slow, but I'm faster than anyone later on. My jiu-jitsu is always there for me."
Tate nearly took the belt from Holm during a dominant second round on the mat but couldn't find a way to finish the champion.
She landed a series of punches and elbows after securing a takedown, then nearly secured a choke in the final minute of the round.
Holm recovered and controlled the action until Tate dragged her down from behind midway through the final round.
Moments later, the Las Vegan was the new champion.
Tate locked in a rear-naked choke, and Holm tried to defend by standing up.
As Tate locked it in tighter, Holm tried to throw her off by rolling to the ground, but Tate wasn't about to relinquish the hold
"I had to be like a pitbull on a bone," she said. "I couldn't let go."
Holm went unconscious, and the fight was over.
"Obviously she's very dangerous. She's capable of catching anyone at anytime," Tate said. "I knew I had to find a perfect moment."
Amanda Nunes had hoped to make a case to fight next should there be another title fight before Rousey returns, but the upset spun the top of the division into chaos.
Nunes made a strong case at least to be in the mix over the first two rounds but had to survive an onslaught from Valentina Shevchenko in the final five minutes to hold on for a unanimous decision.
"I think the third round I got tired a bit, but I did a lot of work in all three rounds," Nunes said. "I think my cardio might have lacked a bit because I have never been three rounds before. I am ready to get my title shot. I've fought top-five opponents for a while now, but now it's my time."
Nunes is 5-1 in the UFC with three first-round finishes. She nearly stopped Shevchenko in the second round with a series of short elbows on the ground that cut her open. Shevchenko endured the blows and a rear-naked choke attempt, then seized control in the final round, though it proved too late.
Light heavyweights Corey Anderson and Ilir Latifi won unanimous decisions on the main card.
Anderson got past Las Vegan Tom Lawlor in a matchup of "The Ultimate Fighter" alumni. Lawlor rocked Anderson in the first round and appeared to have him in trouble before Anderson settled in to win his third straight fight by decision.
Despite the early surge, Lawlor puzzlingly only won the round on one of the three scorecards.
Latifi found little resistance from Gian Villante in winning for the fifth time in six fights. It was a fairly uneventful victory for Latifi, whose past five fights had ended in the first round.
"I wanted to show the fans that I can go for three rounds," Latifi said. "It's a great experience to go three rounds so I can get the pace down. I'm coming for the belt, whoever is in my way, I am coming."
Siyar Bahadurzada highlighted the preliminary card with a third-round submission of Brandon Thatch in a welterweight bout.
Bahadurzada locked in an arm-triangle choke to get his first victory since April 2012. He had lost two fights in 2013 and hadn't competed in more than two years because of injury.
"I didn't feel any pressure, and I wanted to have fun because I've been through a lot in the last two years," he said. "I believe I am the most powerful striker in the welterweight division, and if there is someone who says otherwise, I'd like to fight them."
Also, veteran lightweight Diego Sanchez won a unanimous decision over Jim Miller.
Sanchez came out the aggressor and pinned Miller to the cage in the first round. He then earned the favor of all three judges in the third after Miller had evened the scorecards in the second.
Vitor Miranda and Nordine Taleb each recorded second-round knockouts.
Miranda caught middleweight Marcelo Guimaraes with a head kick and followed with punches to get the win.
Taleb, a welterweight, blocked a front kick from Erick Silva, then dropped him with a crushing straight right.
The crowd had already turned against Silva after he pretended to give Taleb a fist-bump after an exchange in the first round and instead threw a punch when Taleb obliged.
Silva, once one of the top prospects in the organization, has lost back-to-back fights.
Featherweight Darren Elkins dominated Chas Skelly on his way to a unanimous decision.
Also, Jason Saggo and Teruto Ishihara picked up early knockout victories.
Contact reporter Adam Hill at ahill@reviewjournal.com or 702-224-5509. Follow him on Twitter: @adamhilllvrj