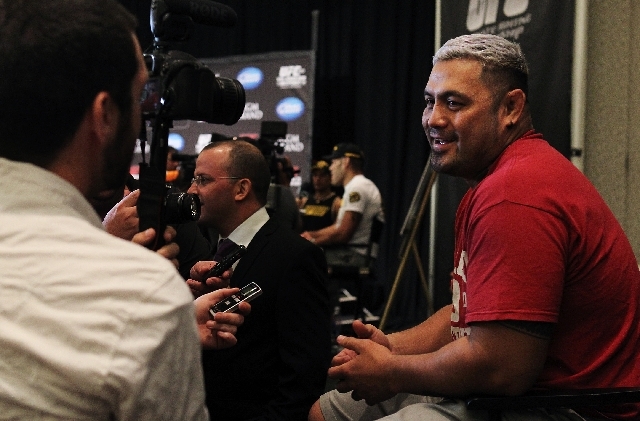 When the Ultimate Fighting Championship purchased Pride in 2007, the Japan-based organization had several marketable fighters targeted by the UFC.
Mark Hunt was not one of them. By the time he was ready to compete in the UFC in 2010, he had lost five straight fights. Despite a great deal of success in kick boxing, his mixed martial arts record was 5-6.
While some of the biggest stars from Japan were quickly integrated into the UFC, Hunt was offered a buyout.
The UFC owed the New Zealand-born Australian fights as part of the Pride contracts they had acquired, but instead decided to offer him money to just go away and become a free agent. Hunt could have taken a cash payment and been free and clear to do whatever he wanted with his career.
But Hunt is a fighter. He wanted to earn the money.
He is on the verge of earning a whole lot of it. Hunt very well could be the next challenger to the UFC heavyweight title should he defeat former champion Junior dos Santos tonight at UFC 160 at the MGM Grand.
After losing his UFC debut, Hunt got one final chance and took advantage. He has won four straight fights since, including three by knockout. He credits the wake-up call of not being so easily dismissed by the UFC for much of the motivation to turn around his career.
"It's hard to be told you're not wanted," the 39-year-old said. "As a kid, I heard that a lot. What do you mean I'm not good enough? Don't tell me I'm not good enough to be here. That just puts more fire in my tank."
UFC president Dana White has been blown away by Hunt's success, though he's still surprised Hunt didn't take the money and run.
"I don't admire it, I absolutely, positively and completely respect it," White said. "What he's been able to accomplish is one of the greatest stories in sports right now. It's unbelievable.
"To come in and do what he's done is amazing."
There was more to Hunt's decision than just the desire to earn the money. He never lost his belief that he had the ability to beat anyone in the world.
He admits there were some camps where he could have pushed himself harder and is just now living up to his potential.
"I've always believed in myself, and self-belief is so important," he said. "When you're on a losing streak, what else do you have. It's everything."
It also helps when you're one of the most powerful punchers in the sport. Hunt has the ability to change an entire fight with one shot, as contender Stefan Struve found out in March when his jaw was broken by Hunt's left hand.
Despite Hunt's deficiencies on the ground, which have been exploited in the past, he has had several opponents go right at him in the standup during this win streak. He says that's just the mentality of a fighter.
"That's what we do," he said. "You want to challenge yourself."
Dos Santos probably won't back down, either. He may not quite have Hunt's power, but he's one of the best pure boxers the UFC heavyweight division has seen. He also has plenty of power of his own, with 11 knockouts in 17 career fights.
"Everybody talks about his knockout power, but I think I'm faster than him, and I think I'm going to land my punch first," dos Santos said. "I believe so much in my boxing skills, and I think I can knock anyone out, and that's what I'm going to try to do."
Whoever emerges victorious won't have to wait long to learn the identity of his next opponent. The winner probably will fight whoever emerges from the main event with the belt.
Champion Cain Velasquez is a large favorite to do so. He brutally dismantled his opponent, Antonio "Bigfoot" Silva, on Memorial Day weekend a year ago.
Dos Santos said history won't necessarily repeat itself, even though Velasquez is about a minus-800 favorite.
"Bigfoot has already seen him, and he knows how good (Velasquez) is in there," said dos Santos, who took the belt from Velasquez in 2011, only to lose it back to him this year. "I think he will have a better performance.
"For sure, Cain is the favorite, but Bigfoot Silva has enough power to finish this fight."
The fights are part of a pay-per-view card that airs live at 7 p.m.
A four-fight preliminary card will air on FX at 5 p.m. The first three fights of the event will stream live on Facebook at 3:30.
Contact reporter Adam Hill at ahill@reviewjournal.com or 702-224-5509. Follow him on Twitter: @adamhilllvrj.