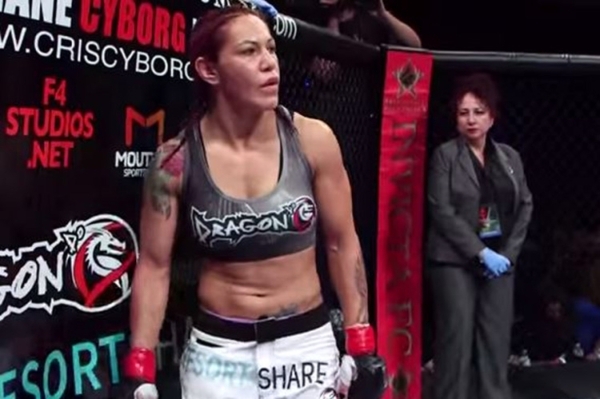 Bettors with an opinion on who would win what UFC president Dana White believes could be the biggest fight in the organization's history can back up that belief at the sports book beginning today.
Whether or not the fight actually ever happens could be the bigger crapshoot.
Fresh off another dominant performance in the main event of UFC 190 on Saturday night, Ronda Rousey will open as a minus-300 favorite over Cristiane "Cyborg" Justino at the Golden Nugget sports book at 9 a.m. today.
Rousey's 34-second knockout of Bethe Correia was her third straight victory in less than a minute. She is slated to next fight Las Vegan Miesha Tate, possibly at Cowboy Stadium on Dec. 5, for the third time.
A potential fight with Justino has several road blocks, but White thinks it would be massive.
So does Tony Miller. The Golden Nugget sports book director believes the potential megafight will be big business and he's ready to book the action.
"The reason I'm putting it up is because Rousey is one of the hottest topics in sports right now, especially after that fight on Saturday," Miller said. "I think it's going to be probably the biggest fight in UFC history and I want to get a jump on it."
Justino, however, has yet to prove she can make it to Rousey's 135-pound weight class. She currently competes in the 145-pound division for all-female organization Invicta, but is believed to have a UFC deal in place.
Rousey insists she won't agree to a catchweight bout at 140 pounds.
"I fight in the UFC 135-pound division," Rousey said early Sunday morning at the postfight news conference. "She can fight at 145 pumped full of steroids, (then) she can make weight just like everybody else without them."
Justino failed a drug test in 2011 and served a one-year suspension.
White said the onus is on Justino to make the fight happen.
"The Cyborg thing is complicated, because, I'm ready for Cyborg, Ronda's ready for Cyborg, but Cyborg has to make the weight," White said on Fox Sports 1. "I'd be cutting weight now and champing at the bit to fight Ronda if I was Cyborg.
"That fight is ready to roll whenever Cyborg is ready."
For betting purposes at the Golden Nugget, where Justino bettors can get plus-250 when the line is posted, any potential fight would have to take place before Aug. 1, 2016.
"I know it's a hypothetical, but i think it's such a huge fight," Miller said. "I'm not sure if the general public knows much about Cyborg, but we'll hear a lot about it the next couple of months and as people learn more about how good she is and how tough she is, it's only going to get bigger."
NAC TO REVIEW WSOF MAIN EVENT — Nevada Athletic Commission executive director Bob Bennett confirmed to the Review-Journal on Monday he would review tape of Saturday night's World Series of Fighting welterweight championship bout between Rousimar Palhares and Jake Shields to determine if disciplinary action is necessary against either fighter.
Palhares appeared to crank on a kimura lock even after Shields tapped out in the third round. He has a history of not letting go of submission holds even after opponents have submitted.
Shields also alleged Palhares gouged his eyes several times during the fight, a claim supported by marks and swelling in the area. Palhares has been accused of unsportsmanlike conduct several times throughout his career.
He was cut by the UFC in 2013 for holding a heel hook and was suspended by the New Jersey State Athletic Control Board in 2010 for a similar offense.
Bennett said those factors will be weighed when determining possible action.
"I'll take all the facts into consideration," he said.
The commission has already withheld Palhares' win purse pending a hearing. WSOF vice president Ali Abdel-Aziz said the organization would make an announcement today regarding the actions of its welterweight champion.
Bennett also wants to review a punch Shields threw after the referee had stopped the fight and pulled Palhares off of Shields. He was unsure if any decisions as far as recommendations to the commission could be made by the next meeting on Sept. 13.
DIAZ NOT ARRESTED — UFC fighter Nate Diaz was not arrested in Las Vegas on Saturday night despite social media accounts and several videos that appeared to show the lightweight being handcuffed by security at Planet Hollywood.
Law enforcement officials told the Review-Journal no arrest was made.
Diaz and his brother Nick, also a UFC fighter, were part of a group that clashed at least twice with a group that included another fighter, Khabib Nurmagomedov. Several YouTube videos were posted on Saturday night documenting a skirmish inside the theater where a World Series of Fighting event was taking place and another outside in the Miracle Mile shops.
Diaz and Nurmagomedov have traded barbs on Twitter in the past.
In a video posted early Sunday morning, Diaz mocked Nurmagomedov.
"Hey, (expletive) that (expletive) Khabib. He's a (expletive). He got slapped," Diaz said. "Blam! Open hand slapped. Bam!"
Nurmagomedov tried to distance himself from the situation.
"Last night I was confronted by 2 thugs. I'm a professional mixed martial artist. I'm not a street fighter," the undefeated lightweight contender posted on Twitter.
He added in a later post that he has asked UFC officials to book a fight between him and Nate Diaz.
Contact reporter Adam Hill at ahill@reviewjournal.com or 702-224-5509. Follow him on Twitter: @adamhilllvrj.