Jardine patient in UFC title quest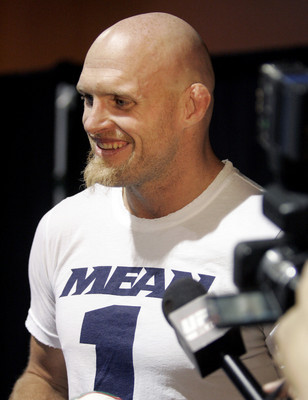 Keith Jardine says it doesn't bother him. His trainer says the same thing.
Still, it seems Jardine has a difficult time accepting that Forrest Griffin will be fighting for the Ultimate Fighting Championship light heavyweight crown this year. In the meantime, Jardine will face a fighter on a three-fight losing streak in Wanderlei Silva on Saturday on the UFC 84 card at the MGM Grand.
"This is a dream," Jardine said. "I'm fighting a legend of the sport for the second time in a row, and it's a great opportunity for me."
Jardine's trainer, Greg Jackson, believes him.
"Keith's a really intelligent guy, and he has a long vision of the sport," Jackson said. "The title's going to be there. It's not going anywhere. You don't get a chance to fight Wanderlei Silva every day, so I think he's right."
Jardine was close to getting his title shot before.
After knocking out Griffin in the first round of their December 2006 bout, Jardine appeared poised for a shot at the gold in the UFC's premier weight class.
He found himself on the undercard of the light heavyweight title fight between Chuck Liddell and Quinton "Rampage" Jackson. Jardine was fighting an unheralded fighter who wasn't supposed to be much of a roadblock.
In fact, it was likely that after Jardine won that bout in May 2007, he would face the winner of the Liddell-Jackson fight for the belt.
However, 48 seconds into that May fight with Houston Alexander, Jardine was knocked down and out.
"He just had a bad day against Houston. I think he got caught. Everyone gets caught," Greg Jackson said. "The other fights that you've seen, that's the real Keith Jardine."
Jardine got his shot against Liddell in Anaheim, Calif., in September and took a split decision over the former champion to remain in the logjam of contenders at 205 pounds.
"I'm on the top now," Jardine said. "I've beaten two guys in the top five of anybody's rankings (Griffin and Liddell), and most people think I deserve a title shot right now above Forrest Griffin. All I have to do is win fights, and it will take care of itself."
His opponent might need the win even more.
Silva was one of the most popular fighters in Japan's Pride Fighting Championships. He has defeated some of the sport's biggest names.
But he lost his last two fights in the organization, then dropped a decision to Liddell in December in his return to the UFC.
The 31-year-old Brazilian, who trains in Las Vegas, might be showing signs of breaking down after 40 professional fights, though the losses have come against top contenders.
Jardine says the win over Liddell helped him feel more comfortable with his standing in the organization.
"If I had lost two fights in a row, I would have been lucky to be on the main card and still worried about my place in the organization," he said. "Now that I've done what I've done, I can rest assured that I'm going to have a few more paychecks in front of me."
The fight is one of three main attractions on Saturday's card, scheduled to start at 5:15 p.m. Tito Ortiz will face unbeaten Lyoto Machida in another light heavyweight bout, and in the main event, former champ Sean Sherk will fight for B.J. Penn's lightweight title.
Contact reporter Adam Hill at ahill@ reviewjournal.com or 702-224-5509.