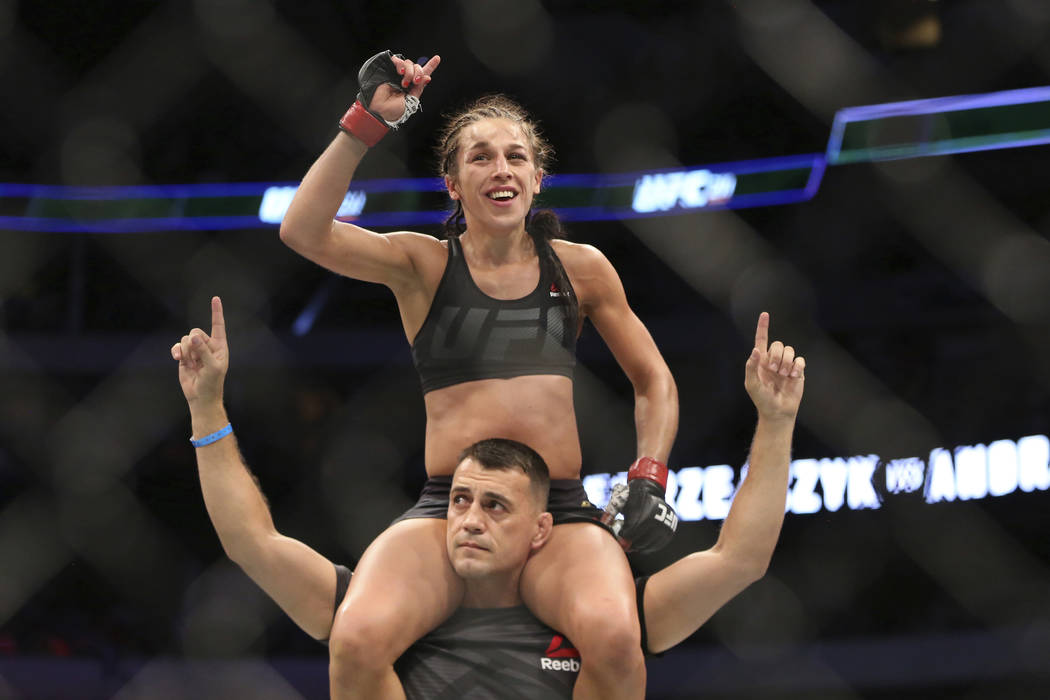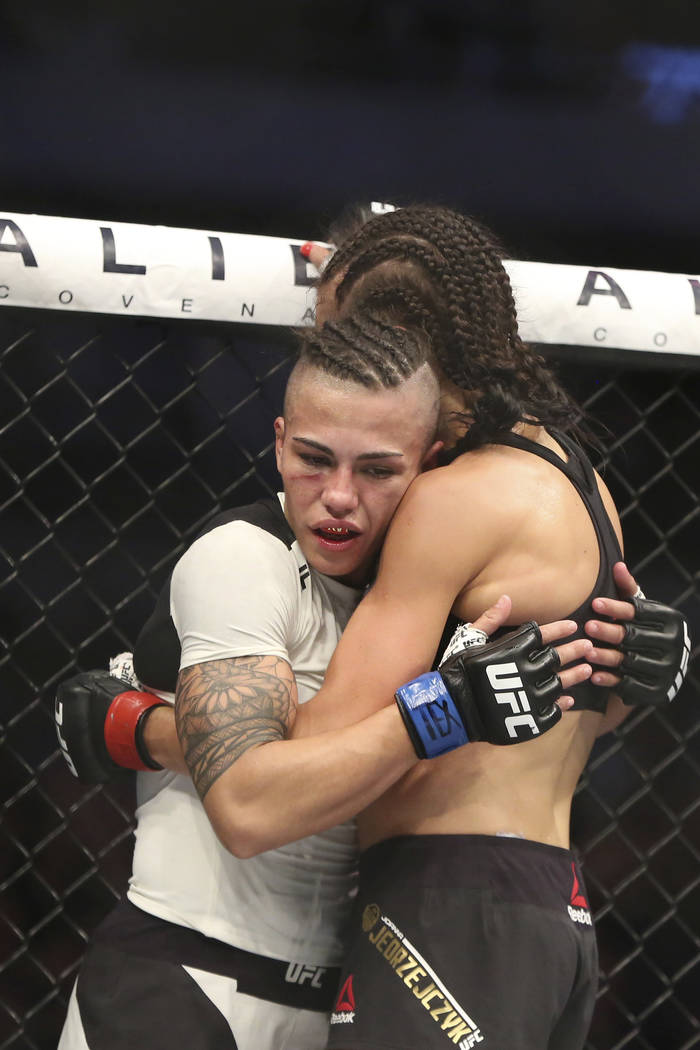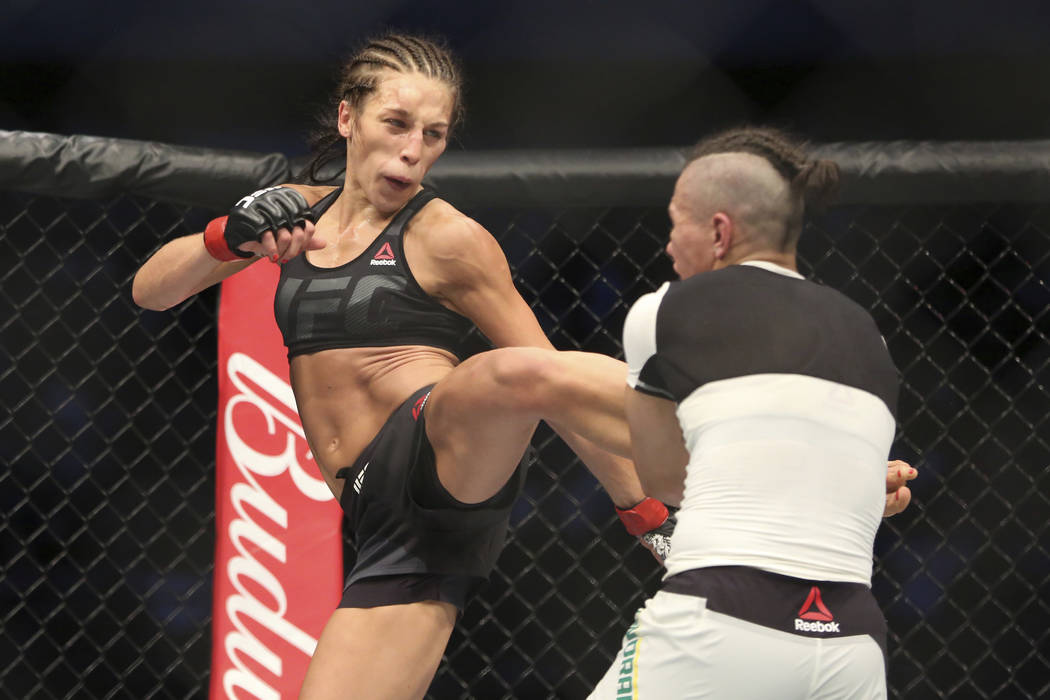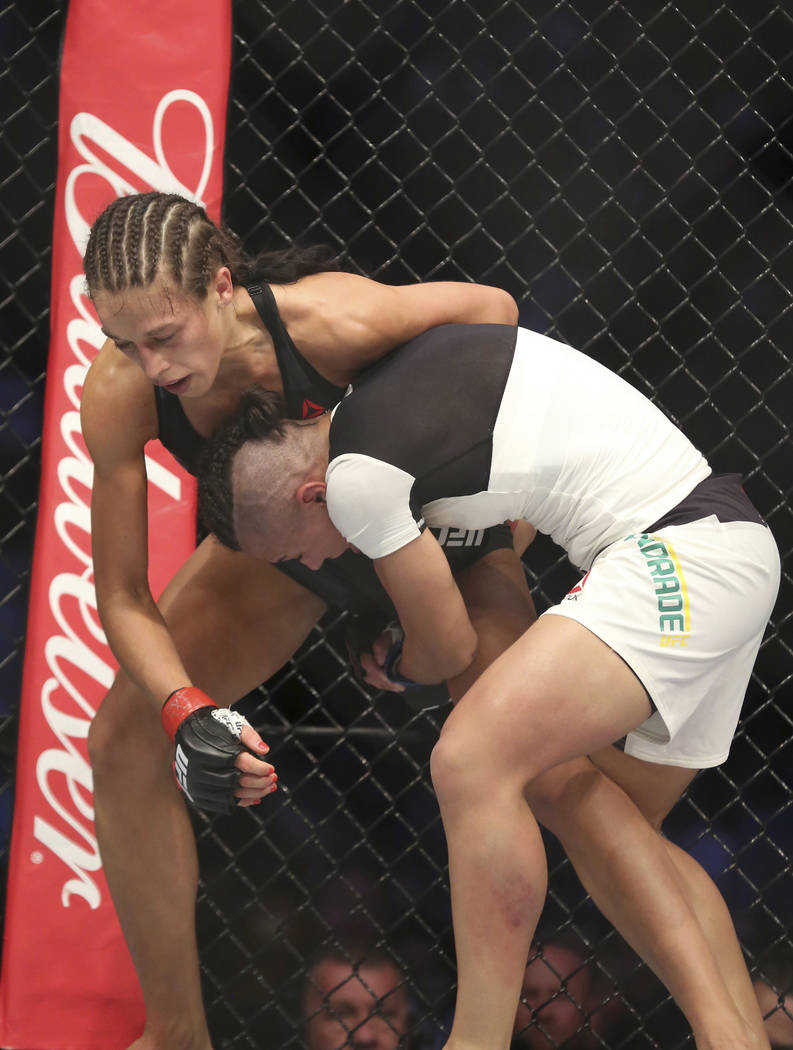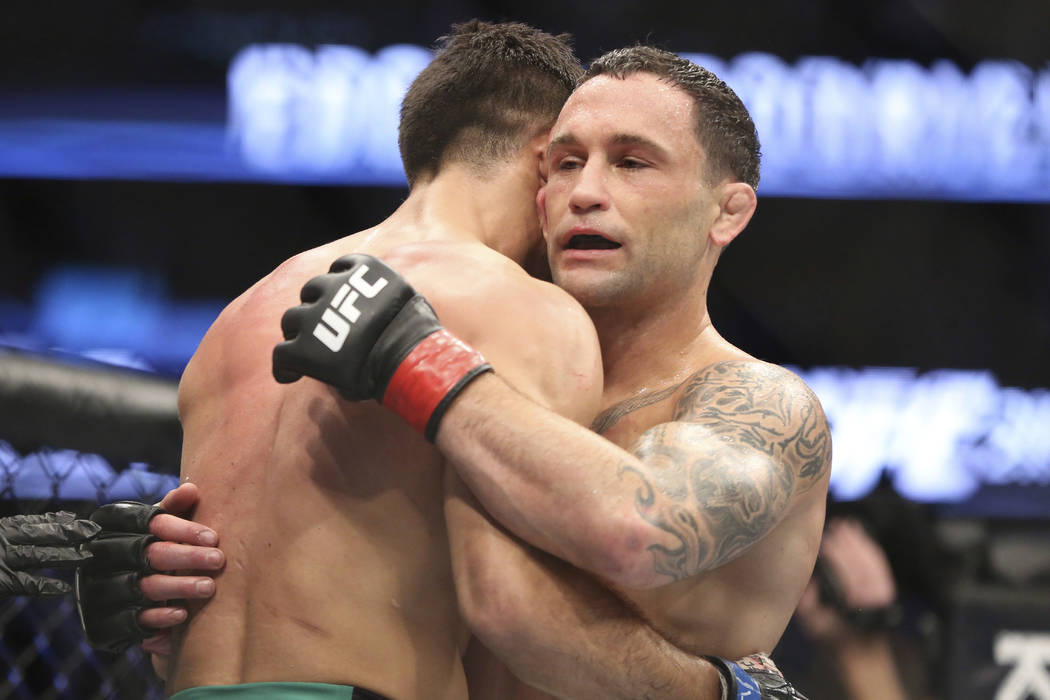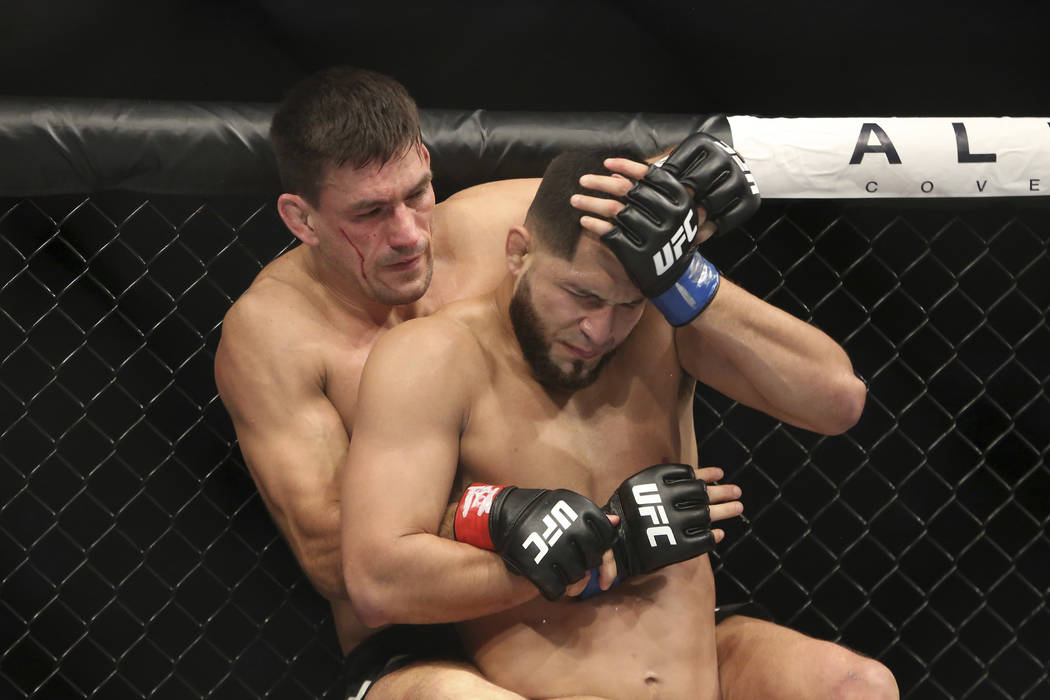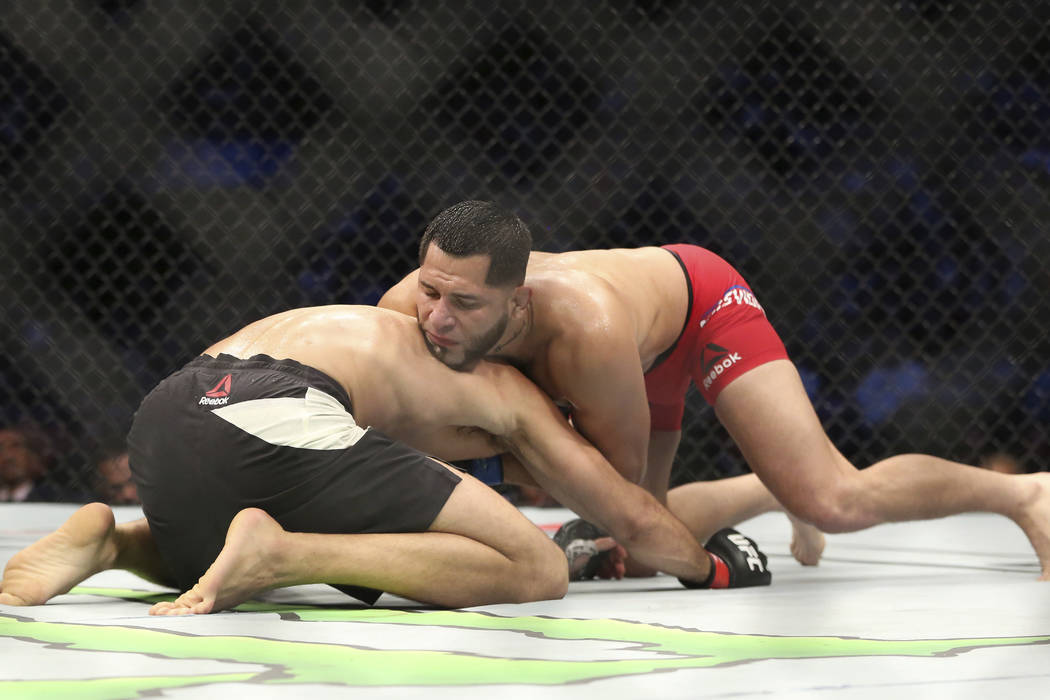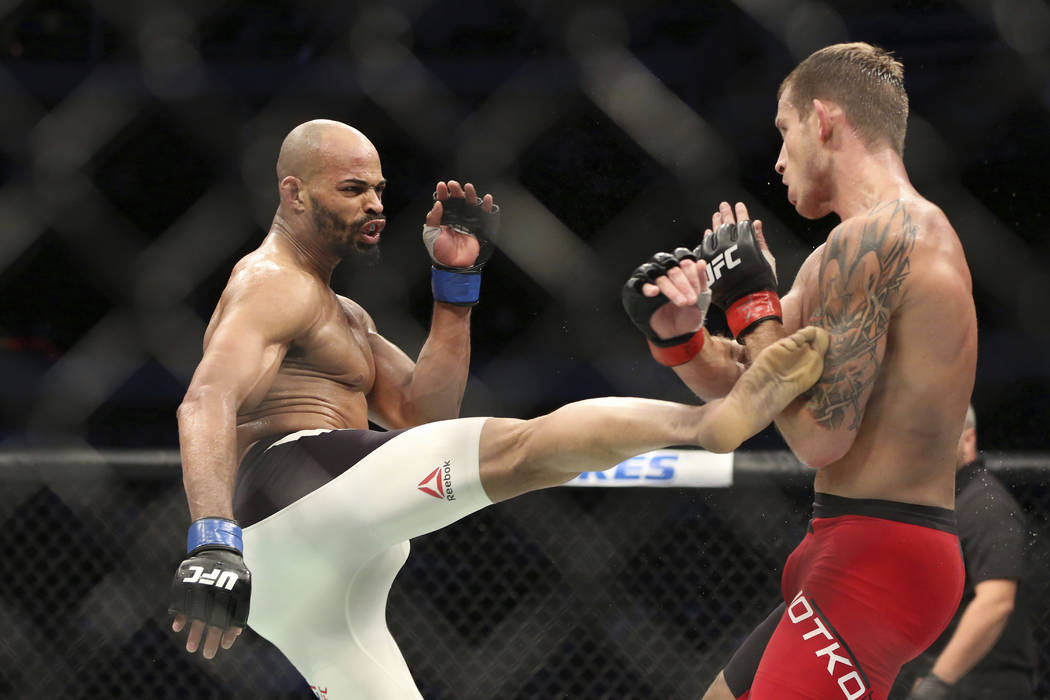 DALLAS — UFC women's strawweight champion Joanna Jedrzejczyk shrugged off the suggestion all week that Jessica Andrade would be her toughest challenge.
She proved Saturday night she had little to worry about.
Jedrzejczyk made Andrade chase her around the cage at American Airlines Center for five rounds and mercilessly made her pay every time she lunged or overextended out of frustration.
She again turned back a contender in dominant fashion, as Jedrzejczyk retained the belt with a unanimous decision in the co-main event of UFC 211. She won 50-45, 50-45 and 50-44 on the scorecards.
It was the fifth successful title defense for Jedrzejczyk, who won the belt in the same arena in 2015.
Andrade had her most success in the first round, landing several hard right hands and slamming the champion to the ground twice. The drama was short-lived, though, as Jedrzejczyk started to take over late in the round and cruised the rest of the fight.
"Nobody is taking this belt from me," she said. "No one."
Demian Maia relentlessly pursued takedowns and controlled the position enough when he got them to win a split decision over Jorge Masvidal.
Maia, one of mixed martial arts' top jiu-jitsu practitioners, has won seven straight and will be next in line for a shot at welterweight champion Tyron Woodley.
Featherweight star Yair Rodriguez had his meteoric rise brought to a crashing halt by veteran Frankie Edgar. The former lightweight champion had Rodriguez essentially pinned to the mat for the entire 10 minutes before the cageside doctor stopped the fight between the second and third rounds because of a nasty mouse under Rodriguez's eye.
Edgar perfectly executed his game plan to neutralize the range and explosiveness of the flashy young striker.
"I felt like a dog, so I'm with it," Edgar said. "They have to pump these young kids up, they're the future, I get it, but we need to pump the breaks on him – we can start pumping him up tomorrow."
Veteran middleweight David Branch returned to the UFC for the first time since 2011 and won a split decision over Krzysztov Jotko. It was the 11th straight win for Branch, who held the World Series of Fighting middleweight and light heavyweight titles.
Nothing was settled in a lightweight contender bout between Dustin Poirier and former champion Eddie Alvarez. Alvarez landed an illegal knee late in the second round of what had been a spectacular fight and the bout was ruled a no-contest.
"The third knee was illegal," Alvarez said. "I saw it on the prompter afterward that it was illegal, and I apologize to Dustin.
"That's a fight I'd love to replay. I think it's only right for me, Dustin and the fans to run that back."
Featherweight Jason Knight extended his winning streak to four with a third-round knockout of Chas Skelly, and Jason Vick needed 2:39 to knock out lightweight Polo Reyes.
Chase Sherman damaged heavyweight Rashad Coulter early with leg kicks and eventually managed to finish him with a big elbow to the head that made his legs give out completely late in the second round.
Coulter somehow managed to land several thudding punches, but couldn't find the footing to capitalize with follow-up shots.
Also on the card, Courtney Casey won all three rounds over Jessica Aguilar in a women's strawweight bout, Enrique Barzola took a unanimous decision over featherweight Gabriel Benitez, and light heavyweight Gadzhimurad Antigulov needed 2:21 to submit Joachim Christensen.
Contact Adam Hill at ahill@reviewjournal.com or 702-277-8028. Follow @adamhilllvrj on Twitter.