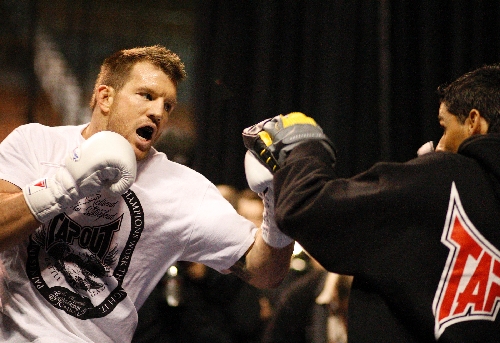 Few mixed martial arts fighters have been showered with the kind of hype that has been heaped upon 23-year-old Jon Jones.
Fellow fighters, fans and media are raving about the athleticism, dominant performances and seemingly limitless potential of one of the most exciting prospects in Ultimate Fighting Championship history.
Jones' opponent at UFC 126 tonight at Mandalay Bay couldn't be more thrilled with all the accolades tossed in Jones' direction.
Ryan Bader, the Season 8 winner of "The Ultimate Fighter," is unbeaten and would probably be in Jones' position if Jones wasn't around.
Bader (12-0) knows a victory in their pivotal light heavyweight matchup could transfer much of that attention in his direction.
"I have a lot of power in my hands. One big shot could change the fight," Bader said. "I'm looking to end this fight and end this hype. No disrespect or anything like that, but that's what I'm looking to try to do."
Jones (11-1) admits the attention can be a bit overwhelming.
"The expectations are hard sometimes because I'm still such a young guy in this sport," he said. "To have such a big mark on my back while I'm still learning is just scary. It motivates me to keep working hard."
Bader, conversely, is enjoying being free of the pressure he felt in earlier fights. He said he will go into the most important bout of his young career with the freedom to fight loose and free because nobody expects him to win.
"A lot of people have written me off in this fight. I'm undefeated, but he's been doing it in devastating fashion, knocking people out in the first round. He's flashy and dynamic and people like to see that," Bader said. "I relish the underdog role. People aren't giving me a chance, and it's going to feel good to prove a lot of people wrong."
The 27-year-old Reno native is no stranger to athletic success. He was a two-time state wrestling champion at McQueen High School and was a first-team all-state linebacker for the 2000 state championship football team.
While the winner will place himself near the top of the UFC's traditionally marquee division, the loser isn't exactly going away anytime soon.
"We're both the future of this division," Bader said.
The main event pits a longtime champion against a former champ. Anderson Silva, who has held the middleweight belt since 2006, will defend it against fellow Brazilian Vitor Belfort, who held the UFC light heavyweight belt in 2004.
Silva, widely considered along with Georges St. Pierre as one of the two best fighters in the world, nearly lost the belt in August when he was controlled by the superior wrestling of Chael Sonnen for nearly the entire fight before pulling off a dramatic submission victory.
After fighting Sonnen and jiu-jitsu ace Demian Maia before that, Silva now faces an opponent who is likely to stand and trade punches instead of trying to force the fight to the ground.
Belfort trained briefly at Silva's gym in Brazil several years ago. Hostility has been brewing between the two, though neither has offered much detail. On Friday, frustrations appeared to boil over.
Silva apparently took exception to the fact Belfort said in an interview Thursday that the champion "wears a mask" of arrogance as part of a persona designed to intimidate opponents.
Silva, booed loudly at Friday's weigh-ins, donned a Jabbawockeez mask for the traditional staredown and pushed it against Belfort's face. They exchanged heated words and had to be separated.
Also, Rich Franklin will meet Forrest Griffin in a key light heavyweight matchup. The winner could face the Jones-Bader winner for a title shot.
The main card, which will be aired live on pay per view at 7 p.m., is rounded out by a welterweight bout between Jake Ellenberger and Carlos Eduardo Rocha and a bantamweight fight pitting Antonio Banuelos and Miguel Torres.
Two fights will be shown live on Spike (Cable 29) at 6 p.m. Paul Kelly meets Donald Cerrone and Chad Mendes takes on Michihiro Omigawa.
One fight will also stream live for free on the UFC's Facebook page at 5:25 p.m. Demetrious Johnson will fight Japanese star Norifumi "Kid" Yamamoto, who will be making his UFC debut.
Contact reporter Adam Hill at ahill@reviewjournal.com or 702-224-5509.