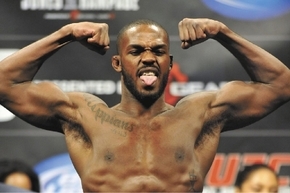 NEWARK, N.J. — It took the most physically gifted champion in the Ultimate Fighting Championship dominating an obviously overmatched opponent to restore some order to one of the most bizarre UFC events in recent memory.
Even the expected result in the main event of UFC 159 didn't happen without some craziness, however.
Jon Jones tied the light heavyweight record with his fifth successful title defense in a row as he mauled Chael Sonnen on the way to a first-round stoppage victory at Prudential Center on Saturday night.
After Jones celebrated for a bit, he worked his way over to color commentator Joe Rogan for his postfight interview, only to realize he had suffered a nasty broken toe during the fight. The bone appeared to have broken through the skin.
"I was supposed to go to Jamaica after this," Jones said in obvious pain before getting a stool to finish his interview. "I guess that's not going to happen now."
Jones threw Sonnen to the ground several times and tossed him around the cage at will before a series of short punches and elbows prompted the referee to call a merciful stop to the fight at 4:33 of the opening round.
Had Sonnen made it through the round, he likely would have won the title, because referee Keith Peterson could have been forced to stop the fight had he seen Jones' foot between rounds.
Sonnen wasn't complaining.
"He was the better fighter," Sonnen said. "I thought I could keep up with him, but his power and speed surprised me."
Michael Bisping picked up a win in a pivotal middleweight bout with an odd unanimous technical decision over Alan Belcher. Belcher caught an inadvertent poke in his right eye, which has been surgically repaired twice, and couldn't continue late in the third round. The fight went to the scorecards and Bisping was awarded the win.
There were mixed results for the two Las Vegans on the main card. Heavyweight Roy Nelson won by first-round knockout for the third straight time, but light heavyweight Vinny Magalhaes lost a unanimous decision to Phil Davis.
Nelson stopped Cheick Kongo with a crushing overhand right and finished him off with another right hand as Kongo tried to get up off the mat.
"I knew when I hit him that he was out, but he also recovers very fast as we saw in the Pat Barry fight," Nelson said. "I went in and hit him again, then looked to the ref to let him know I was prepared to keep going if necessary."
After three consecutive early knockout victories, Nelson has his sights set on a big prize.
"I'm ready for the title if that's what's next for me," he said. "I know I can give (champion) Cain (Velasquez) fits and if it's Bigfoot (Antonio Silva), then I'm ready for that, too."
Magalhaes, a jiu-jitsu specialist, was able to threaten Davis with a submission only once over the entire 15 minutes, but Davis quickly shrugged him off. The rest of the fight consisted of Davis trying to find a rhythm in the striking game and Magalhaes trying his best to defend.
Lightweight Pat Healy won for the seventh straight time in his first UFC bout since 2006, gaining a third-round technical submission victory over New Jersey native Jim Miller.
The preliminary card is where things were really strange.
The UFC debut of a woman often mentioned as one of the most likely future challengers to champion Ronda Rousey was overshadowed by a pair of bizarre endings.
Olympic wrestling silver medalist Sara McMann remained unbeaten in her mixed martial arts career with a first-round knockout victory over Sheila Gaff in the UFC debut for both.
It was a much more conclusive ending than two of the other fights on the undercard.
Lightweight Rustam Khabilov continued to impress early in his UFC career with a stoppage victory over Yancy Medeiros, who couldn't continue after his thumb gruesomely dislocated as he tried to break his fall on a suplex.
Ovince St. Preux won his light heavyweight bout over Gian Villante in a similar manner as Bisping after an eye poke in the third round left Villante temporarily sightless. The referee immediately asked Villante if he could see and when the answer came back in the negative, he waved off the fight.
Villante quickly protested that the loss of vision was only momentary and he was ready to go, but the decision had been made. The fight went to the scorecards and St. Preux was awarded the victory.
Also, Cody McKenzie handed Leonard Garcia his fifth straight loss and put the featherweight's job with the UFC in serious jeopardy.
Contact reporter Adam Hill at ahill@reviewjournal.com or 702-224-5509. Follow him on Twitter: @adamhilllvrj.