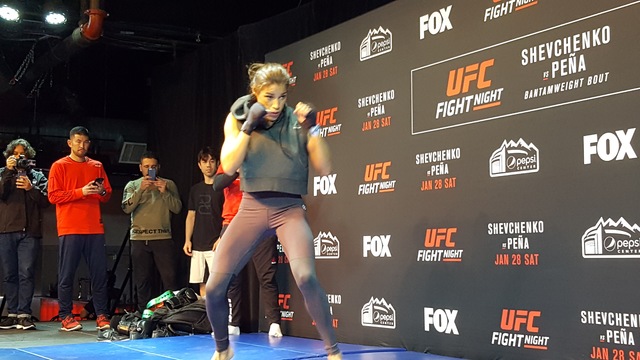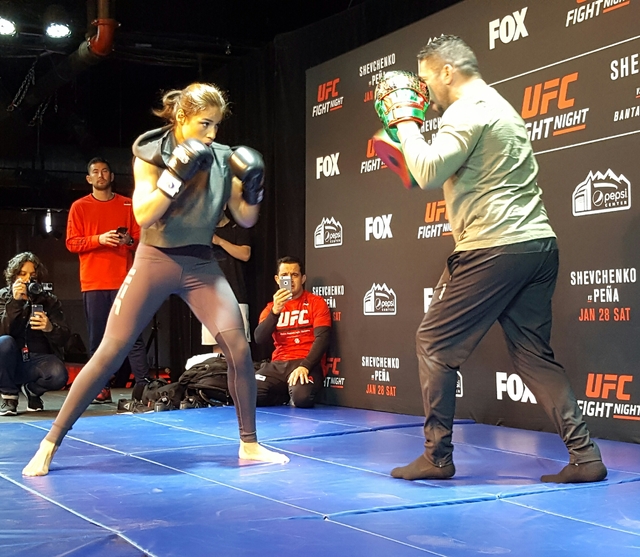 DENVER — First there was Gina Carano. Ronda Rousey then took the moniker and ran longer with it than anyone could have imagined.
While Rousey hasn't officially made any decision about her future, two knockout losses have left the door open for a new star to emerge as the so-called "face of female fighting."
Julianna Pena is willing to take the job and checks all the required boxes.
She is a beast inside the cage and a sharp-tongued beauty who embraces the spotlight outside it.
Her first headlining spot on a UFC card will be on network TV on Saturday, a women's bantamweight top contender bout against Valentina Shevchenko in the main event of UFC on Fox 23 at Pepsi Center that could help to determine if she is ready to fill the role.
The bout is part of a main card that includes a welterweight fight between Donald "Cowboy" Cerrone and Jorge Masvidal, and a heavyweight showdown pitting rising star Francis Ngannou against Andrei Arlovski. The main card airs at 5 p.m. on Fox, with the preliminary card at 2 p.m. on Fox Sports 1.
Pena certainly isn't shying away from the possibility.
"I would love to be that person," she said after open workouts Thursday. "I'd love to be that role model for these little girls that are looking up to me or even just looking for someone to look up to. I would love to fill that role as the face of women's MMA. Absolutely."
While Pena credits Rousey for how far she advanced the role of females in the sport, it's Carano she consistently cites as an innovator.
"Gina was the pioneer of women's MMA," Pena said of the former Strikeforce champion turned actress. "She kind of put it on the map as far as being a beautiful woman that's able to fight. I give her all the credit in the world. I've always looked up to her."
In an ideal athletic landscape, the cosmetic aspect might not be so important. Pena said that's not the case in the real world and knows it always will be part of who becomes popular, particularly for females in the male-dominated world of mixed martial arts.
Of course, getting the opportunity is just a part of the challenge. All of the other things can get people to watch, but Pena knows she has to perform once the bell rings.
That hasn't been a problem for the 27-year-old native of Spokane, Washington. Since winning Season 18 of "The Ultimate Fighter," Pena has used her ultra-aggressive style to go unbeaten in the UFC. Her past two victories have come against tough competition in Jessica Eye and Cat Zingano.
Now she will face the division's top contender in a bout with a lot of buzz and a likely title shot against Amanda Nunes on the line.
"I think one thing 'TUF' got me prepared for was the media and dealing with these kind of situations," Pena said. "You've got to be a multi-tasker. Promoting the fight is part of the business. You've just got to suck it up and get used to this because this is the entertainment business after all, and I'm an entertainer as much as a fighter. It really doesn't bother me being a main event. I can handle it. I'm a pressure type of person. It's not a big deal."
Pena and Shevchenko are as divergent in personality as they are in fight style. While Pena is a mauling wrestler and grappler, Shevchenko ruthlessly picks opponents apart with punches, elbows, kicks and knees.
A former Muay Thai world champion, Shevchenko surged in the rankings with a spectacular performance in a victory over Holly Holm in July.
While not referring to Pena specifically, the Soviet-born 28-year-old who now fights out of Peru made clear she prefers to let her performance speak for her.
"I've been in martial arts for more than 20 years," Shevchenko said. "I've fought all kinds of opponents from quiet to really loud ones who speak too much. It doesn't help them at all, because in the octagon, you only have two hands and two feet. I'm very comfortable in my skills and what I can do."
The contrast in styles is perhaps best signified by how they discuss the potential showdown with Nunes that awaits the winner.
Nunes has said she would prefer to move up to challenge for the 145-pound title than to defend the belt against either Shevchenko or Pena.
Shevchenko said she will share her feelings on the matter should she win and Nunes declines the fight. Pena already has a speech prepared for her postfight interview should she win Saturday.
She gave a likely preview Thursday.
"I think there's a lot of competition that Amanda has left at 135 before she tries to run to another division," Pena said. "If I get through this fight, I'll still be undefeated in the UFC. If I was Amanda, I'd want to clean out my own division first, and if there's an undefeated girl in my division, I'd want to test myself against her.
"Being that Cat Zingano beat the brakes off Amanda Nunes, and I dominated Cat Zingano, I think it's safe to say I can hang with anybody that fights at 135 pounds inside that octagon."
Contact Adam Hill at ahill@reviewjournal.com or 702-277-8028. Follow @adamhilllvrj on Twitter.
UFC ON FOX 23 MAIN CARD
— Valentina Shevchenko (13-2) vs. Julianna Pena (9-2), women's bantamweights
— Donald Cerrone (32-7, 1 No Contest) vs. Jorge Masvidal (31-11), welterweights
— Andrei Arlovski (25-13, 1 No Contest) vs. Francis Ngannou (9-1), heavyweights
— Alex Caceres (12-9, 1 No Contest) vs. Jason Knight (18-2), featherweights