Jury confident in his skill set for UFC 182 tussle
December 31, 2014 - 10:08 pm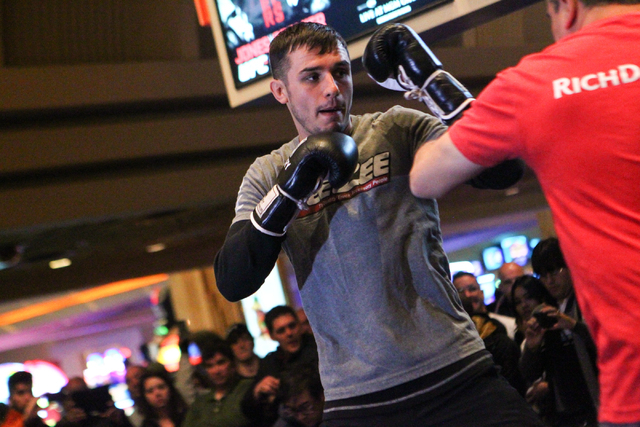 UFC 40 was a seminal moment in the development of the Ultimate Fighting Championship from fledgling promotion to global sports juggernaut.
The event in November 2002 also served as a driving force in the development of Myles Jury from a kid training in martial arts to someone who saw a potential career in fighting.
Jury, who was 14 at the time, remembers how excited he was watching the event that very well could have proved to be the end of the organization had it not been successful.
"I watched Tito Ortiz fight Ken Shamrock, back when they had the fireworks and all that stuff," Jury said. "Tito came out to the Limp Bizkit song, 'Break Stuff.' The whole beef going up to that fight, I just thought, 'Yeah, I want to do that.'
"I was already training, so I just figured, 'Why not?' "
The organization and the sport have come a long way since then.
Jury had been training for about a year at the time in all aspects of mixed martial arts. He is now an undefeated lightweight contender and part of the new breed of fighters who have spent their formative years training to become a well-rounded fighter.
Jury will fight Donald Cerrone at UFC 182 on Saturday night at the MGM Grand Garden. Cerrone represents more of the old guard of fighters that learned how to do one thing and then had to catch up in the other disciplines.
"You had the Chuck Liddells and the Randy Coutures before me," Cerrone said. "Then there was our generation where you had the wrestler or the grappler or the striker. They kind of had one of those really good tools. Now you've got the kids that are 11 or 12 years old training at our gyms, and you're like, 'Damn, slow down, dude.' They're good at everything. Myles is in that new breed. He's been training in everything, and he's got it all."
Jury, 26, has put those skills to good use in compiling a 15-0 record, including six straight wins in the UFC.
He thinks one of the major advantages to not having a specific area of expertise is that he can be versatile in the cage.
"I feel like one of the advantages of growing up and doing jiu-jitsu and wrestling and striking all at the same time is when I look at myself, I don't really have a base. I just have everything," he said. "It's kind of cool that in a fight I'm not biased toward any particular aspect, I can just go with whatever is most effective at any given time."
Cerrone, who has won five straight fights, relishes the challenge. He thinks the emergence of a new generation of fighters has forced him to continually adapt to stay relevant.
He began his career as a kickboxer while still working construction jobs. As his career progressed, Cerrone realized he had to expand his game if he wanted to succeed. Still, from the beginning, he only got into the sport because he loved fighting.
That's where Cerrone, 31, thinks he has an edge over some of the newer guys who entered MMA looking to make a living.
"The one thing I do notice is there's a lot of athletes trying to become fighters, and I just think fighting is something that is in you," he said. "You're born game or you're not. That's going to weed guys out as you get to the top of the UFC. Knowing that deep down inside I have that thing in me that when (expletive) goes down, I know how to bear down. That's the only thing I don't know about the new breed that we'll find out.
"As a kid, you could never beat your dad up. I feel I have that grown-man strength. I have that wisdom. I welcome all those newcomers. It's exciting."
Jury's rise to contention has not been without challenges.
He thought he had his big break when he was cast on Season 13 of "The Ultimate Fighter," but he tore his anterior cruciate ligament the first week on set and was off the show and out of action for a year.
Jury then was cast on Season 15 and suffered a loss, though it officially counts as an exhibition on his record.
"I would say the injury was definitely tougher than the loss," he said. "At least with a loss you can keep training and come back and get another fight. With the injury, I couldn't do anything, and I just had to sit there and watch everybody on TUF run away with my dream. That was really difficult."
Jury was offered a UFC contract at the end of the season despite the loss and has quickly risen to contention. Now he is in the penultimate bout on a card featuring a mega-title fight between Daniel Cormier and light heavyweight champ Jon Jones.
Jury knows a win over an established veteran such as Cerrone will help get him to the next level in his pursuit of stardom.
"This is what I want," he said. "I want opportunities to put myself out there and big fights and become a household name."
The fight is part of a pay-per-view card that begins at 7 p.m.
Contact reporter Adam Hill at ahill@reviewjournal.com or 702-224-5509. Follow him on Twitter: @adamhilllvrj.