Justin Gaethje lives up to hype in UFC debut
Updated July 8, 2017 - 1:58 am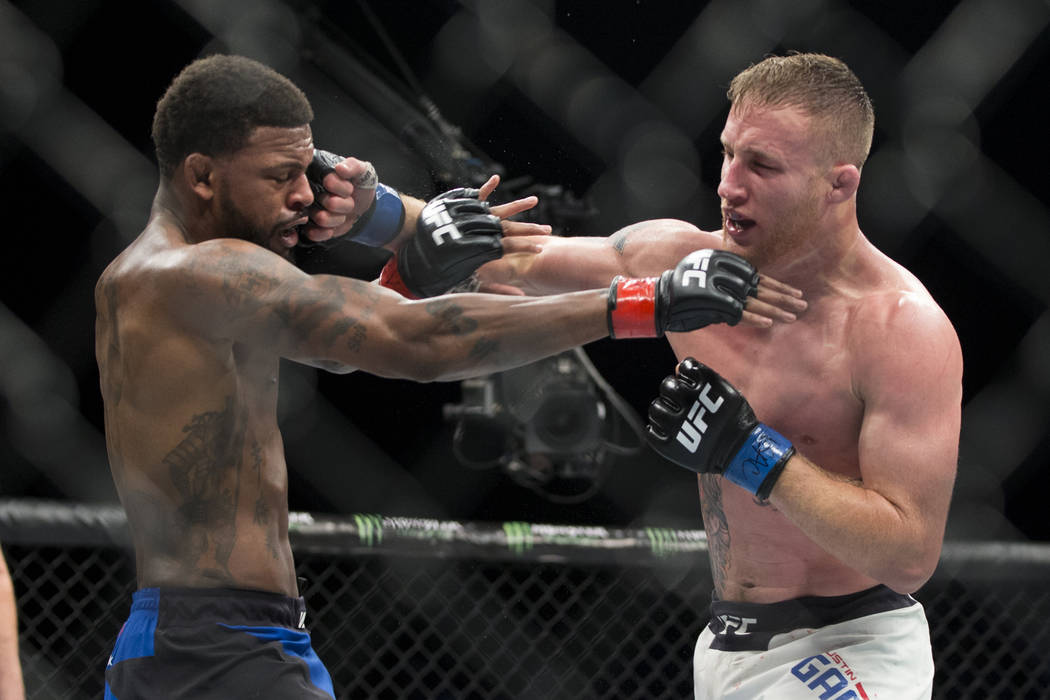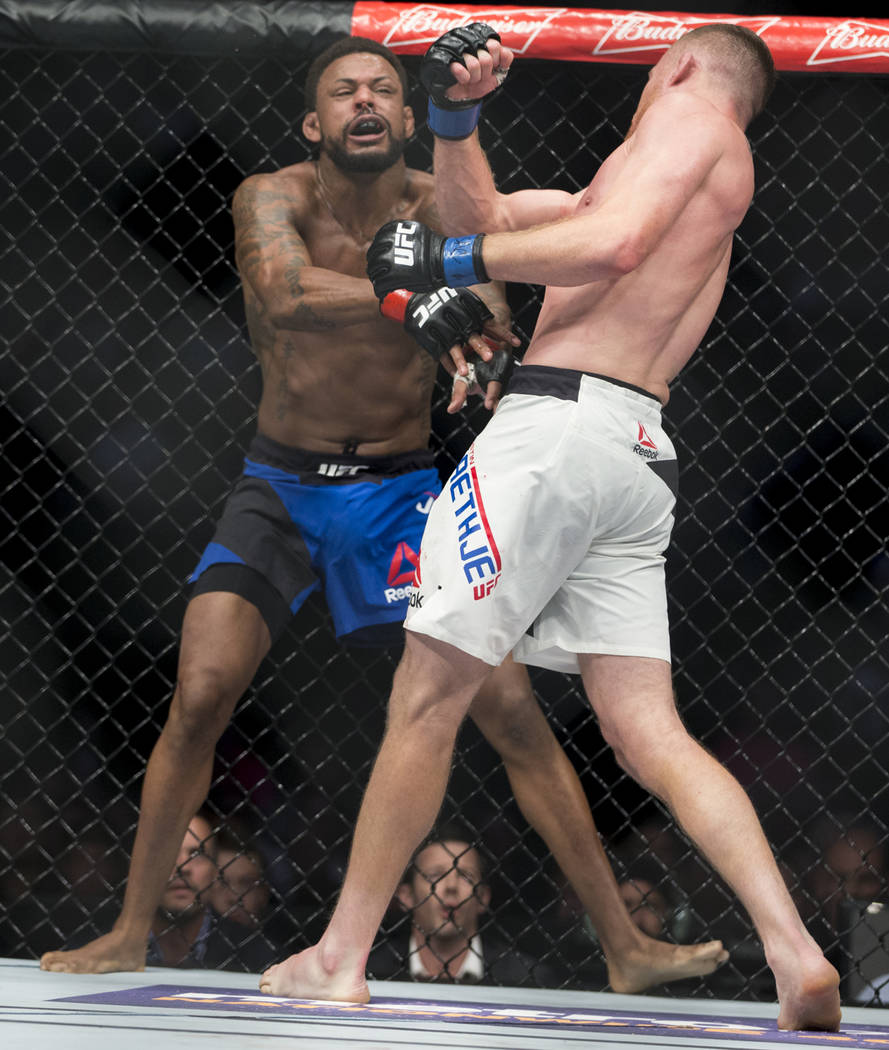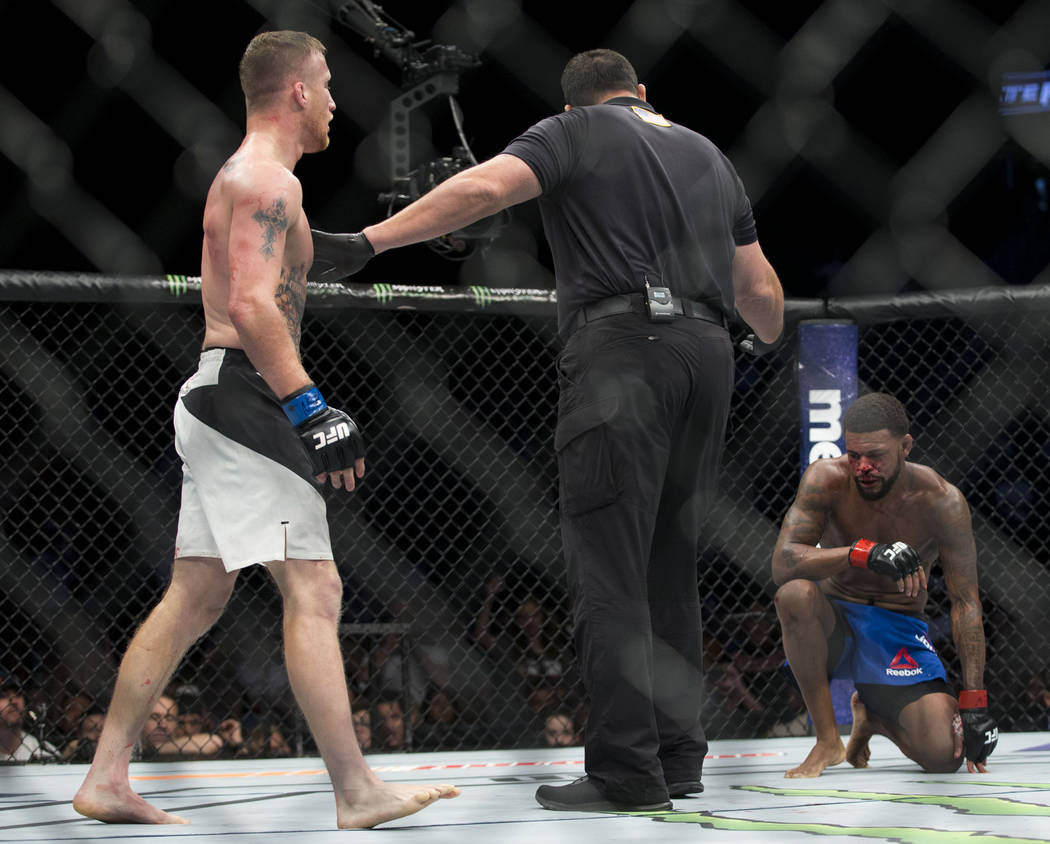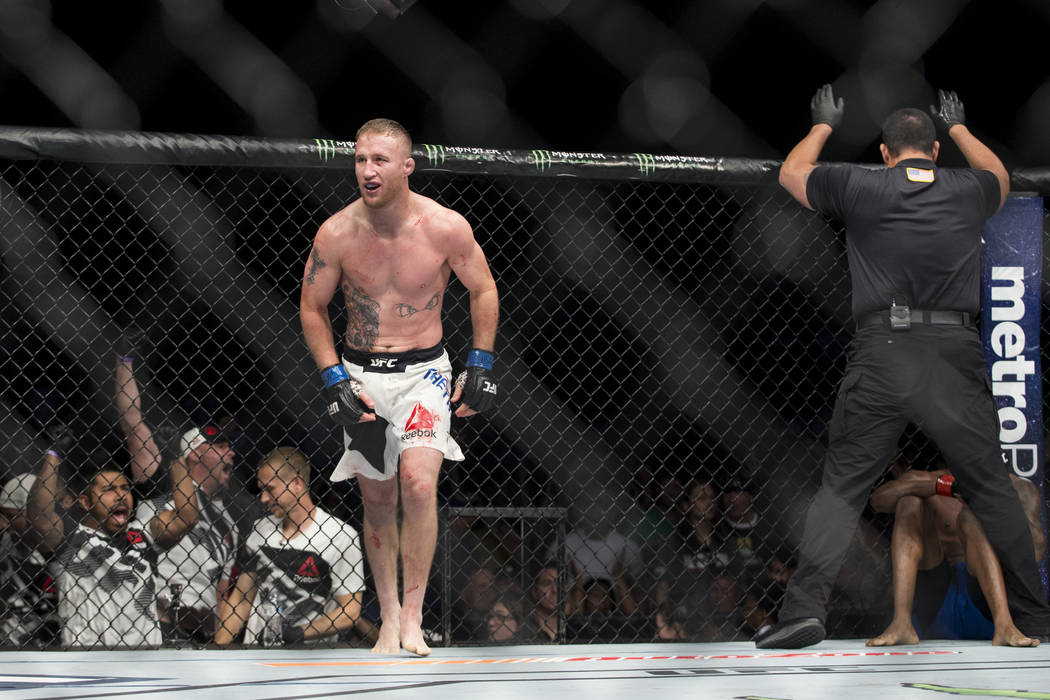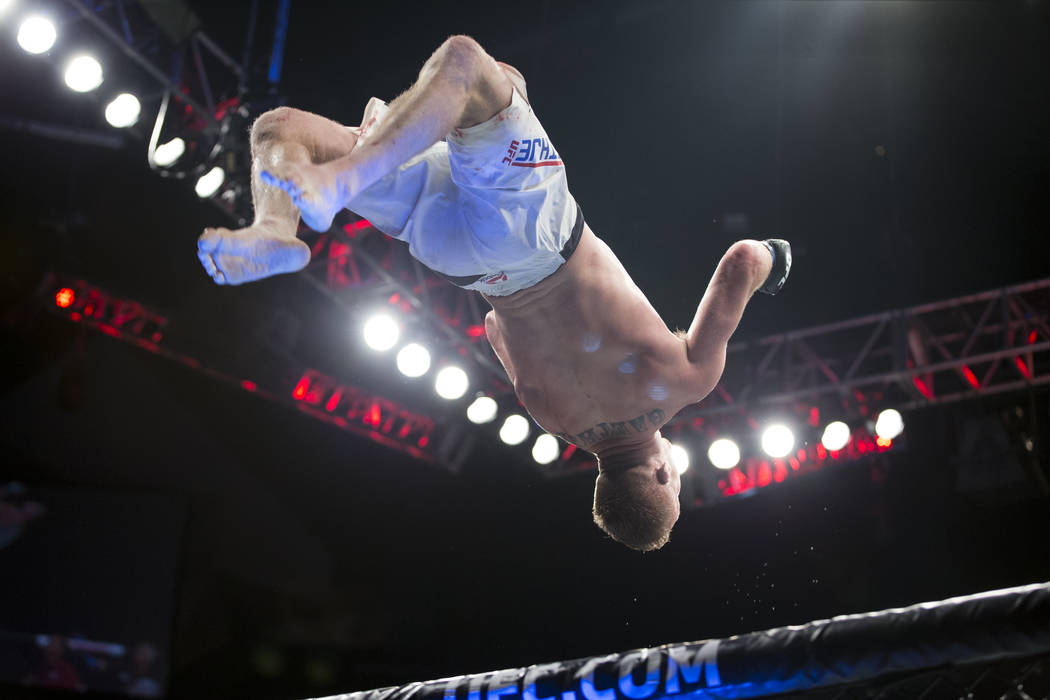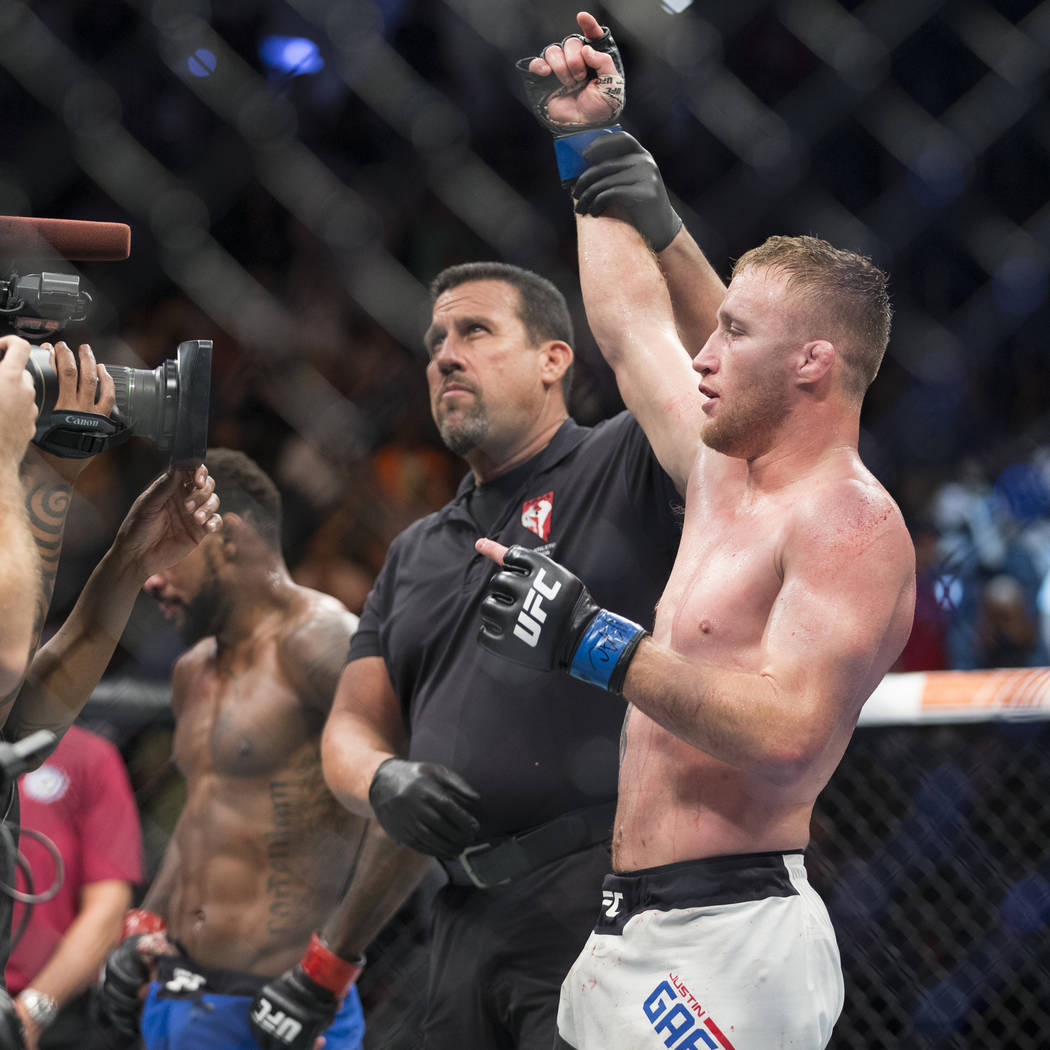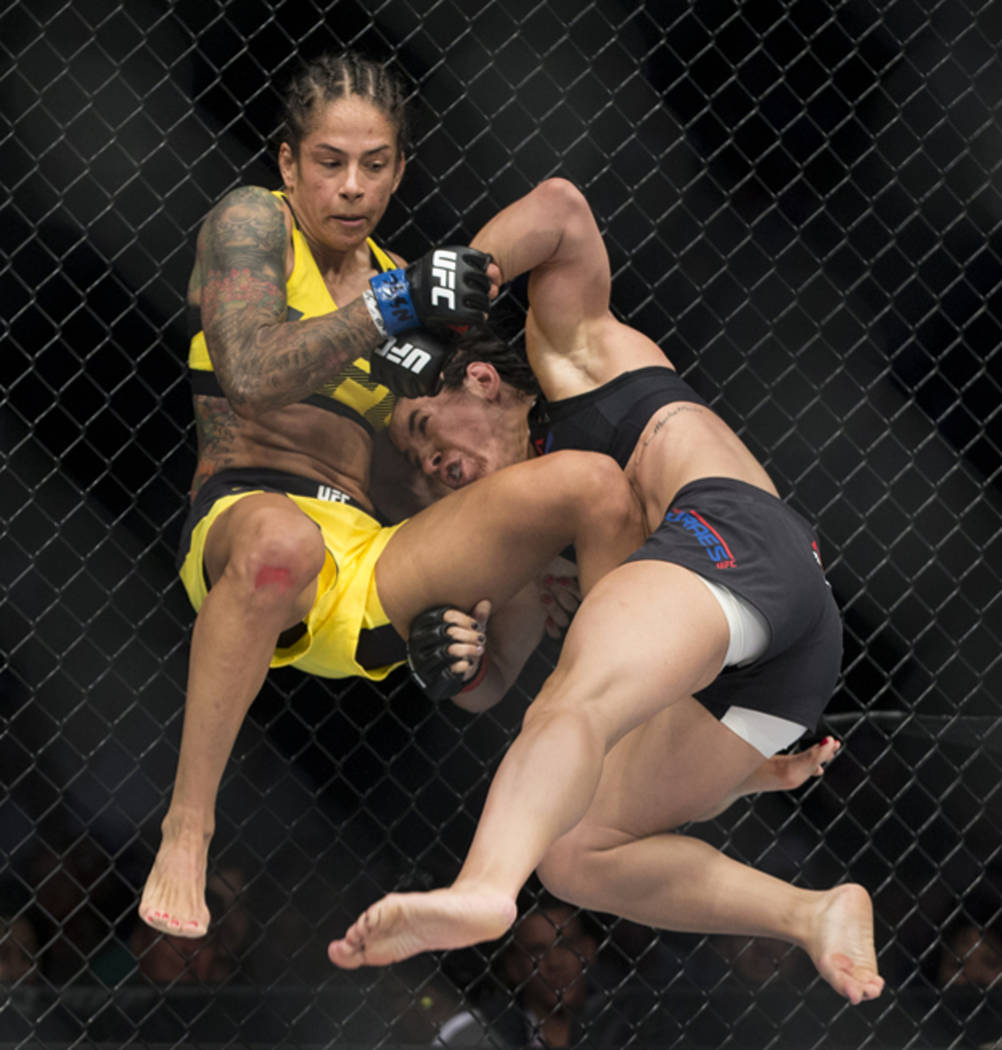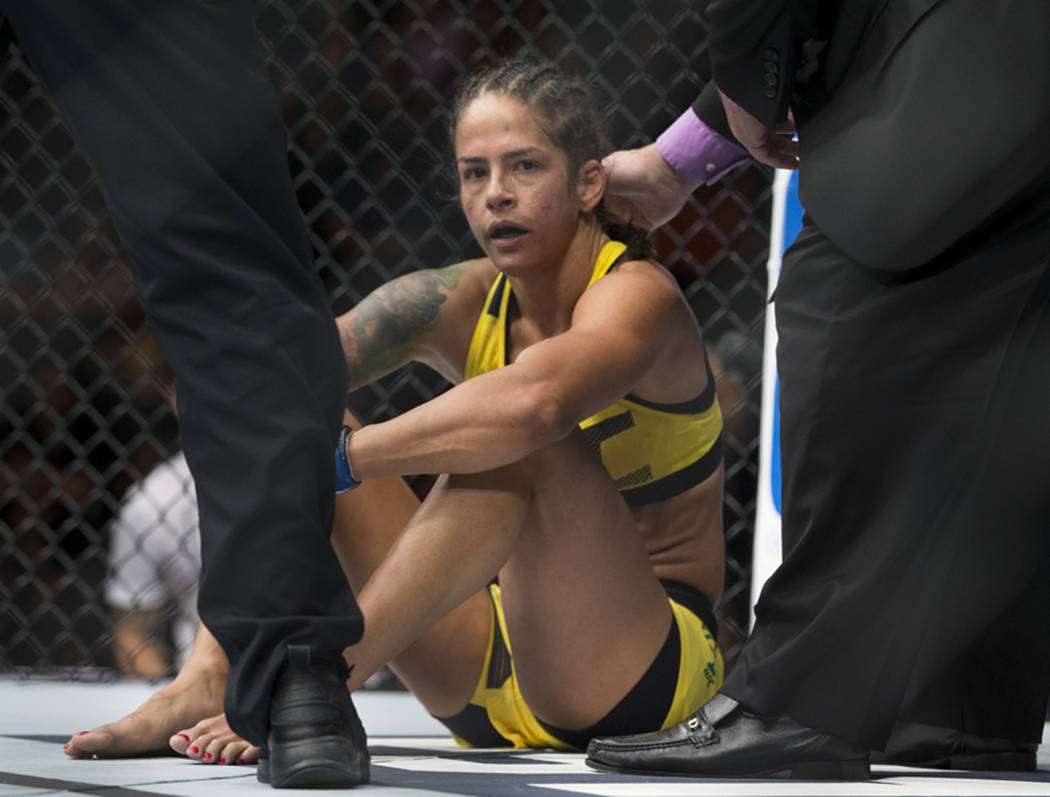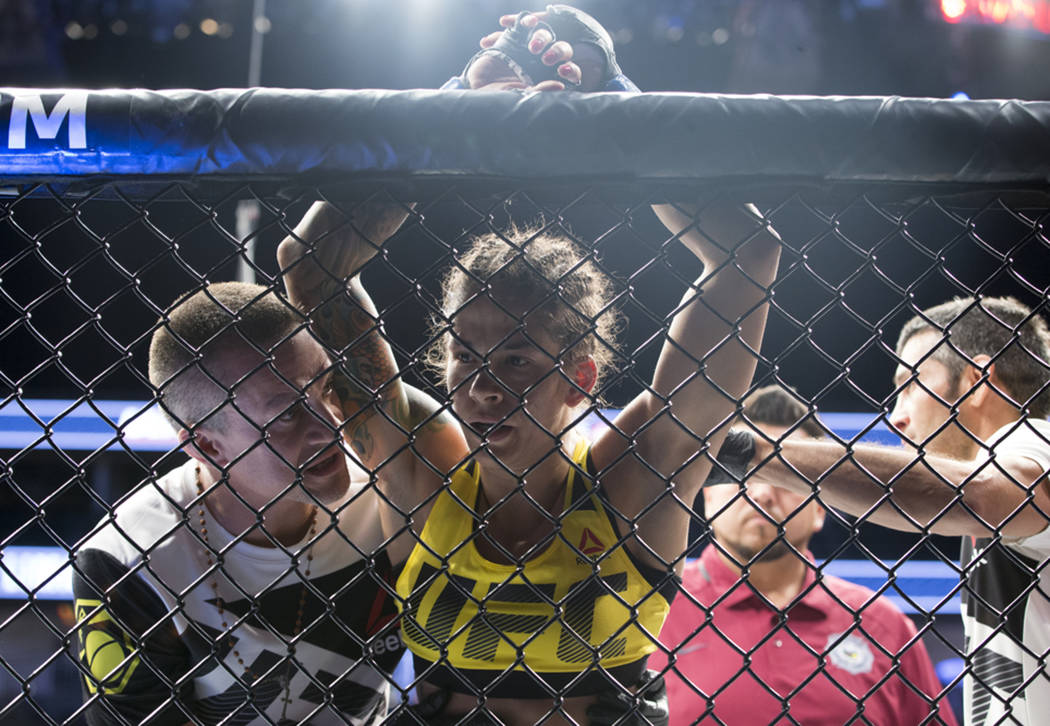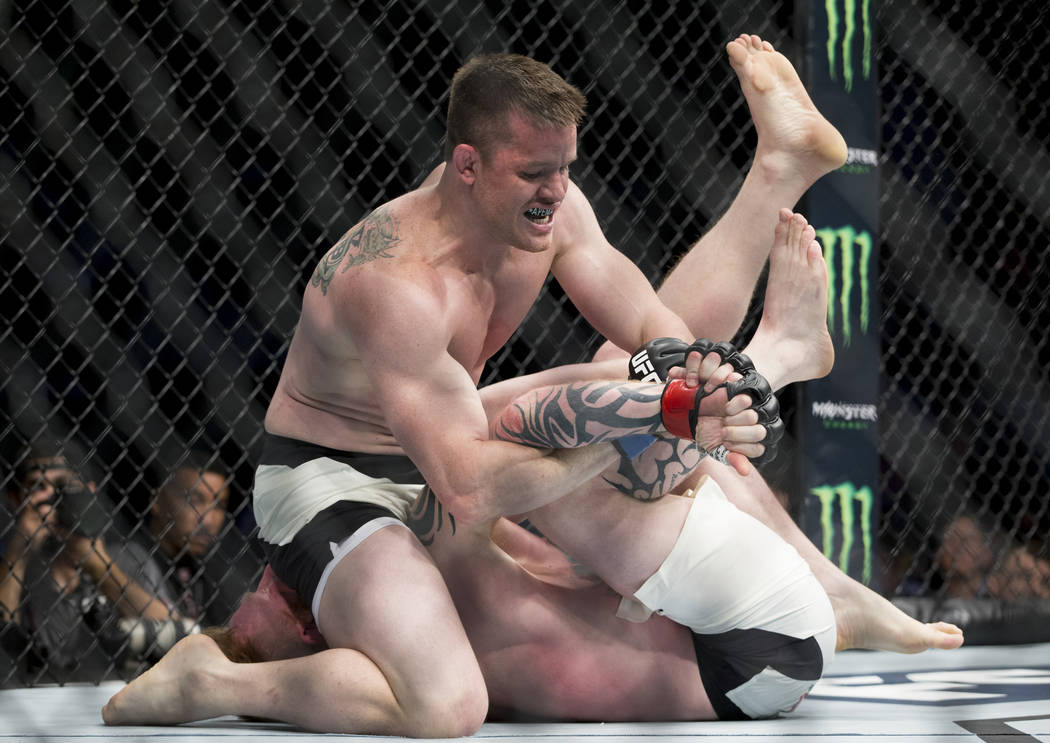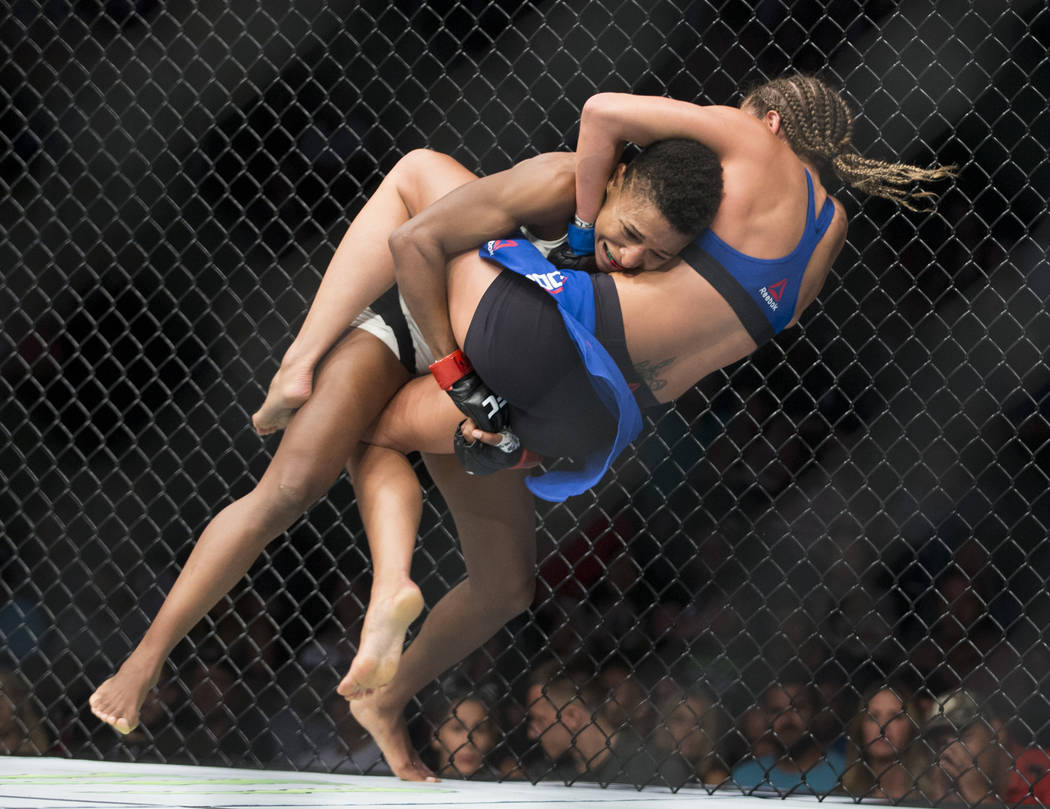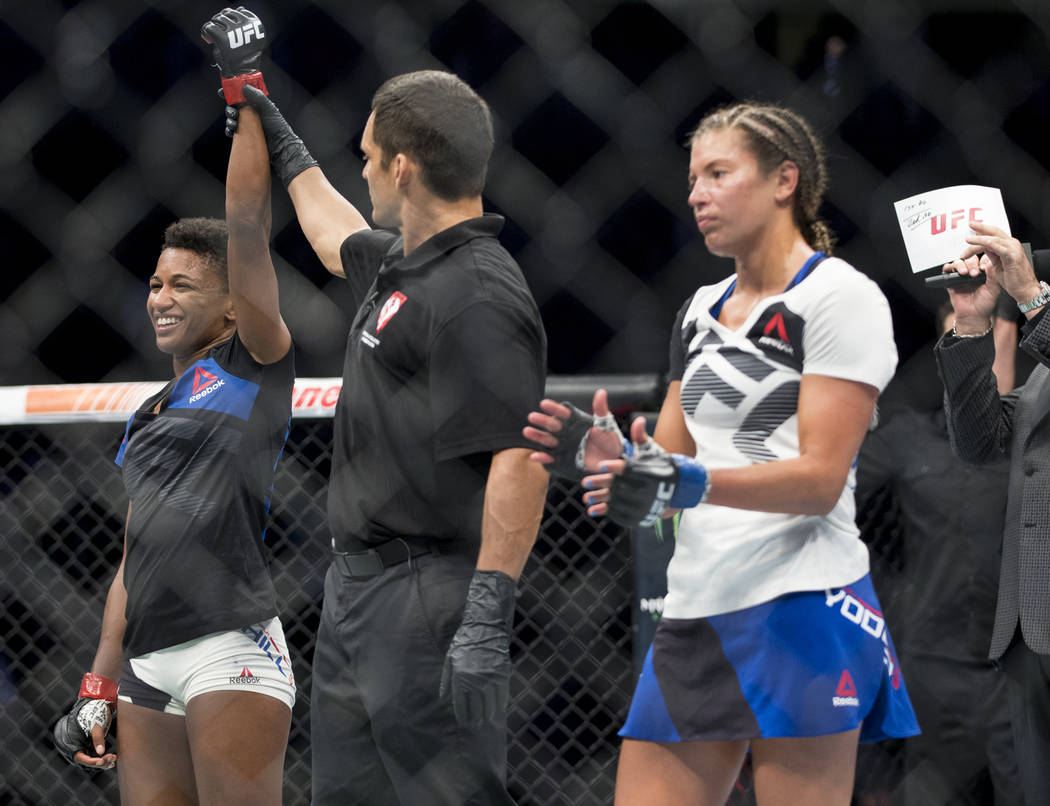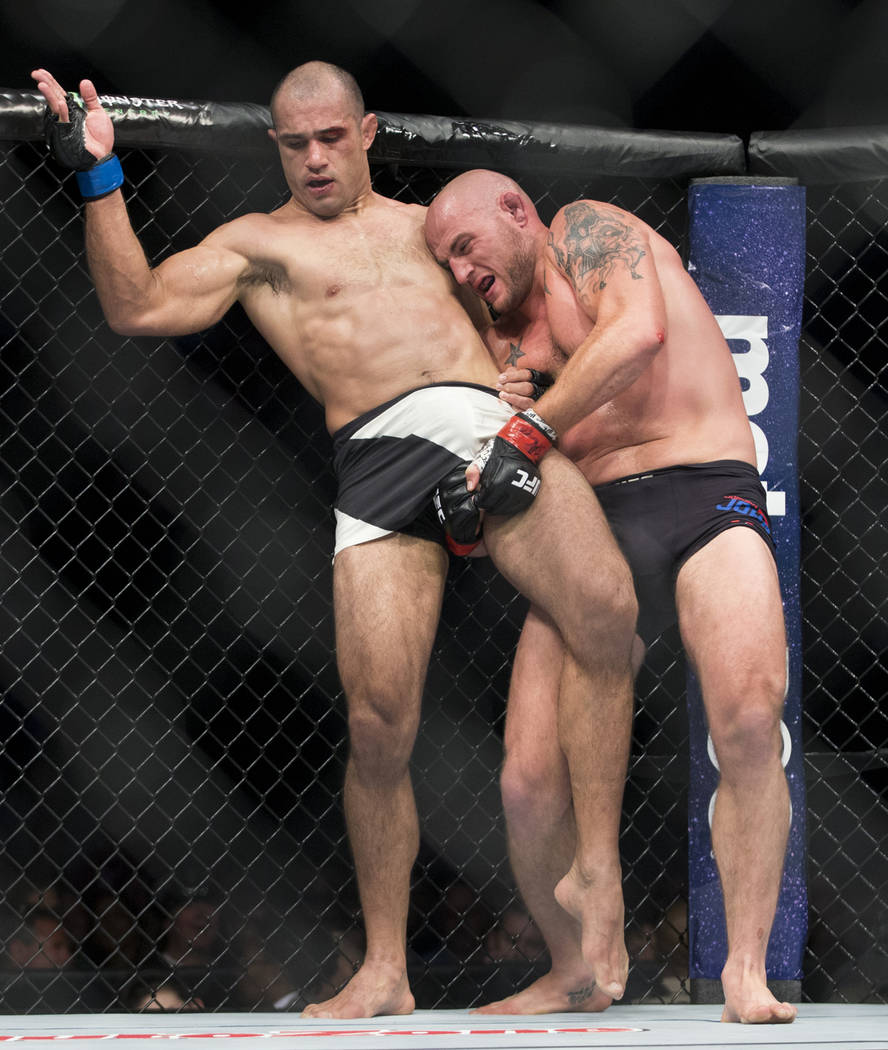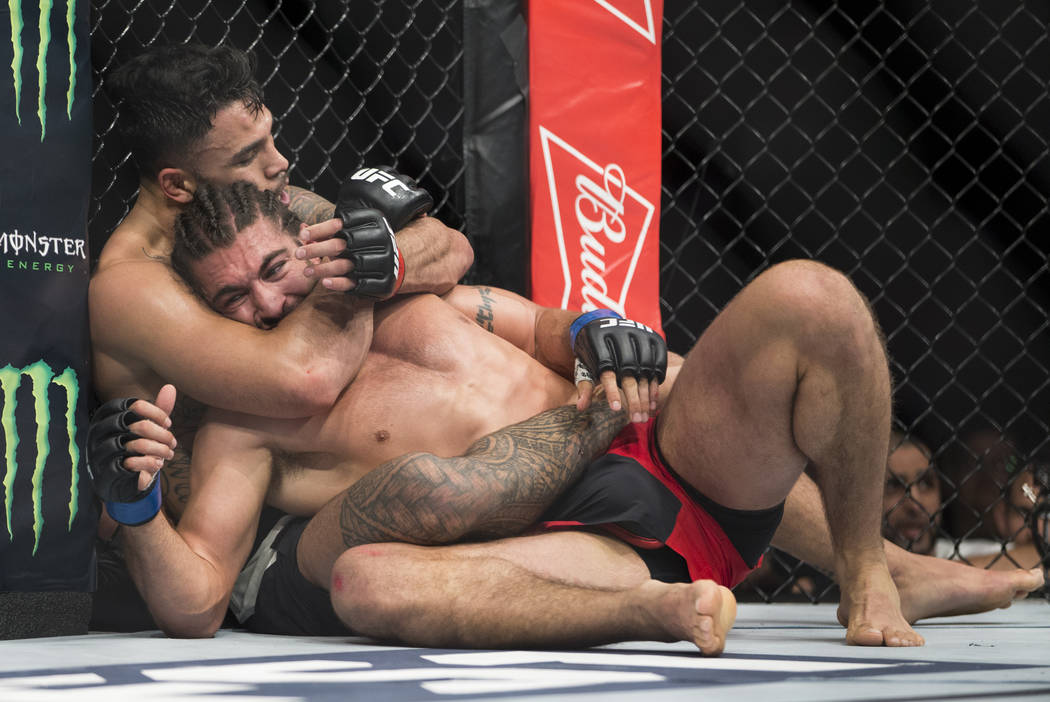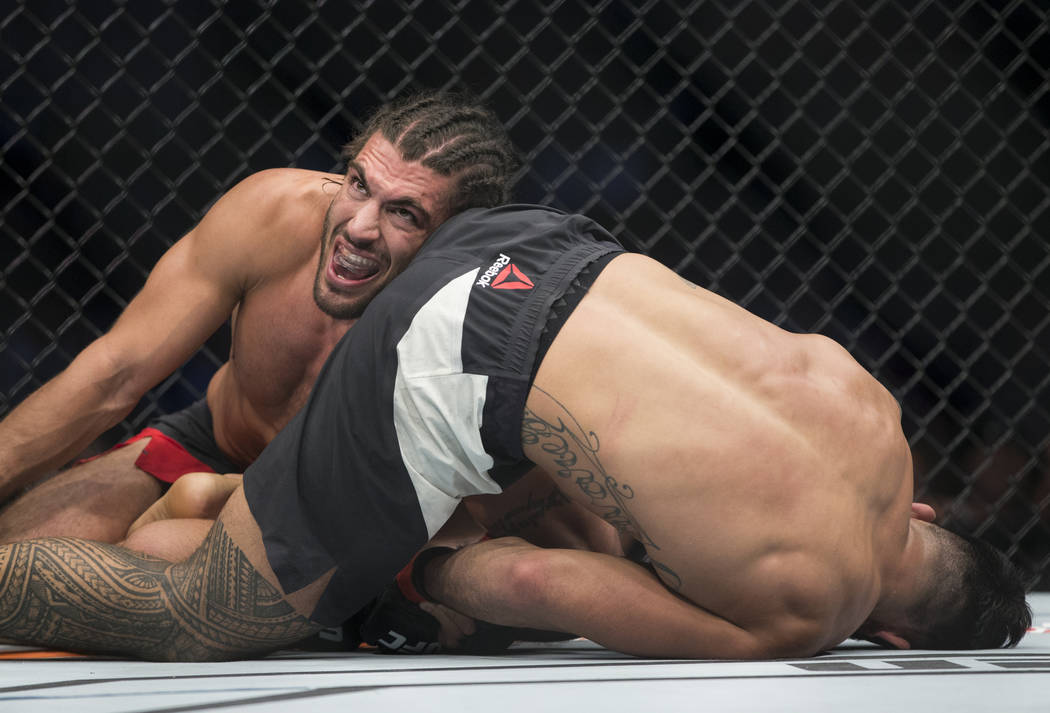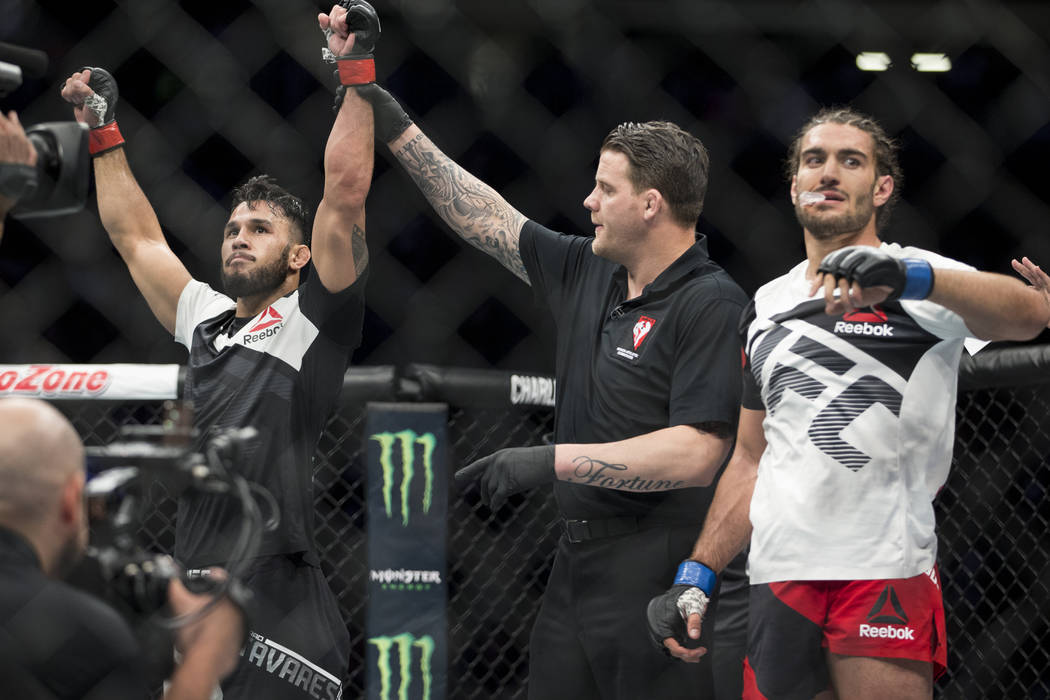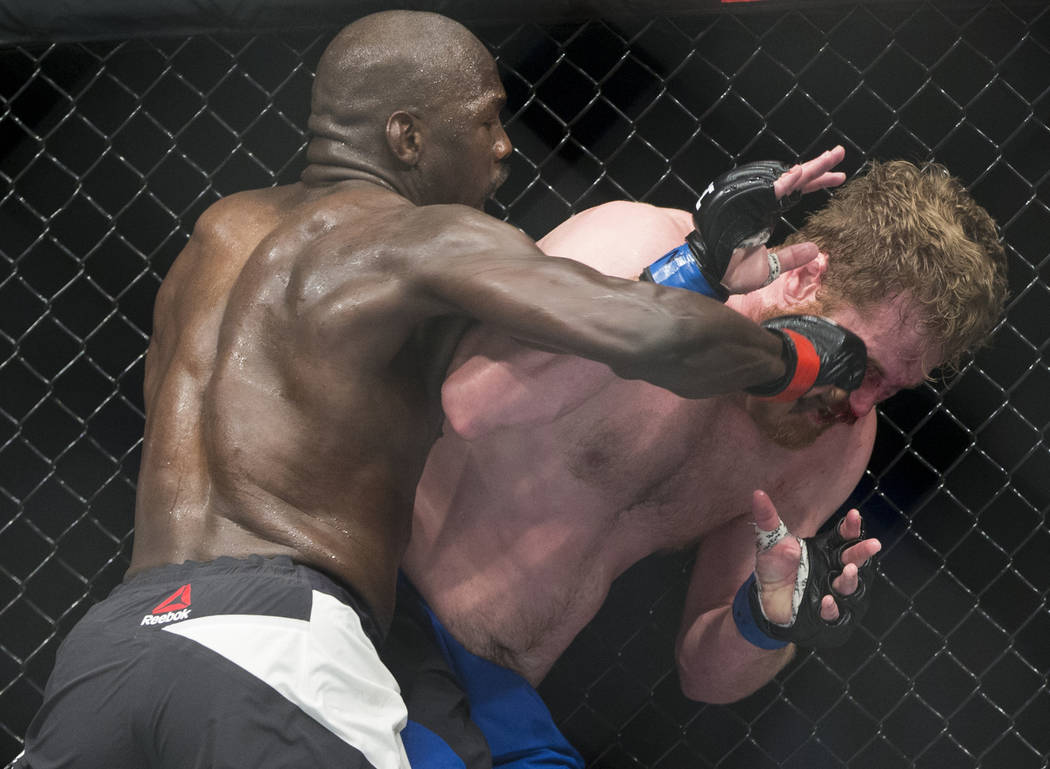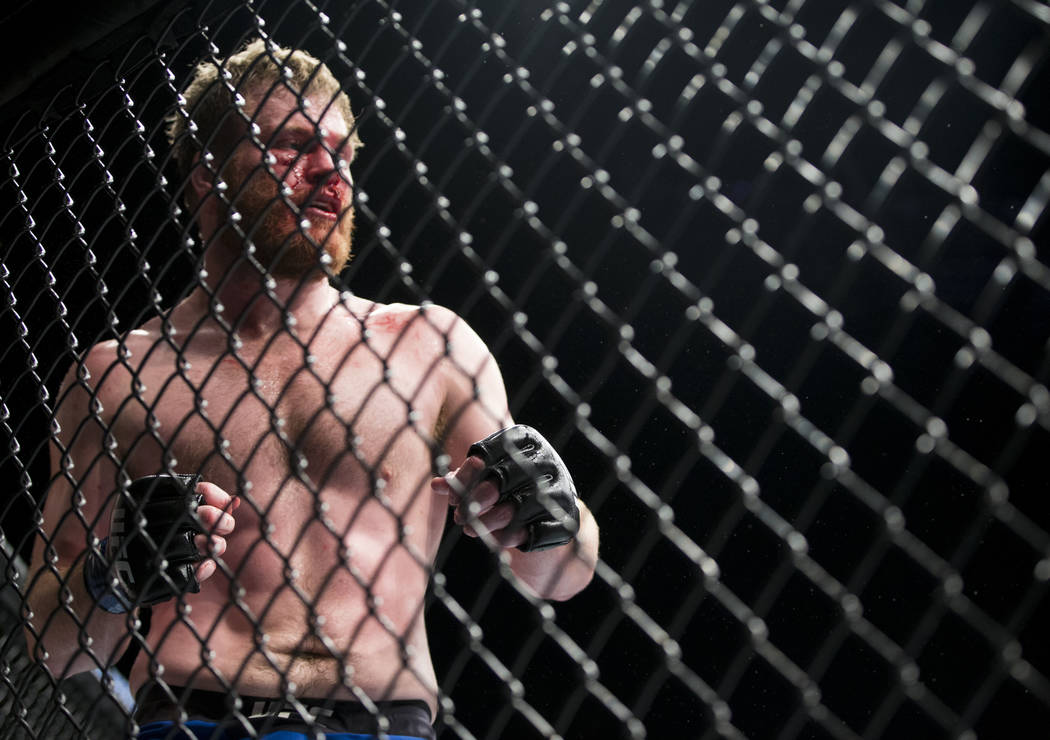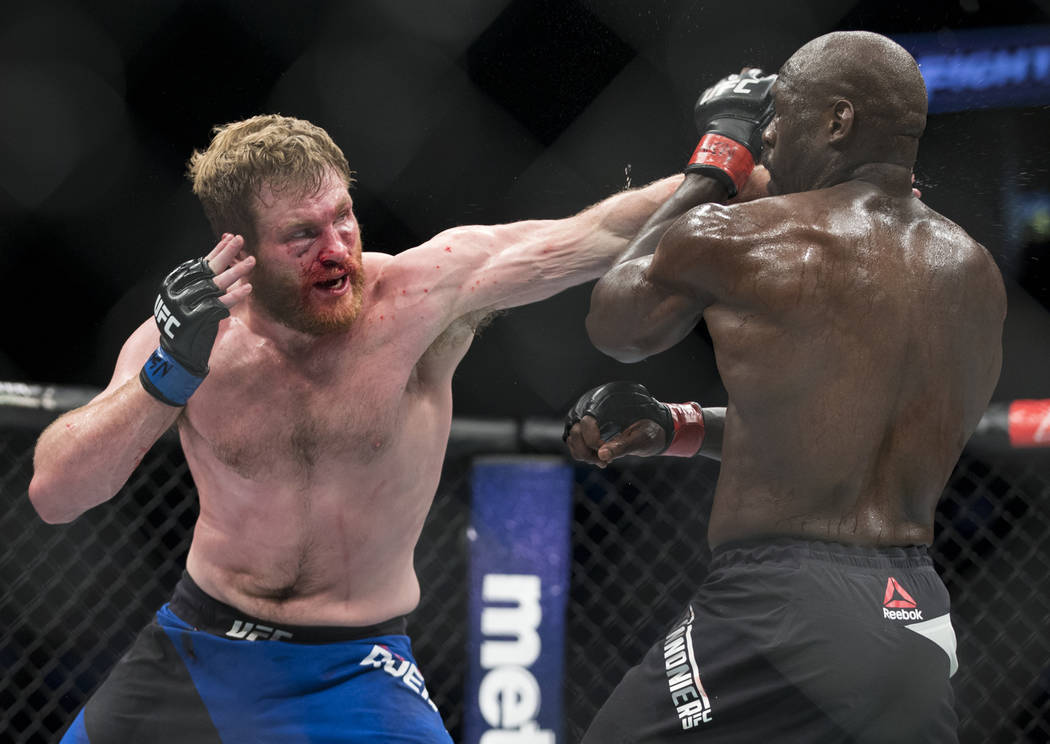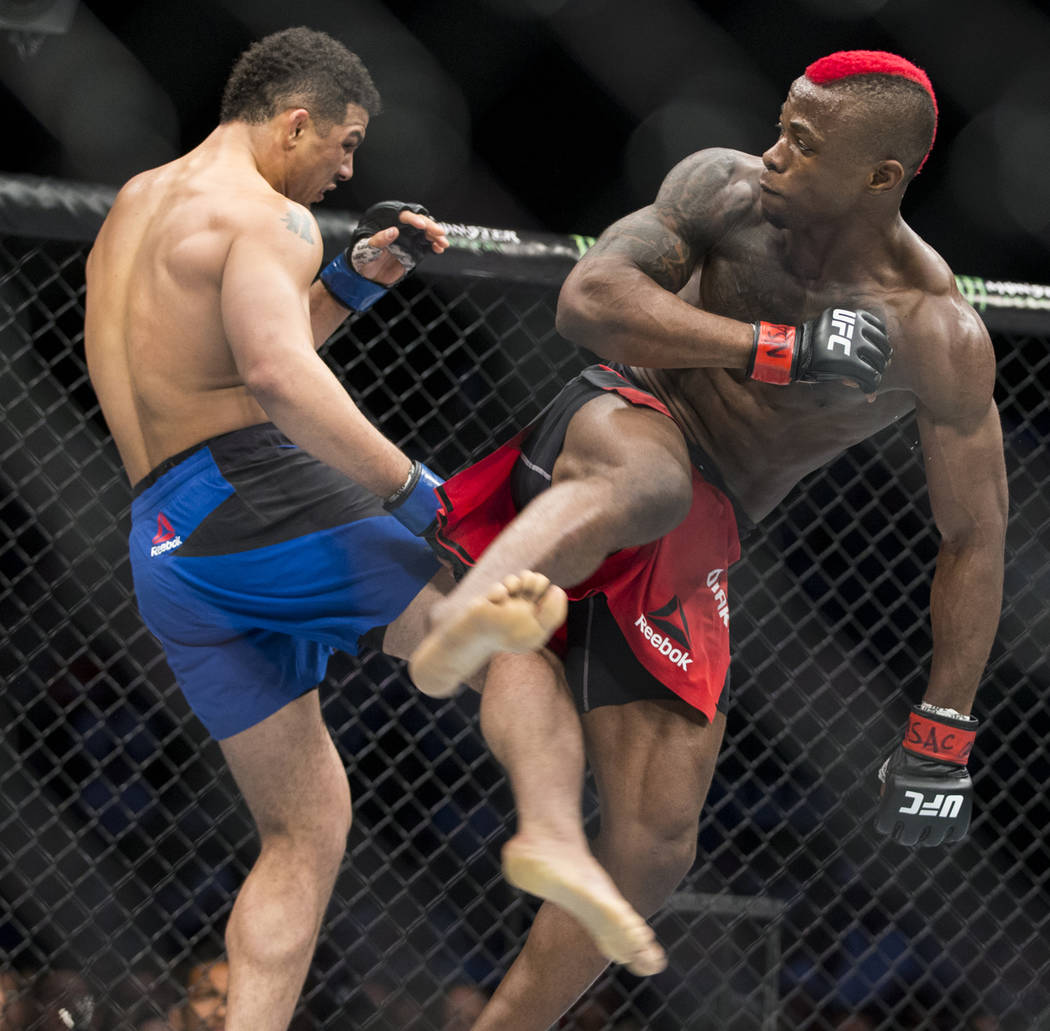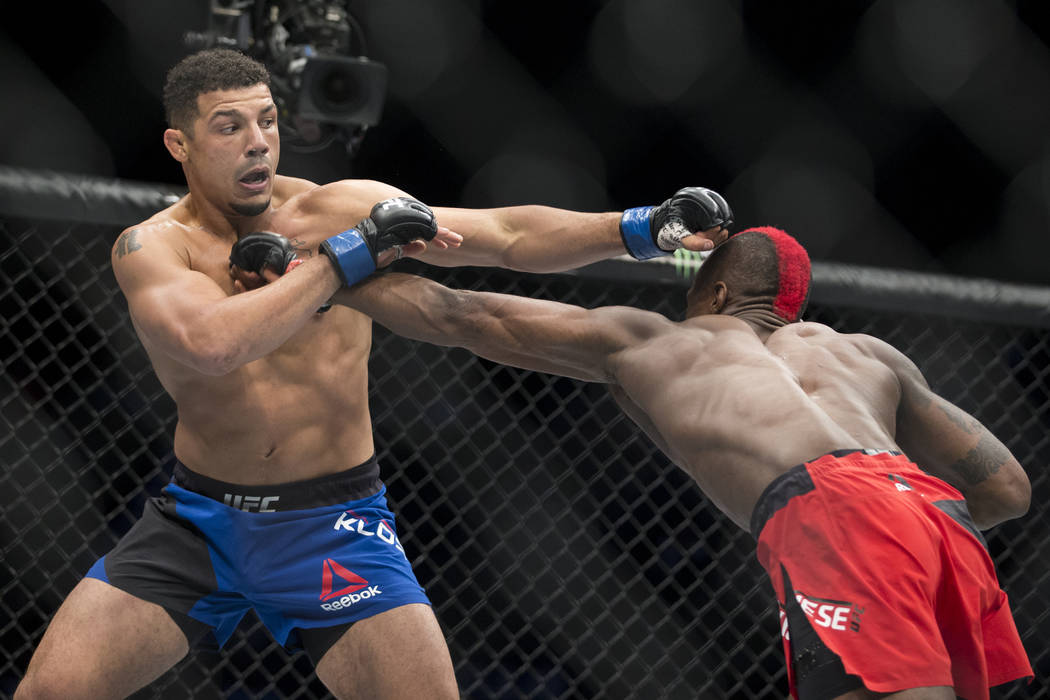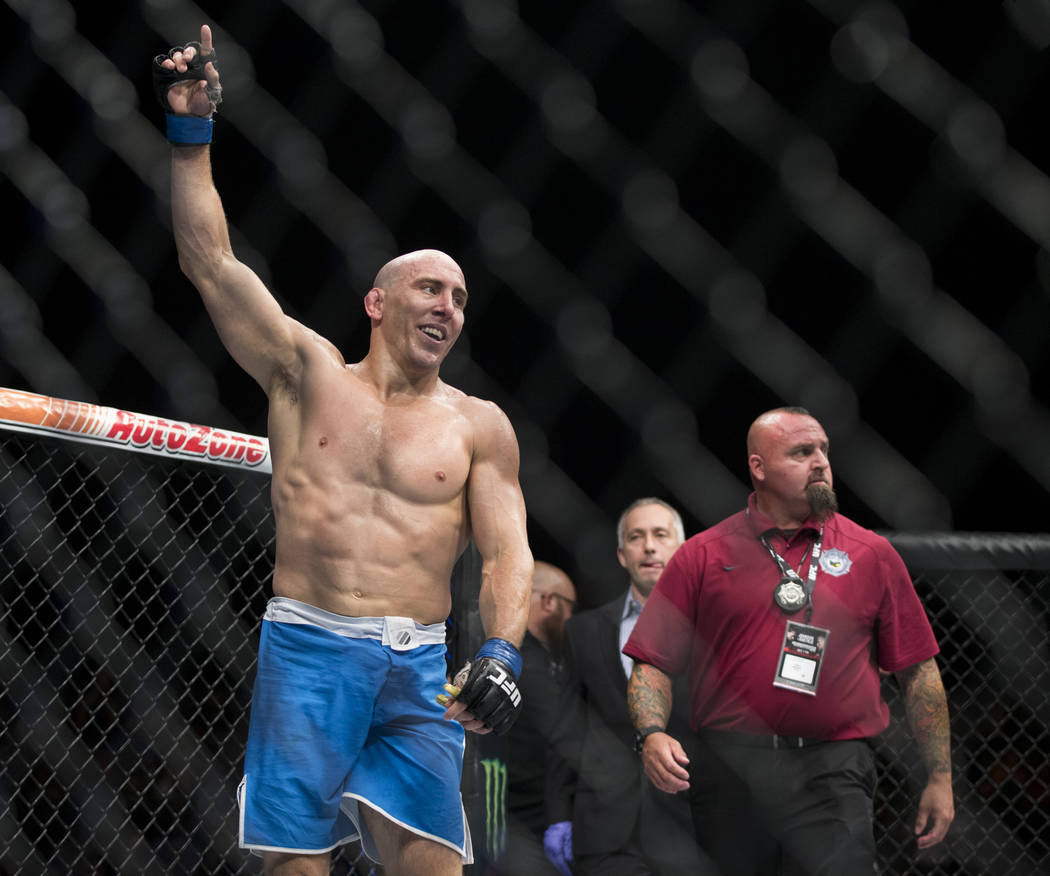 Former World Series of Fighting champion Justin Gaethje acknowledges his aggressive and at times reckless style eventually might lead to a knockout loss.
It almost happened about five times in his UFC debut on "The Ultimate Fighter 25" Finale card Friday night at T-Mobile Arena.
Gaethje was wobbled several times before rallying to pummel an ailing Michael Johnson at 4:48 of the second round.
"This feels fantastic," the lightweight said after improving to 18-0 as a pro. "I love this. You cannot break me, I promise you. You better put me to sleep or else I'm coming for your head, your body and your heart.
"Who is next?"
Gaethje was in the most trouble late in the first round only to be saved by the bell. He was wobbled again early in the second as the roar of the sparse crowd grew with every crushing punch, kick and knee that landed at a frantic pace.
The leg kicks Gaethje was mixing in throughout the exchanges started to take effect midway through the round, and Johnson found himself struggling to stay on his feet. In the closing moments of the second, he placed his back on the cage in an effort to help support his weight only to have Gaethje follow up with punches and a big knee that ended the action.
"Where is my equal?" Gaethje pleaded into the microphone.
While Gaethje couldn't have scripted a better start to his UFC career, Jesse Taylor wrote the perfect ending to the ultimate redemption story by getting through a season of second-chance contestants on the reality show and winning the title with a second-round submission of Dhiego Lima in a welterweight bout.
Taylor had made it through the tournament on Season 7 only to be removed from the championship bout when he celebrated his semifinal win with a drunken rampage at Palace Station.
"This goes out to all the people who have messed up in life but never gave up," Taylor said. "Keep going. Just keep going."
Taylor dominated the first round only to get knocked down by a punch early in the second. He quickly scrambled away from Lima on the mat and locked in a rear-naked choke.
"That's a perfect example of my life," Taylor said. "I get dropped, but I just keep going. Perseverance."
Drakkar Klose handed lightweight prospect Marc Diakiese the first loss of his career in a bout that might have earned them fight of the night bonuses on most cards.
Klose answered Diakiese's flying strikes and flashy submission attempts with leg kicks and takedowns and was rewarded with a split decision.
Jared Cannonier bounced back from a loss to light heavyweight contender Glover Teixeira by knocking out late replacement Nick Roehrick in the third round.
Cannonier punished Roehrick, who signed with the UFC to take the fight this week when Steve Bosse was forced to pull out, with a series of elbows on the ground that drove his head into the mat until the referee stopped the damage.
Two-time NCAA wrestling All-American Jordan Johnson took the first and third rounds on all three cards to win a unanimous decision over light heavyweight Marcel Fortuna.
Las Vegan Brad Tavares won his third fight in four tries with a unanimous decision over Canadian middleweight Elias Theodorou on the main card.
Gray Maynard, a teammate of Tavares at Xtreme Couture, grinded out a decision win over Teruto Ishihara. Maynard repeatedly took Ishihara down and never let him mount any sort of offense in dominating position for nearly the entire 15 minutes of a preliminary card bout.
Angela Hill and Tecia Torres picked up women's strawweight wins. Hill won all three rounds of a unanimous decision over Ashley Yoder, and Torres submitted Juliana Lima early in the second round.
"TUF 25" semifinalist James Krause won a unanimous decision over castmate Tom Gallicchio in a welterweight bout, and veteran C.B. Dollaway recovered from a staggering early shot to win a unanimous decision over light heavyweight Ed Herman.
A women's bantamweight bout between Jessica Eye and newcomer Aspen Ladd was called off just hours before the fight when Ladd was hospitalized because of illness.
Contact Adam Hill at ahill@reviewjournal.com or 702-277-8028. Follow @adamhilllvrj on Twitter.
'TUF 25' Finale
Results of Friday's main card bouts at T-Mobile Arena:
— Justin Gaethje def. Michael Johnson, lightweights, KO, Round 2 (4:48).
— Jesse Taylor def. Dhiego Lima, welterweights, submission, Round 2 (0:43), to win 'TUF' Season 25 welterweight title.
— Drakkar Klose def. Marc Diakiese, lightweights, split decision (29-28, 28-29, 29-28).
— Jared Cannonier def. Nick Roehrick, light heavyweights, KO, Round 3 (2:08).
— Brad Tavares def. Elias Theodorou, middleweights, unanimous decision (29-28, 29-28, 29-28).
— Jordan Johnson def. Marcel Fortuna, light heavyweights, unanimous decision (29-28, 29-28, 29-28).