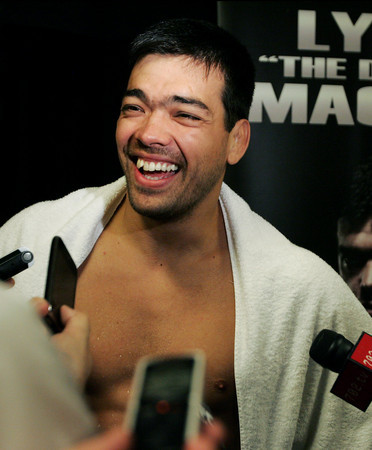 LOS ANGELES — The mere mention of the word karate used to conjure up images of Ralph Macchio painting fences and standing on his one good leg to finish off one of the bullies from Cobra Kai.
Lyoto Machida is not the Karate Kid, but he almost single-handedly has brought the martial art form back to the Ultimate Fighting Championship.
Machida, 31, will defend his light heavyweight title for the first time tonight against Mauricio "Shogun" Rua in the main event of UFC 104 at Staples Center.
Growing up, Machida had his own version of Mr. Miyagi living right under his roof. His father, Yoshizo, trained Lyoto and his brothers in the discipline the family now refers to as Machida karate.
"(It) is an offshoot of Shotokan karate," Machida said through an interpreter. "What we've been able to do is adapt certain techniques that have been forgotten in sport karate to mixed martial arts."
Not that Machida's style wasn't conducive to success in traditional karate competitions. He was the Brazilian and Pan-American champion in 2001 before taking third in the world championships.
Machida is now 15-0 in MMA, including seven wins in the UFC. But UFC president Dana White said that's not the most amazing statistic.
"Not only has he never lost a fight, he's never lost a round. I don't know that we can ever say that about anybody else in the history of fighting," White said.
White said the UFC's stats indicate Machida gets hit just once every 21/2 rounds.
But the real testament to Machida's ability is what other fighters say about him.
Brandon Vera, who hopes to challenge for Machida's title in the near future, took a deep breath and sighed when asked about what makes the champion so effective.
"His style is (expletive) awesome. You can't hit him. You can't beat somebody if you can't hit him. If you can't hit him, how the hell are you going to beat that guy?" Vera asked rhetorically. "Nobody has prepared correctly for his style. They think that they can just fight the way they want to fight and go beat Machida. No.
"He's a beast. I remember when Tito (Ortiz) couldn't hit Machida and Machida was lighting his (expletive) up. Tito tried to say, 'Come on,' but he couldn't even get the 'on' out, and he just said 'Come' and got drilled in the face twice. It was awesome."
Winning that fight over Ortiz seemed to be a springboard for Machida. He has won two fights since, both by knockout,
Shane Carwin, a heavyweight who will fight for Brock Lesnar's title in Las Vegas on Nov. 21, thinks Machida's biggest asset is in his head.
"The first thing that jumps out is confidence. His footwork and his elusiveness, obviously. But I think he goes in there with the right mind and a prepared mind, and I think that's the most important thing in any fight," Carwin said. "To be a champion, I think you have to be mentally strong, and I believe Machida is mentally strong and he believes in what he's doing."
Machida said his success comes down to simple execution. "I think that I control my distance and I control the timing of the fight," he said. "That's what I think I do very well."
He shrugged off the notion that nobody in the division can beat him when he's at his best.
"It's not that I feel I'm unbeatable; it's just that my game is a little bit complicated to understand," he said. "I'm constantly evolving and constantly changing my game. So that's why I'm a little bit hard to figure out."
Rua will try to solve that puzzle tonight. The Brazilian has won his last two fights after undergoing surgery to repair torn knee ligaments.
In the co-main event, Cain Velasquez will try to remain unbeaten against UFC newcomer Ben Rothwell in a heavyweight contender bout.
In another featured bout, lightweight Joe Stevenson will try to win his second consecutive fight after two losses when he takes on Spencer Fisher.
At least two fights from the card will be televised in a commercial-free broadcast on Spike (Cable 29) at 6 p.m. Ryan Bader will meet Eric Schafer in a light heavyweight bout, and heavyweights Antoni Hardonk and Patrick Barry will square off.
The five-fight main card begins live on pay per view at 7 p.m.
Contact reporter Adam Hill at ahill@reviewjournal.com or 702-224-5509.
FIGHT NIGHT
UFC 104
• WHEN: 7 p.m. today
• WHERE: Staples Center, Los Angeles
• TV: Cox pay per view (Digital 501); two undercard bouts on Spike (Cable 29), 6 p.m.