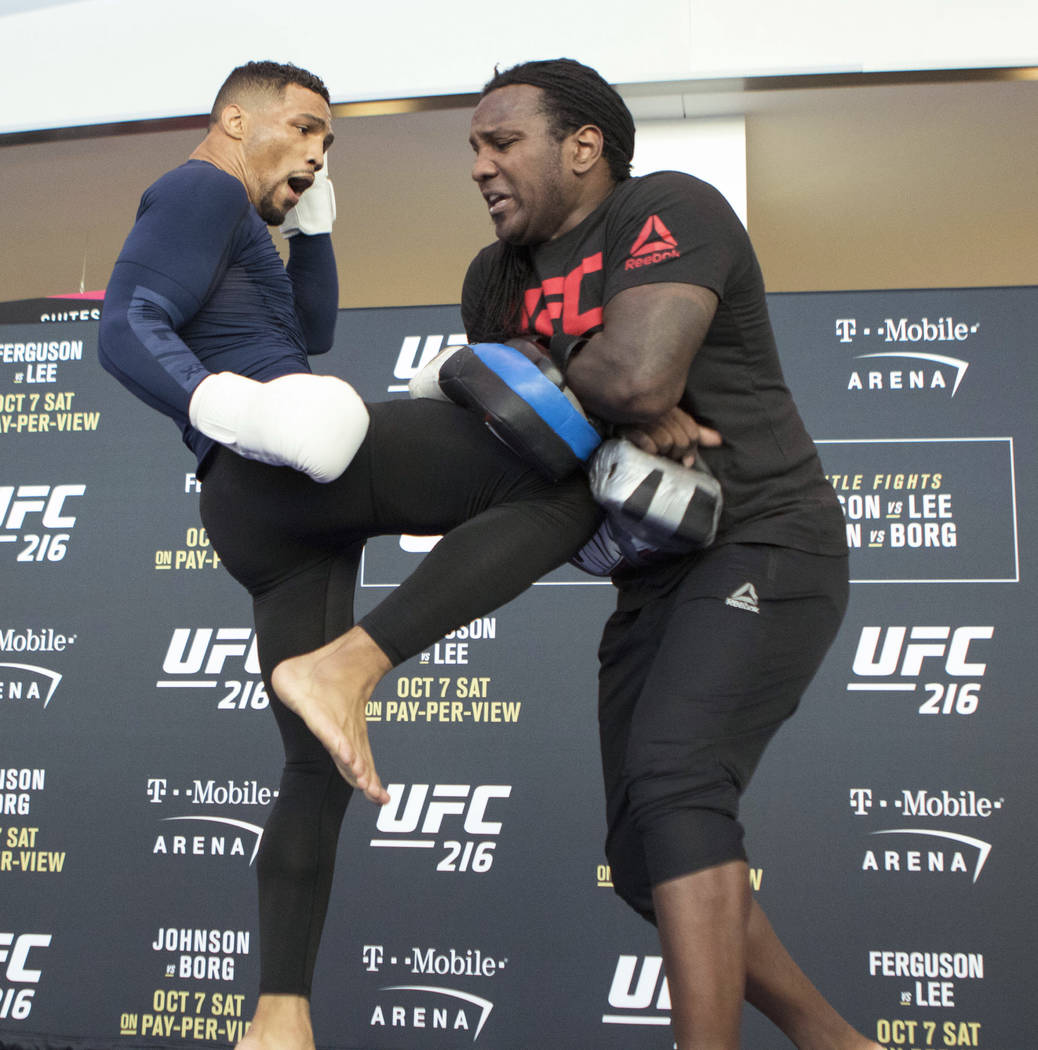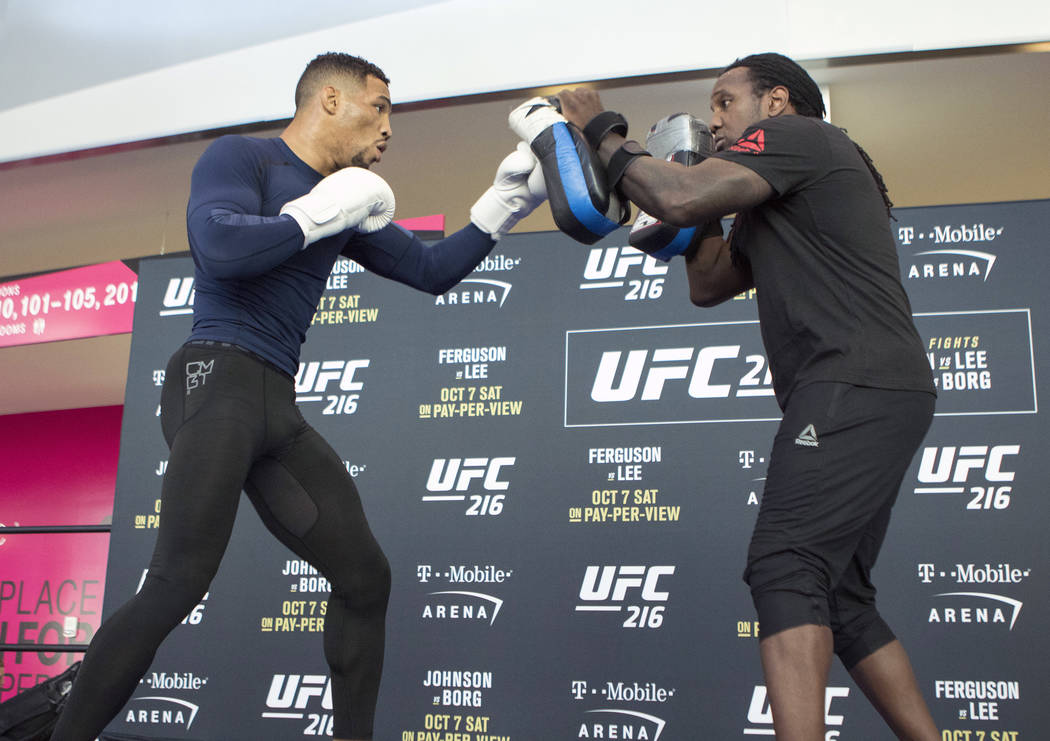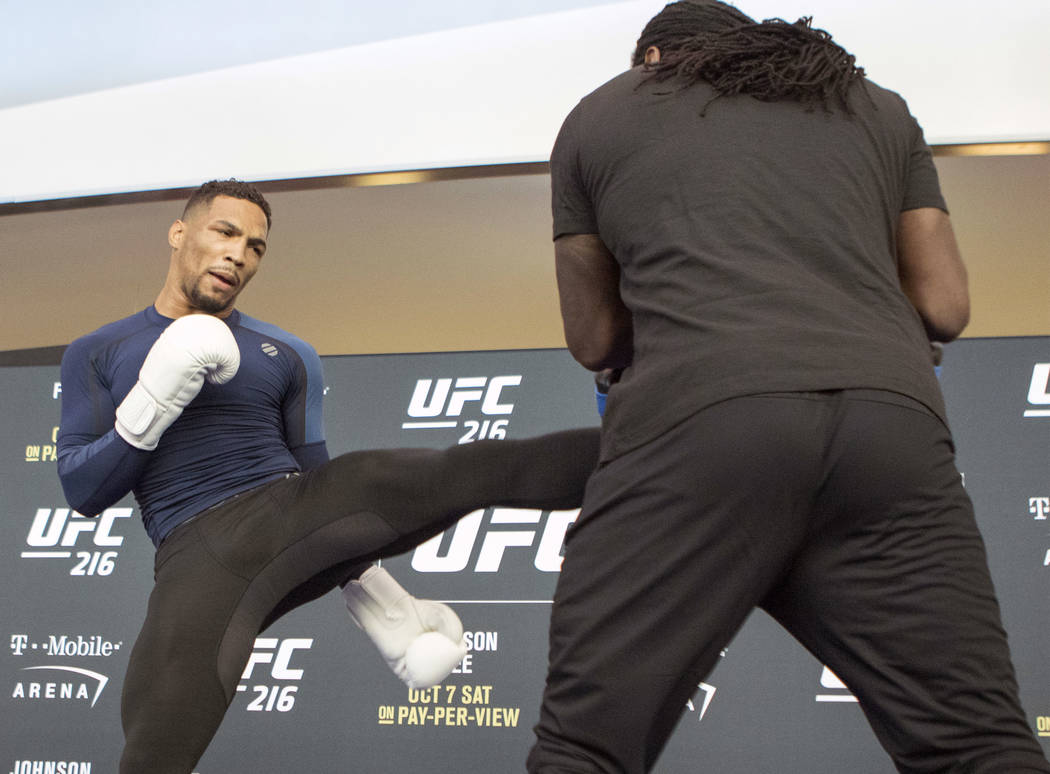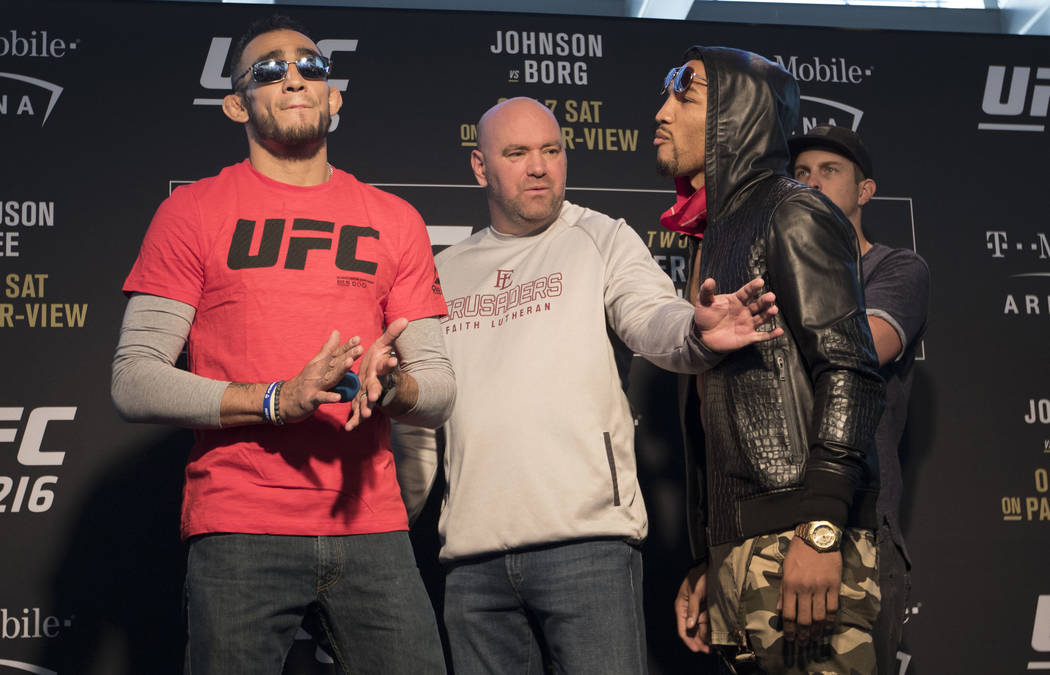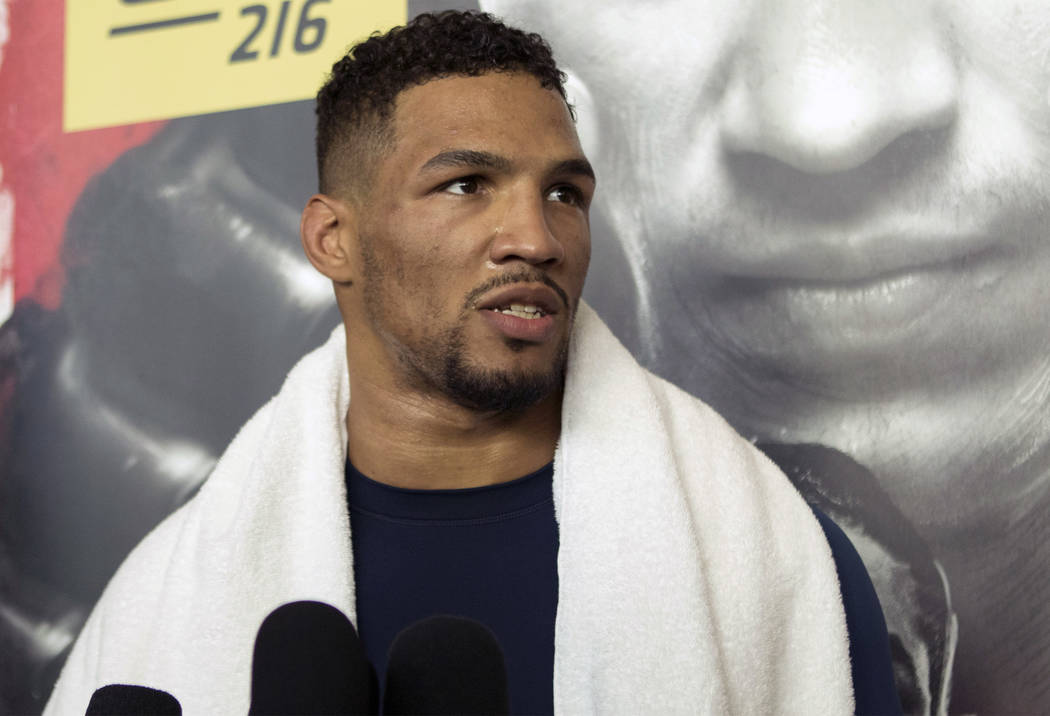 While the road from Michigan to Las Vegas might not be paved in gold, the journey could result in a shiny new belt for Kevin Lee.
Lee debated the move and faced resistance from his family when he relocated to the fight capital of the world to train full time in 2014, but he never looked back.
"You've got to keep on moving forward," he said of the life-changing decision at age 21 to leave Grand Valley State University and head west. "You might sit on that (expletive) for a week or two, but you can't look back."
The philosophy has served Lee well.
About three years later, Lee will fight Tony Ferguson for the interim lightweight title in the main event of UFC 216 on Saturday at T-Mobile Arena.
Lee's shot at the belt was briefly in jeopardy Friday when he missed weight by 1 pound only to hit the 155-pound limit after he was granted an extra hour under Nevada Athletic Commission rules.
Nothing has come easy for Lee, who grew up in a tough Detroit neighborhood and embraces his roots with his "Motown Phenom" nickname. He knows moving to Las Vegas was the right call.
"It can be tough when you have to make those choices, but that's life," Lee said. "We live to make those types of decisions. I feel like that's what a real champion does. You go out there and do the hard (expletive)."
Lee had shown flashes of what he could become. While splitting his time between school, the wrestling mats and an MMA gym in Grand Rapids, he had worked his way up to a UFC deal. His raw ability was evident, but a loss to Al Iaquinta in his UFC debut served as the reality check that prompted Lee's move.
He met Robert Follis, who was trying to restart the pro team at Xtreme Couture in Las Vegas not long after arriving in the valley.
Lee and Follis clicked after a gym session and a long discussion over coffee and have formed a tight bond, along with several other coaches such as Dewey Cooper, whom Lee has hired to form a staff that has brought out the best in him as he has torn through the division.
"Some people have that 'it,'" Follis said of what he saw in Lee when they met in 2014. "Not everybody gets it, and not everybody can ever have it. I saw that in him from the very beginning, and it's only shined brighter as time has gone on."
Lee, 25, has won nine of 10 fights since then, with the loss coming when he was a big favorite over Leonardo Santos in 2015. He admits getting overconfident and has learned his lesson.
That shouldn't be a problem against Ferguson, a top contender.
"One of the things that has made him so good is he's able to take guys' best shots and come back and hurt them," Lee said. "He can really weather a storm. But I'm going to bring a hurricane on his (expletive)."
The winner theoretically should be in line to fight lightweight champ Conor McGregor to unify the belts. Both are skeptical McGregor will take that fight anytime soon, and McGregor has indicated a desire to fight Nate Diaz for a third time.
There's a possibility McGregor won't defend the lightweight belt again and the winner of this fight would become the undisputed champion. Lee and Ferguson see it that way whether McGregor returns to the division or not.
Those are issues to worry about after Saturday. For now, Lee simply hopes his move to Las Vegas is paid off by winning his first title in his adopted hometown.
"Once I win this belt, I'll take it back and wave it around my old neighborhood and show the folks that they can do it too," he said.
The bout will headline a 7 p.m. pay-per-view card that also features a flyweight title bout between Ray Borg and champion Demetrious Johnson.
More MMA: Follow all of our MMA and UFC coverage online at CoveringTheCage.com and @CoveringTheCage on Twitter.
Contact Adam Hill at ahill@reviewjournal.com or 702-277-8028. Follow @adamhilllvrj on Twitter.
UFC 216
Main card bouts for Saturday's event at T-Mobile Arena:
— Tony Ferguson (23-3) vs. Kevin Lee (16-2), for interim lightweight title
— Demetrious Johnson (26-2-1) vs. Ray Borg (11-2), for Johnson's flyweight title
— Fabricio Werdum (21-7-1) vs. Derrick Lewis (18-5, 1 No Contest), heavyweights
— Mara Romero Borella (11-4, 1 No Contest) vs. Kalindra Faria (18-5-1), women's flyweights
— Beneil Dariush (14-3) vs. Evan Dunham (17-6), lightweights