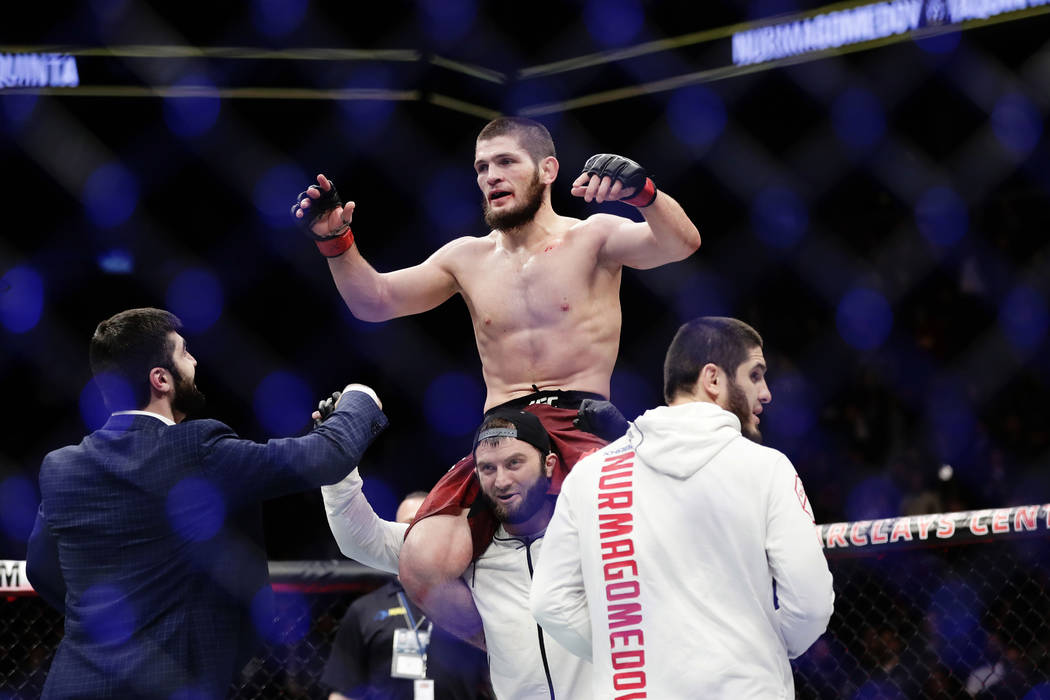 NEW YORK — UFC lightweight star Khabib Nurmagomedov barely had enough time to enjoy the title belt when he was barraged with the questions about former champion Conor McGregor.
It's no surprise considering a potential showdown between the two could be one of the biggest fights in UFC history. The promotional videos were all over the news this week.
Nurmagomedov won the lightweight title in the main event of UFC 223 at Barclays Center in Brooklyn on Saturday night with a dominant unanimous decision victory over Al Iaquinta after one of the most chaotic weeks in UFC history. Not only did Nurmagomedov endure multiple opponent switches during the week, McGregor and his entourage flew from Dublin to confront Nurmagomedov, resulting inthe former champion spending time in jail.
The entire melee, which included McGregor throwing a dolly through a bus window and injuring two fighters so badly they couldn't compete Saturday, was captured on video that has gone viral.
It's the kind of publicity most fight promoters can only dream of even if it shed the organization in a negative light for a few days.
The buildup to a potential fight in the cage could be epic. Now they just need to make it happen.
McGregor is still facing legal consequences for the incident, which was triggered by Nurmagomedov having words with one of McGregor's friends in the hallway of the Marriott hotel earlier in the week. He also likes to keep his options open and hasn't fought in the UFC since November 2016, which prompted the UFC to strip his title.
Nurmagomedov prefers a potential fight against another former two-division champion, Georges St. Pierre.
Still, he knows the fight against McGregor needs to happen at some point.
"We have to finish this beef," Nurmagomedov said. "You want to fight, come. I told you guys, I'm going to make him humble. No more fake champions, no one who doesn't want to defend his title. This champion wants to defend his title. Let me know anytime."
"You want to fight? Come here. Inside the cage, OK. Outside the cage, wherever. Come and tell me without a camera. He comes and tells me with a lot of security here inside and outside the bus. They don't let me come out. Why? Let me know and that's it. Anytime."
Nurmagomedov has risen to every challenge in his 10 fights in the UFC as he has never lost a round. He hopes to stay just as motivated now with the title. He also wants to remain the same person even though he has seen others affected by success, money and fame.
"I want to be the same Khabib before belt and after belt," he said. "This is not about me. This is about all the people around me."
This week provided plenty of practice for what life at the top of the division may be like.
After Tony Ferguson dropped out of the fight because of injury, Max Holloway stepped in only to be declared medically unfit to cut the weight on Friday. At different points of the day 24 hours before the fight, there were at least three different front-runners to take the spot before Iaquinta was eventually granted it.
"If you're going to be champion, you need to beat anybody," Nurmagomedov said. "All week, I stayed calm, focused on me. I am ready. Not nervous. Not thinking about other stuff. I don't have a chance to make a mistake with the belt on the line. Everything was about mental."
It's a good lesson and one that impressed UFC president Dana White.
"I think Khabib's performance was amazing," White said. "I've been on the side where the guy who is the champ and had a full camp won't take on a guy who's had a short (camp).
"The fact that Khabib got through this week, stayed in the fight and went out and fought tonight… it's draining. I'm drained and I didn't do (expletive). I couldn't imagine going through the week that I went through and then having to go fight."
He's ready to do it again, but said he will take his usual hiatus for Ramadan and then be ready to go, likely in September.
McGregor may be waiting for him, but there will be plenty of other candidates looking to get their seat on the bus.
More MMA: Follow all of our MMA and UFC coverage online at CoveringTheCage.com and @CoveringTheCage on Twitter.
Contact Adam Hill at ahill@reviewjournal.com or 702-277-8028. Follow @AdamHillLVRJ on Twitter.