Las Vegan Francis Ngannou snaps skid at UFC Fight Night 141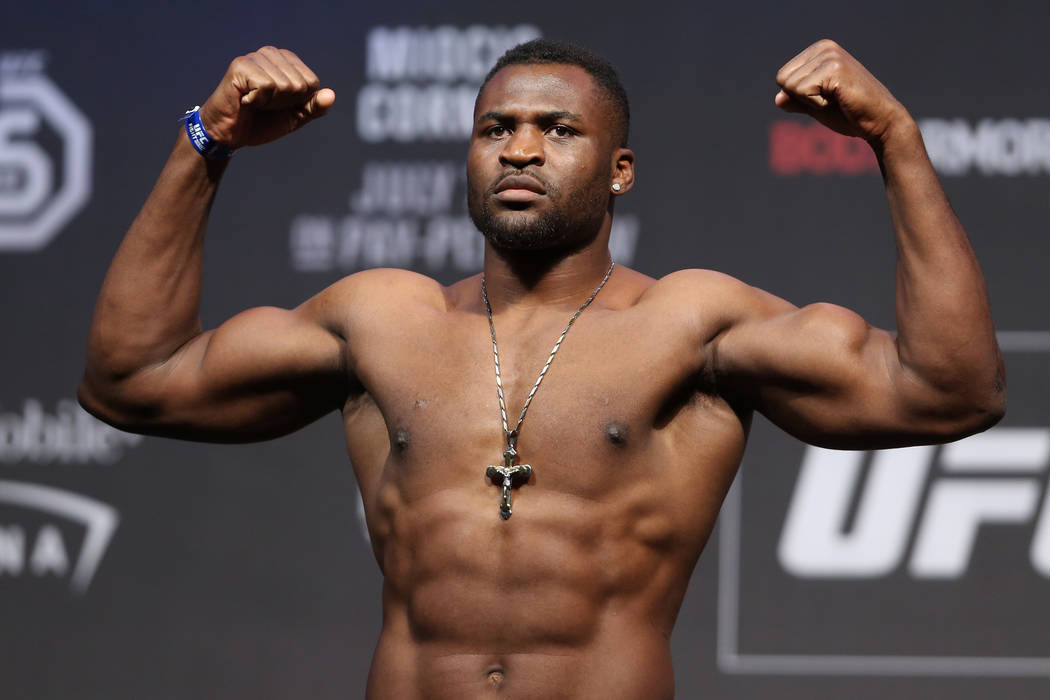 It was just a year ago when Las Vegan Francis Ngannou was seen as a sure-fire UFC champion and the next big star in the heavyweight division.
Two consecutive losses dampened some of the hype around the 32-year-old native of Cameroon, but he bounced back with a big win Saturday with a 44-second knockout of Curtis Blaydes in the main event of UFC Fight Night 141 in Beijing.
"I finally saw the light … by overcoming my darkness which dragged me deep to the bottom," Ngannou posted on social media after his victory. "My fans, my family and all those people who trust and believe in me have got persecuted by haters and doubters but they didn't give up and they kept supporting me and that's where I found strength to overcome all this."
"I (want to) thank every single one of you, who once trusted me and who kept supporting me, who stayed beside me and who didn't stumble."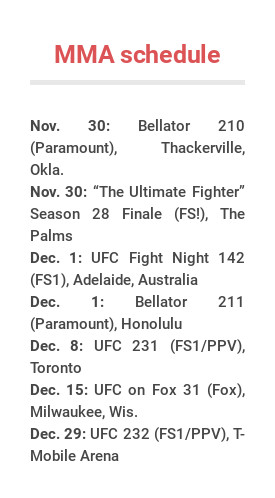 Also on the card, Alistair Overeem knocked out Sergey Pavlovich late in the first round. Overeem then called out Ngannou for a rematch of their 2017 fight which Ngannou won by highlight-reel knockout.
"I have a lot of respect for Francis Ngannou" Overeem said after his win on Saturday. "But I'm very ready for a second fight. I can promise you the second fight will be different from the first fight, I guarantee that."
Liddell won't rule out another fight
Chuck Liddell's return from retirement after more than eight years away didn't go well as he was knocked out by Tito Ortiz in a matchup of aging former UFC light heavyweight champions on Golden Boy MMA's first fight card Saturday in Los Angeles.
The 48-year-old still wasn't ready to say he was done fighting for good after his first round loss.
"I don't want to think about that right now," Liddell said at the post-fight news conference of whether his lackluster performance was enough to convince him to permanently call it quits. "I mean, I'm not in the right state of mind to really talk about whether or not I'm done or not. But I felt good out there and I had fun, so we'll see."
"I feel great right now. I don't feel bad. I don't think it was a bad knockout. I was able to answer all of the questions in the corner right away when they came up and asked me, 'Where do you live? Where are we?' All of the questions, I was able to answer them all right away, so I'm fine."
Ortiz was able to avenge two knockout losses to Liddell when both fighters were in their prime. Ortiz said he planned to retire after finally defeating his longtime rival.
Passing of the torch
Undefeated rising star middleweight Israel Adesanya will fight longtime former champion Anderson Silva at UFC 234 on Feb. 10 in Melbourne, Australia.
It's an opportunity for the dynamic 29-year-old striker to not only add a huge name to his resume, but also challenge one of his idols.
"This means more to me than the (expletive) world title," Adesanya said on "The MMA Hour." "I'm getting choked up right now even thinking about it. Like honestly, this (expletive) means the world to me. UFC 90 was the first time I watched this guy fight live. Before that I was watching him on DVDs (expletive) murking dudes.
"This is like LeBron James getting to face Michael Jordan."
UFC 234 is headlined by middleweight champion Robert Whittaker defending his belt against Kelvin Gastelum.
Adesanya could be in position to take on the winner should he emerge victorious.
UFC returns to Las Vegas
Season 28 of "The Ultimate Fighter" will conclude Friday with the live finale card at The Palms.
The championship matches of the heavyweight and women's featherweight tournaments will take place on the card, which airs live on Fox Sports 1 at 7 p.m.
Kamaru Usman will also put his 12-fight winning streak on the line against former lightweight champion Rafael dos Anjos in a matchup of welterweight contenders in the main event.
More MMA: Follow at CoveringTheCage.com and @RJ_Sports on Twitter.
Contact Adam Hill at ahill@reviewjournal.com or 702-277-8028. Follow @AdamHillLVRJ on Twitter.