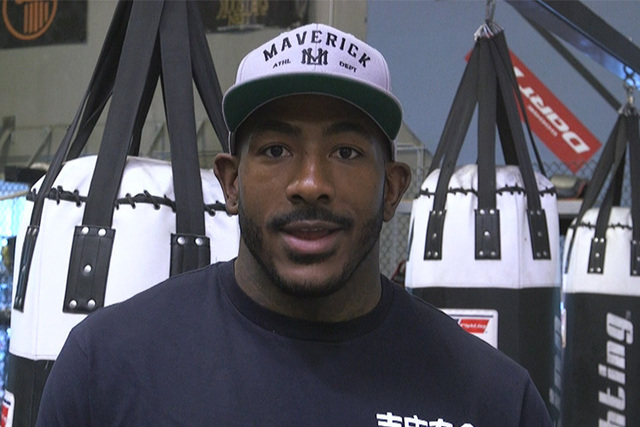 Las Vegan Khalil Rountree was struggling in his official UFC debut on Friday night as he was continuously taken to his back in front of by far the biggest crowd to ever watch him fight.
As the audience grew more and more restless, alternating between boos and taunts directed at his opponent Andrew Sanchez for continuously taking Rountree down instead of exchanging punches, one voice stood out from the rest.
Rountree kept hearing his mom scream instructions her front-row seat at the MGM Grand Garden.
So, from his back with a man on top of him trying to crush him with punches, Rountree yelled for his mom to be quiet.
Television cameras picked up the moment and viewers at home were left wondering, "Did he really just shush his mom?"
Rountree confirmed that had indeed happened.
"Yes, I told my mom to be quiet during the fight," he said. "But absolutely not in a disrespectful way."
Rountree was fighting for the light heavyweight tournament title for Season 23 of "The Ultimate Fighter."
"When you're in a tough situation and you can hear the anxiety in your mom's voice it adds to your own stress and I didn't want that," he said. "She's only been to two of my fights and never in the first row and that's probably why."
Rountree came up short as he had trouble staying on his feet on his way to losing all three rounds in a unanimous decision loss.
He hopes to still get another shot to prove he's better than he showed on Friday and maybe even earn a bonus for his efforts.
"I wish I could have put on a more exciting fight for what I consider to be a historical moment," he said. "Next time, I want to fight someone who actually wants to go out there and make $50,000, too."
Contact reporter Adam Hill at ahill@reviewjournal.com or 702-224-5509. Follow him on Twitter: @adamhilllvrj
RELATED
Joanna Jedrzejczyk defeats Claudia Gadelha again to keep UFC title