Lawler takes UFC title from Hendricks; Pettis retains crown
December 6, 2014 - 10:48 pm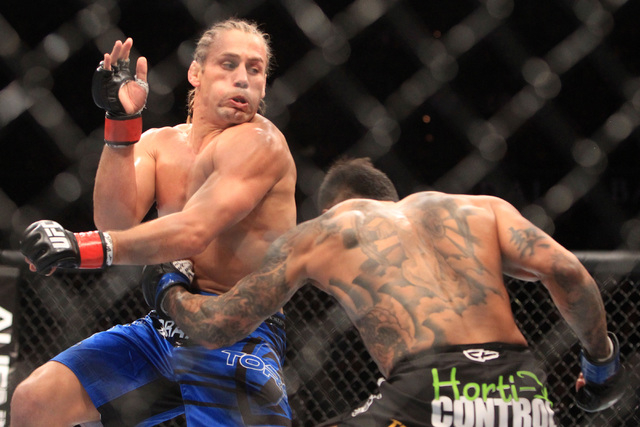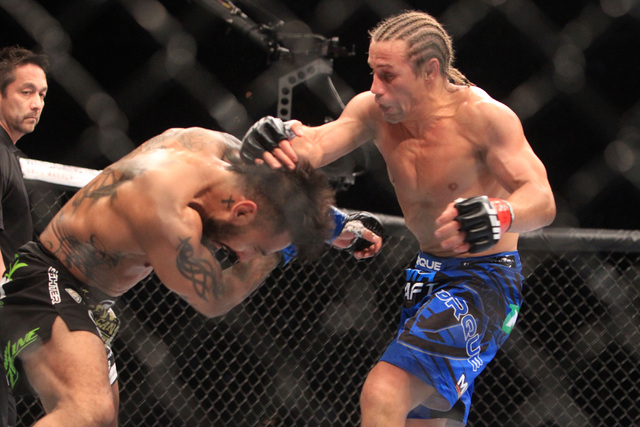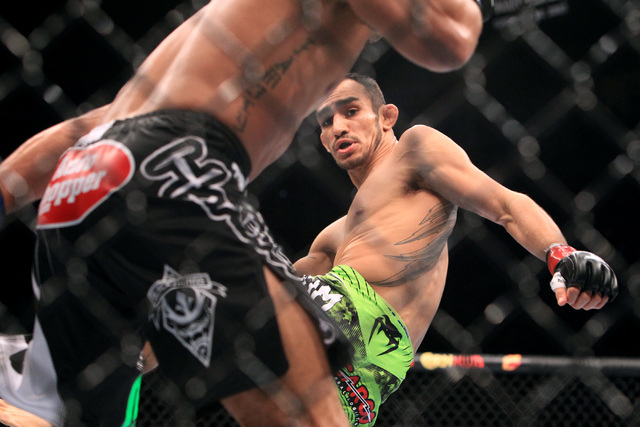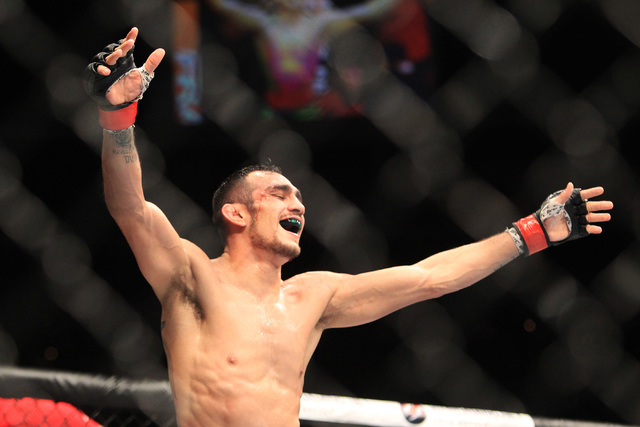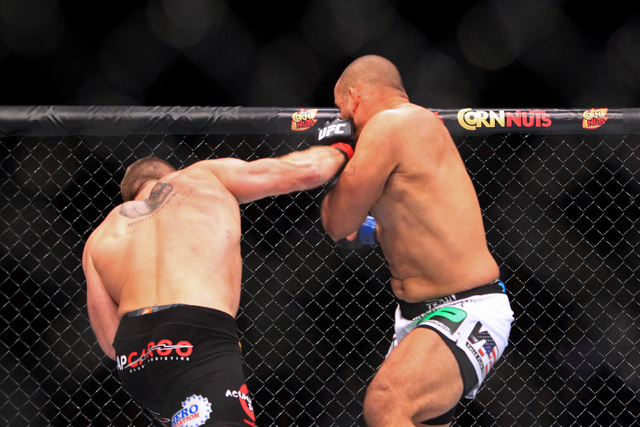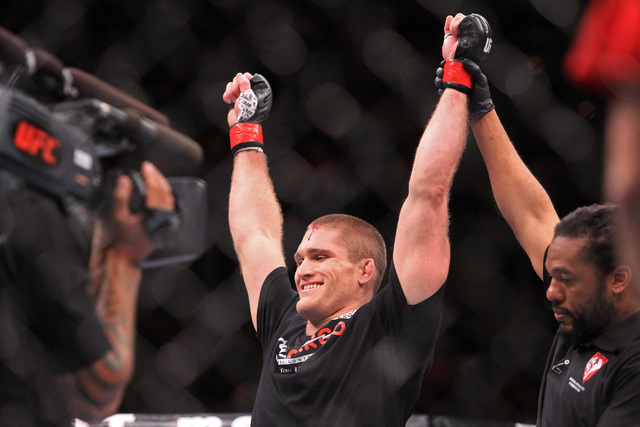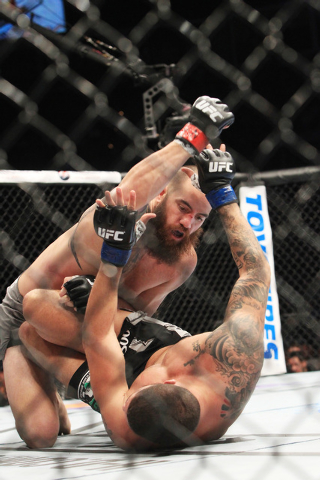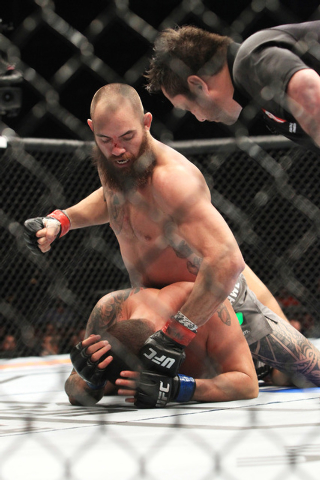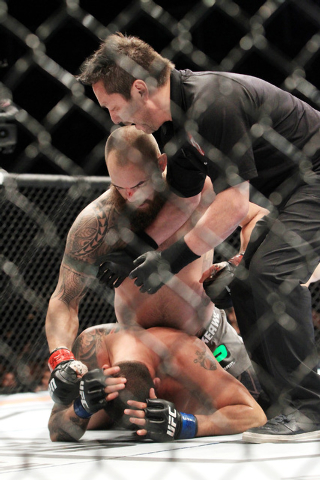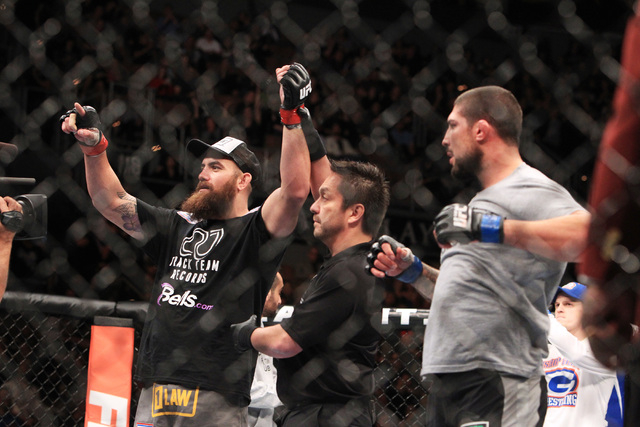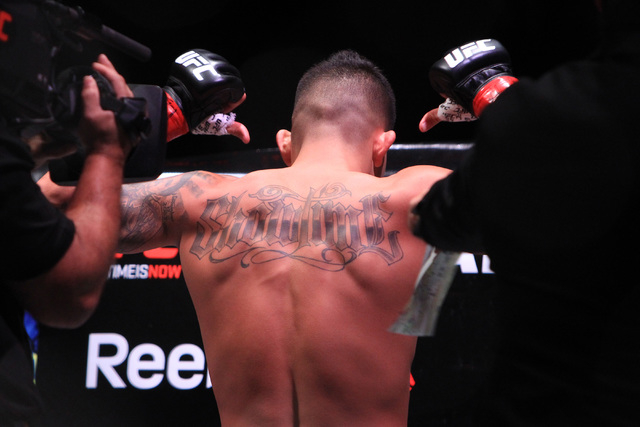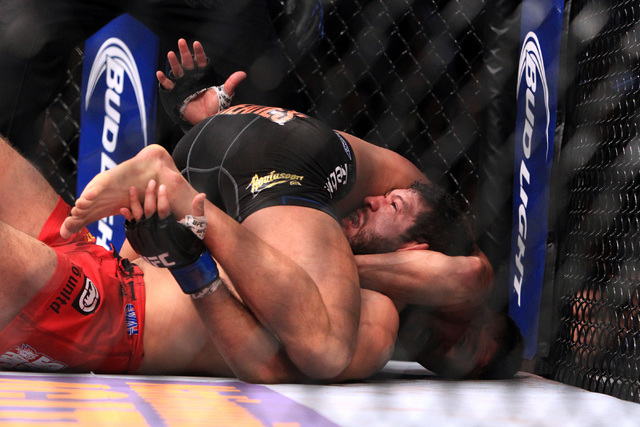 Robbie Lawler felt he let an opportunity get away when he slowed down late in the fight and dropped the fifth and final round of an Ultimate Fighting Championship welterweight title bout to Johny Hendricks in March.
He wasn't going to let it happen again.
Lawler closed the rematch with a flurry in the main event of UFC 181 on Saturday night at Mandalay Bay and was rewarded with a split decision victory to capture the belt.
Also on the card, Anthony Pettis retained the lightweight belt with a submission victory over Gilbert Melendez.
Lawler took aim at Hendricks and the belt in the closing minutes, nearly finishing the champion.
Instead, he had to wait a few minutes to hear that two of the three scorecards fell in his favor.
"(The mentality) was just go out there and try to finish him. Do everything you can to get that done and leave it all in the cage and that's what I did," Lawler said. "I (felt I did enough to win) this time. Johny's a hell of a fighter. He's tough as hell, but I feel like I finished strong to win in the fourth and fifth."
Lawler won 48-47 on one card and 49-46 on another. Hendricks won 48-47 on the third.
Lawler's pace slowed in the second and third rounds after a great start. He again looked a step slow in the fourth round before turning it on late in the closing moments.
That momentum continued and the final round and culminated in a huge final minute where he appeared on the verge of finishing Hendricks, who didn't dispute the verdict.
"I felt like (expletive), I wrestled like (expletive)," Hendricks said. "Robbie was the better man tonight, I will be back and I will get my title back."
Pettis submitted Gilbert Melendez in the second round with a guillotine. He locked in the hold on his back and had just rolled over into mount with the choke secure when Melendez decided to tap out.
Pettis won the belt with a first-round submission of Benson Henderson in August 2013, but has been out since due to an injury and then filming of "The Ultimate Fighter."
He was pleased with his return performance.
"I know how good I am, but a lot of people were questioning how good I am," Pettis said. "This fight went a little bit longer, it went two rounds so you got to see a little more Anthony Pettis."
Both title fights were overshadowed on social media throughout the evening by the UFC's announcement it had signed former WWE champion CM Punk, whose real name is Phil Brooks.
The 36-year-old says he is done with professional wrestling.
"I have a background in kempo (karate) and I've been doing Brazilian jiu-jitsu for a long time," he said in a statement. "This is my new career, 100-percent. I'm going to go full steam ahead, all systems go after today, and it's going to be fun. I have nothing but respect for everybody here at the UFC, everybody who steps in the Octagon to fight. And when it's all said and done, when I'm finished, everybody's going to have to respect me because I have come here to fight.
"I felt like it was now or never. I have a limited window most fighters don't have. I'm either here to win or get my ass kicked."
Heavyweights Travis Browne and Todd Duffee scored quick knockout victories on the card.
Browne was able to mount Brendan Schaub's back in the center of the cage midway through the first round.
Schaub was unable to get out of the position and Browne kept flattening him out and landing punches to the side of his head until the fight was stopped at 4:50.
Duffee's night was even shorter.
He returned from two years out of the sport with a quick knockout of overmatched Anthony Hamilton.
After flooring Hamilton with a right hand and finishing the fight with huge punches on the ground in just 33 seconds, Duffee expressed his gratitude for all who stood by him as he worked to return from Parsonage-Turner Syndrome.
"Somebody told me I was the most high-profile case of it ever, so I just want to run that banner," Duffee said of the condition that affects the nerves, "If you're out there suffering with it, just believe in yourself. Just every day, one day at a time."
Abel Trujillo started out strong with a first-round flurry that knocked down Tony Ferguson in a lightweight bout that kicked off the main card.
Ferguson weathered the storm and submitted a completely gassed Trujillo late in the second round with a rear-naked choke.
Urijah Faber headlined the preliminary card, though he wasn't able to fully enjoy his second-round submission victory.
Replays showed he had accidentally poked Francisco Rivera in the eye before securing the fight-ending choke.
" I didn't know I poked him, but looking at the replay it's unfortunate for Francisco," the top bantamweight contender said after he was booed in the arena. "He had a great attitude afterward, my hat is off to him. No one ever wants to make an excuse, but if you have to make one an eye poke is the best one you can have."
Middleweight Josh Samman provided the biggest highlight of the evening with a spectacular head-kick knockout of Eddie Gordon in a middleweight bout.
Raquel Pennington submitted Ashlee Evans-Smith by bulldog choke with just one second remaining in the first round of a women's bantamweight bout.
Sergio Pettis, the younger brother of Anthony, earned a unanimous decision victory over Matt Hobar in a bantamweight contest after dropping the first round.
Clay Collard and Corey Anderson also earned decision victories on the card.
Contact reporter Adam Hill at ahill@reviewjournal.com or 702-224-5509. Follow him on Twitter: @adamhilllvrj.