Lesnar trying to live up to hype
November 14, 2008 - 10:00 pm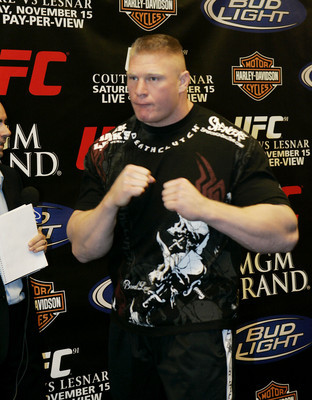 Fair or not, the comparisons were going to be made.
Brock Lesnar made his name far from the demanding world of professional mixed martial arts, just as Kimbo Slice, the star of the now-defunct EliteXC promotion, had done.
Ultimate Fighting Championship president Dana White addressed it before he was even asked a question on the subject during Thursday's news conference at the MGM Grand.
"Some guy who fights goofy fights in somebody's backyard on YouTube, I'm not (signing) him," White said.
He was obviously referring to Slice, who rose to fame by posting videos of his street brawls on the Internet and eventually became EliteXC's main attraction.
White has often criticized EliteXC for rushing Slice to main-event status far before his skills justified the honor.
But now, Lesnar will headline the UFC's self-dubbed "biggest fight of all time," in a main-event bout with heavyweight champion Randy Couture at the MGM on Saturday night.
White said the difference between his star heavyweight and Slice is evident in their abilities.
"You've got to see somebody fight," he said of Lesnar. "There was no denying that this guy was a great athlete. You can't question his athleticism or his wrestling background."
But even White joked about Lesnar's lack of professional experience heading into the blockbuster bout with Couture, a 45-year-old UFC legend.
"I never thought I'd say this, but fighting for the heavyweight championship with a record of 2-1 …" is how White began Lesnar's introduction at the news conference.
While it is true Lesnar has fought just three times as a professional MMA fighter, he is not a newcomer to the big stage.
Lesnar first made a name for himself in athletics when he won the NCAA wrestling championship for Minnesota in 2000 a year after finishing as the runner-up.
He then used his skills to quickly become a star on the choreographed stage of World Wrestling Entertainment. Though he was making a lot of money and was known worldwide, Lesnar said he didn't enjoy the lifestyle.
Seeking a new challenge, he tried out for the NFL's Minnesota Vikings. Lesnar lasted through training camp but was cut before the 2004 season began.
That's when he moved on to MMA. He trained for a year before ever taking a fight, and when he did enter the cage, he dominated an inferior opponent on a card in Los Angeles. It was then that Lesnar decided to seek out White, the man in charge of the top promotion in the business.
"Ironically, it was at this same hotel when I saw Randy Couture beat up Gabriel Gonzaga," Lesnar said. "That was the night we had our first discussion. I had always wanted to be a fighter. I just took a different path to get here."
That path continued despite a loss to Frank Mir in Lesnar's UFC debut. Lesnar dominated the short fight against the former champion but lost by submission when he got caught in a kneebar.
Then came Lesnar's dismantling of veteran Heath Herring. Lesnar knocked Herring to the ground immediately and kept him there for almost the entire three rounds. It was the performance that propelled him into Saturday's title fight.
Now Lesnar will look to avoid a fate like the one Slice suffered in his fourth professional fight when he was knocked out in just 14 seconds.
With a win over a fighter with the credentials of Couture, the comparisons probably would go away forever.
Contact reporter Adam Hill at ahill@reviewjournal.com or 702-224-5509.