Lesnar wins if Mir tries to box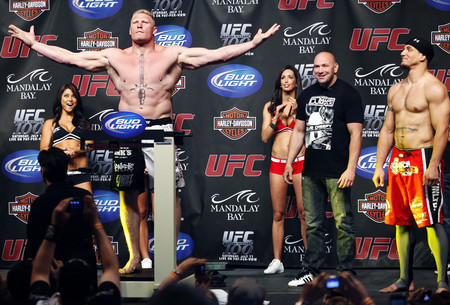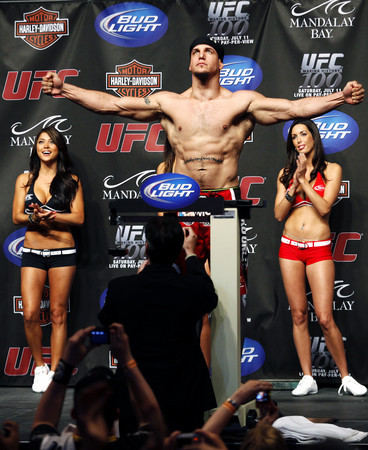 If Frank Mir has proven one thing, it's the bigger man is not always better in the Ultimate Fighting Championship. But now Mir has to prove it a second time.
Brock Lesnar, a 6-foot-3-inch, 275-pound powerhouse, is a minus-220 favorite over the 245-pound Mir in the UFC 100 heavyweight title bout tonight at the Mandalay Bay Events Center.
The main event is a rematch of a fight Mir won by kneebar submission on Feb. 2, 2008. Lesnar called the result a fluke, after he dominated most of the way. Mir latched onto Lesnar's leg and forced him to tap out at the 90-second mark.
Mir returns as the underdog against Lesnar, a former World Wrestling Entertainment star and relative mixed martial arts newcomer, and analyst Steve Cofield said the right fighter is favored.
"It's kind of like the well-rounded MMA guy, fighting for the whole MMA community, against Lesnar, the big meathead who people think only deals on power. It's not accurate," said Cofield, a local ESPN Radio host and an MMA writer for Yahoo! Sports.
"I think Lesnar is going to win. At these odds, Lesnar is still affordable. But it's right on the edge. If it goes to minus-250 or 280, there might be some value on Mir."
Lesnar weighed in at 265 pounds Friday, but he's expected to be at least 275 — about 30 pounds heavier than Mir — when the fighters meet in the octagon.
In their first fight, Lesnar rocked Mir and took him down. But Mir, a jiu-jitsu specialist, weathered the storm and almost snapped Lesnar's leg. Lesnar rebounded with a unanimous decision win over Heath Herring and a second-round TKO of Randy Couture.
"It's bullcrap that Lesnar's just raw power," Cofield said. "His ability to get people down is ridiculous. He's fast and powerful. Mir is not a clown. He's not an easy guy to take down.
"I think Mir is going to try to stay on the outside. I think his boxing is better, and he throws all the different combinations of punches. The problem with Mir is they're acting like he's going to be your classic boxer, and he's going to get in and get out and land four- or five-punch combinations, and I don't think it's going to happen.
"His game plan is to do cardio and try to move around, which I guess on the surface seems like a good thing. But if Mir tries to box him, he's going to get caught at some point. Lesnar is going to land punches. And if it's on the ground, I don't think Lesnar is going to get caught again. Lesnar is the pick."
Cofield analyzes three more of tonight's fights:
• Mac Danzig (+150) over Jim Miller — Danzig is the best value on the card from a 'dog standpoint. It's a totally even fight. Their striking is about the same, but Danzig is a lot stronger on the ground. He's a good submission fighter and a strong guy for the weight. Miller is a little small for the weight, and you've also got to watch his confidence coming into this one because he got destroyed in his last fight by Gray Maynard, who's from Danzig's camp.
• Alan Belcher (+200) over Yoshihiro Akiyama — Belcher is a great stand-up guy, is really good with kicks and he's getting better on the ground. Akiyama has been fighting in Japan. He's 12-1, but when you look at his record, a lot of his opponents are smaller guys who aren't that accomplished. He fights at 185 but he's probably really a 170-pounder. Belcher used to fight at 205.
• Georges St. Pierre (-280) over Thiago Alves — I wouldn't bet Georges at minus-280, but I think he's going to win the fight. Georges is going to get him down and do a good job of controlling him. Georges will grind it out in a two- or three-round fight.