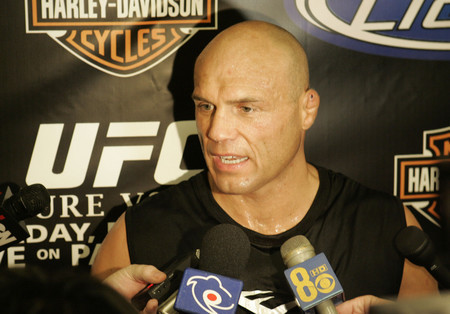 Randy Couture was just as stunned by Brock Lesnar's actions Saturday night as most people watching UFC 100 on television.
"I haven't seen him act that way personally when I've been around him. He's a very personable guy. I don't know if he lost his mind or what happened," said Couture, who lost the Ultimate Fighting Championship heavyweight title to Lesnar at the MGM Grand in November.
Lesnar behaved much more gentlemanly after that win than after knocking out Frank Mir on Saturday at Mandalay Bay, when he flipped off the crowd, made an off-color remark about his bedroom plans with his wife, insulted a sponsor and taunted a bloody Mir.
Couture said there is no place in the sport for that type of behavior.
"I don't really know what he was thinking. I don't know if he's been paying attention to our sport in the last couple of years, but on the whole, the athletes in our sport don't act that way. We've spent a long time building a reputation of sportsmanship and camaraderie.
"It was disappointing to see Lesnar go out there, both prefight and postfight, and kind of ham up the WWE antics and display this negative persona. It's not something a lot of us want to be associated with. That's kind of how I felt about it. I was disgusted."
Couture was not at the event. He watched on television while spending time with his son in Oregon.
Despite Lesnar's tirade, Couture said he enjoyed seeing the UFC reach a milestone.
"Having been in UFC 13 and now having a UFC 100, it was pretty cool," the 46-year-old Couture said. "We are definitely hitting the mainstream of sports in America, and it's a pretty cool place to be."
Couture will be back in Oregon for his next fight, meeting Antonio Rodrigo Nogueira in Portland on Aug. 29.
"I grew up in Seattle and lived in Oregon for almost 13 years," Couture said. "I still consider that my home and my roots and where I came from. To be able to be the main event and bring a big show like the UFC there is very special."
The winner of the bout has an outside shot at being Lesnar's next opponent.
"I would love a rematch with him. I think I was doing a lot of things right in that fight," Couture said. "I got caught with a good shot. He's a long, strong guy, and you've got to be diligent."
First, Couture must deal with Nogueira. He is back in Las Vegas training for the fight, but Couture will take time out to participate in the ESPN Radio AM-1100 24-hour broadcast to benefit The Caring Place on July 24.
It is one of several charities Couture supports. He said MMA's increased popularity has opened more avenues to give back to the community.
"You get the opportunity to be a positive influence on people and show that you're a real person," he said, before adding a final quip about Lesnar. "It's those types of things that we're going to have to do more of if Brock's going to continue to act the way he's been acting."
Contact reporter Adam Hill at ahill@reviewjournal.com or 702-224-5509.