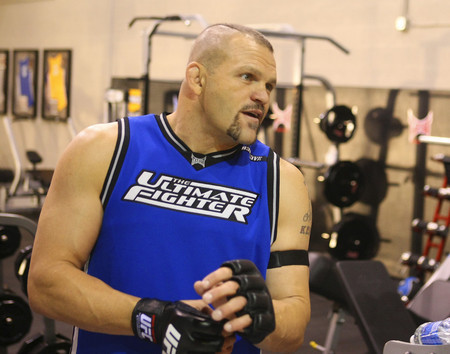 There is no shortage of pro athletes who have tried to compete at the highest levels long after their bodies were able.
Chuck Liddell never wants to be listed as one of them.
Liddell, 40, began his coaching stint on "The Ultimate Fighter: Season 11" on Sunday in Las Vegas, a gig that will climax with a fight against opposing coach Tito Ortiz this summer.
Liddell is still one of MMA's biggest stars, but he has lost four of his last five fights and hasn't been in the Octagon since a knockout loss to Mauricio "Shogun" Rua in April.
Liddell is fighting against the publicly stated wishes of Ultimate Fighting Championship president Dana White, who has repeatedly said he wants Liddell to retire from MMA.
"I miss fighting and I want to fight, so that's what I'm doing," Liddell said Monday, expressing a desire to prove he is still a viable fighter. "I'll keep arguing and (White) will keep arguing with me. I just have to show him that I can perform."
Liddell said he has plans beyond a third meeting with Ortiz, whom he has beaten twice.
"I would like another fight and then I want another fight after," he said. "Hopefully, Dana's happy with my two wins and I get a shot at a contender and then a shot at a title. That's four fights and that's about as far forward as I've thought."
Liddell insists he won't overstay his career, saying when it's time to retire, he will know.
"I have to go out on my own, the way I want to go out. It has to be my decision," he said. "I'm not going to let fans or people that aren't that close to me and don't watch me train, don't see what I can still do, make that decision for me."
Ortiz joked that he hopes Liddell has lost a step, but said the ex-light heavyweight champ remains a worthy competitor.
"He looks in great shape. His sense of awareness is there more than ever," he said. "I think Chuck shouldn't have a problem at all competing."
Filming for season 11, which features middleweight fighters, will run about six weeks and episodes will debut on Spike (Cable 29) on March 31.
• LASHLEY OPPONENTT — Former World Wrestling Entertainment star Bobby Lashley finally has an opponent for his Strikeforce debut. He will take on ex-UFC heavyweight Wes Sims in Miami on Saturday on a card to be aired on Showtime.
Finding a suitable opponent for Lashley wasn't easy. Yohan Banks was the first fighter proposed, but he was rejected as a worthy competitor by Florida's athletic commission. Jimmy Ambriz was approved, but Strikeforce decided to go with Sims instead.
Lashley, 33, is 4-0 on minor cards since transitioning from scripted fights. He won three NAIA national wrestling titles at Missouri Valley College.
The card also features the professional debut of Herschel Walker and two title fights. Nick Diaz will fight Marius Zaromskis for the vacant welterweight title in the main event. Cristiane "Cyborg" Santos will defend her women's lightweight title against Marloes Coenen.
• HILL ON WAY BACK — Former UFC lightweight Corey Hill, a contestant on season 5 of "The Ultimate Fighter," took another step on his comeback from a horrific leg injury by winning a unanimous decision over Jason Trzewieczynski on a minor circuit card in Niagara Falls, N.Y.
It was Hill's first fight since he shattered his leg attempting to kick Dale Hartt on a televised UFC card in December 2008.
Contact reporter Adam Hill at ahill@reviewjournal.com or 702-224-5509.