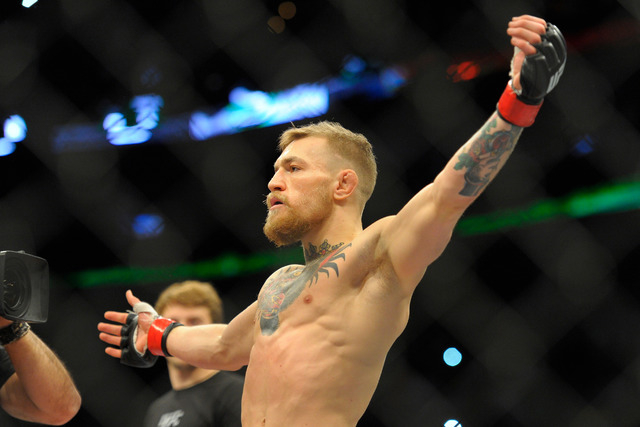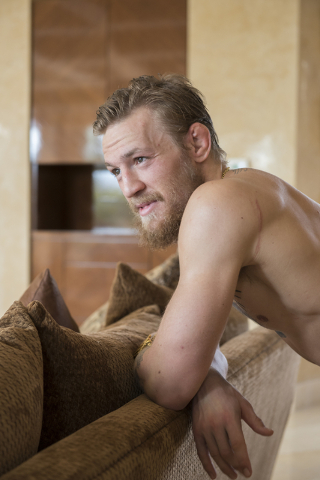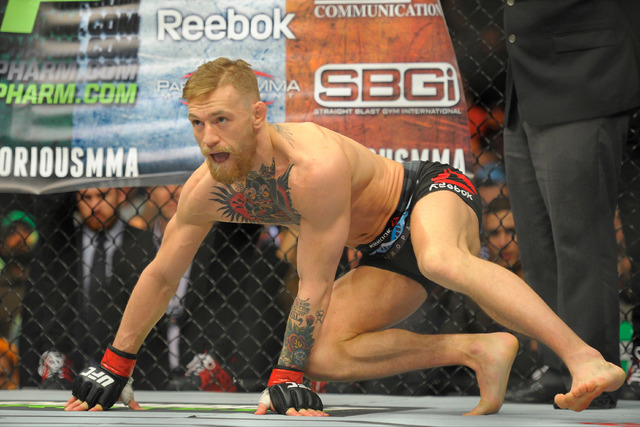 After nearly two tense days of uncertainty, UFC officials revealed last Wednesday that injured featherweight champion Jose Aldo still intends to defend his belt against Conor McGregor at UFC 189 on July 11 at the MGM Grand Garden.
The announcement came with a caveat, however, as Chad Mendes has been enlisted as a replacement opponent for McGregor should Aldo still have to withdraw because of the rib injury he sustained last week during training that led to the status of the fight being in limbo.
Aldo's camp revealed he had suffered a broken rib, but further analysis has led doctors to conclude it is a bruise that also includes torn cartilage.
The whole situation seems confusing, including to McGregor. After a workout in Las Vegas on Thursday, he indicated he's still not sure who he will fight for the featherweight title in two weeks.
"Who the (expletive) knows? Who knows? I know I'll be there," McGregor said. "It should be Jose. Many people have stepped inside the octagon banged up. We're all banged up in some way. It's a bruised rib. The X-rays showed it's not broken. There's pride on the line for him now. If he doesn't do it now, that's fear. That's a weakness."
Mendes would step in to fight McGregor should Aldo's injury eventually require him to withdraw. In that case, it would be for an interim title. He said he will spend the next two weeks preparing as if he is indeed fighting McGregor.
"It's a very short time, but I live a very healthy lifestyle, I stay pretty lean and in shape all the time," said Mendes, who has lost twice to Aldo in title fights. "Mentally, it's going to be a short fight camp, I've got two-and-a-half weeks, basically just going to fine-tune some game-planning with my coaches and my teammates, get that weight down and look to get in there and win that belt. It's time."
There seems to be no real timetable for when the switch could no longer be made. McGregor says he believes it could happen all the way until the moment he steps in the cage.
"It is a crazy situation, but we'll carry on," McGregor said. "I'm just preparing to get better. I show up at the gym every day just trying to become a better martial artist. I'll whup both of them on the same night if need be. Whoever shows up across the octagon will get beat."
One thing that shouldn't impact Aldo's decision on whether to fight is the fear his injured ribs could become a target. McGregor did his best to alleviate that concern.
"He doesn't have to worry about his ribs, I'm coming for his chin," McGregor said. "I'm not going to start targeting things. I'm just going to show up and fight."
McGregor is also ready to play the role of doctor for Aldo, offering the champion free medical advice.
"It's just a bruised rib," McGregor said. "Little bit of ice, little bit of ibuprofen, little bit of toughen the (expletive) up and we should get on with the fight."
■ JONES LEGAL UPDATE — A 60-day deadline for prosecutors in Albuquerque, N.M., to bring an alleged hit-and-run case against former UFC light heavyweight champion Jon Jones before a grand jury expired on Monday without an indictment.
That doesn't mean Jones is in the clear for the April accident.
The district attorney's office is waiting for two pieces of evidence, medical records from the victim and computer aided-dispatch systems from the Albuquerque Police Department.
A spokesperson for the district attorney's office indicated the case would move forward when that evidence was acquired, so long as it supports doing so.
Jones is free on $2,500 bond on a felony charge of leaving the scene of an accident involving serious bodily harm or death. A pregnant woman reportedly suffered a broken arm and wrist when Jones ran a red light on April 26. He fled the scene on foot and marijuana was found in the SUV Jones was allegedly driving.
He was stripped of his belt and suspended indefinitely by the UFC.
As a result of the 60-day deadline passing, the conditions of release issued to Jones by the court have expired.
■ IT'S THEIR LOSS — Another legislative session has ended in New York with the state assembly failing to bring a bill to the floor to sanction MMA in the state.
New York will remain the only jurisdiction in North America where professional MMA is banned, at least until next year.
The state's Senate has passed the bill six times and there is a widespread belief it would pass the assembly as well, but it has never been put up for a vote.
The UFC has spent millions of dollars lobbying the legislature in New York to get the bill passed. UFC CEO Lorenzo Fertitta said the organization will keep up the fight.
"While our disappointment cannot be overstated, our commitment to seeing New York legalize the fastest growing sport in the nation and the world is intact and undeterred. We continue to strongly believe that legalizing and regulating MMA in New York is the right thing for the state economically, the right thing for the millions of fans in New York and the right thing for the safety and benefit of the thousands of professional and amateur MMA athletes across the state," he said in a release. "UFC is not harmed by not being in New York, as much as we would like to be there for our fans and for the arenas, hotels, restaurants, and other businesses which would see substantial economic benefits from the legalization of MMA in New York."
Contact reporter Adam Hill at ahill@reviewjournal.com or 702-224-5509. Follow him on Twitter: @adamhilllvrj.