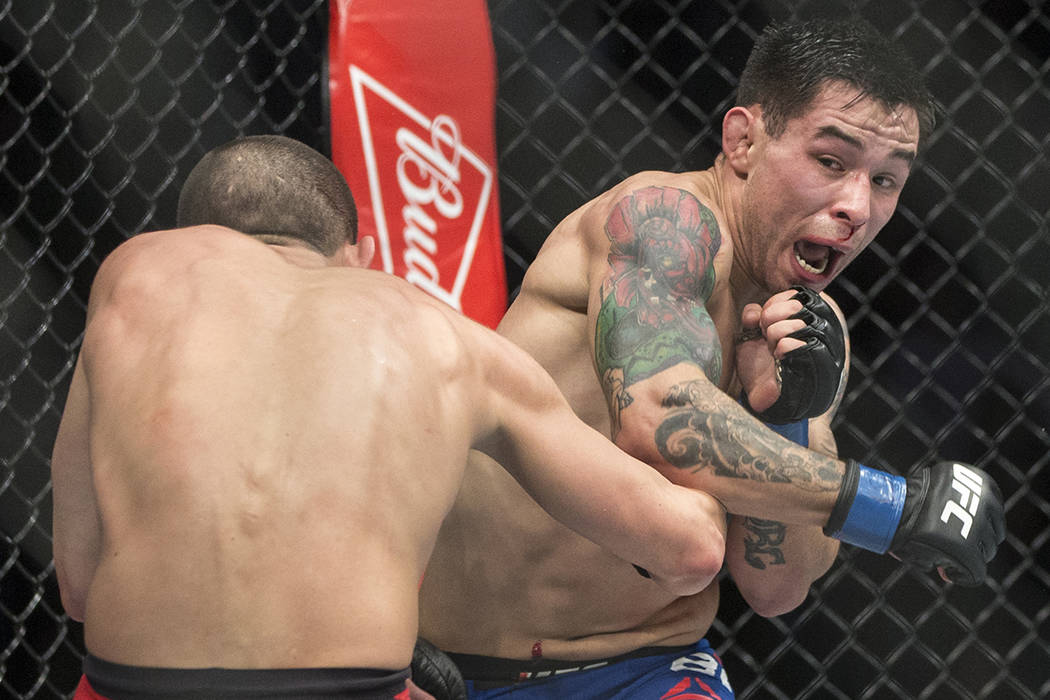 UFC flyweight contender Ray Borg was well aware of the heated public debate between champion Demetrious Johnson and UFC president Dana White about who should challenge for Johnson's belt next.
Borg simply tried his best not to pay attention.
"Following the day-to-day news would have just pissed me off," Borg told the Review-Journal during a stop in Las Vegas last week. "I'm big about staying in my own lane. When most people are probably reading every little story and stressing and obsessing about it and saying, 'Oh, I hope they announce something soon,' I was in the gym."
"All the time I could have spent paying attention to the media was time I instead got to spend in the gym getting prepared for a fight that was actually going to happen."
It had to be difficult to at least check in on the developments occasionally.
Borg believed he had secured a title shot against Johnson, who has a chance to set the UFC record for consecutive title defenses in his next fight.
Former bantamweight champion T.J. Dillashaw, however, set his sights on dropping to flyweight to challenge Johnson after Dillashaw lost out on the chance to fight for the 135-pound belt when champion Cody Garbrandt was injured.
White loved the idea, as did many fans and much of the media. Borg, and more importantly, Johnson, were not on board.
Despite public pressure from White, Johnson held firm and weathered a social media firestorm for several weeks until a matchup with Borg was finally announced for the main event of UFC 215 on Saturday in Edmonton, Alberta.
Borg has won five of his last six fights to rise up the rankings and earn the shot. He and Johnson both made the case it would be unfair for Dillashaw to leapfrog the crowded field of contenders for the opportunity to dethrone Johnson, who has held the belt since the division was created in 2012.
Not only does Borg thinks he deserves the chance, but he believes he's the right man for the job.
"I'm the guy to beat him because I present a skill set that no other fighter has been able to against him," he said. "You guys have barely seen what I can do. Go back and watch each fight. I'm a different fighter every time and that's because I'm evolving and coming into my own.
"Not even (Johnson) really, truly knows what to prepare for. He hasn't seen the complete fighter I am yet. Not only that, I'm young and hungry and don't have a damn thing to lose. He's got a lot to lose if he doesn't make this happen. I'm 24 and I'm only going to keep trucking, so I think that makes it more of a dangerous fight than anyone thinks."
The bout is part of a pay-per-view card that also includes a women's bantamweight title bout between Valentina Shevchenko and Amanda Nunes.
WWE door open for Rousey
World Wrestling Entertainment executive Paul "Triple H" Levesque confirmed to ESPN last week the organization is interested in signing former UFC women's bantamweight champion Ronda Rousey.
He indicated the interest is mutual.
"She's definitely interested and we're having conversations," he said on "SportsCenter." "I'll say it right here on ESPN: If she wants the opportunity, I'd be willing to give it to her."
Rousey, who has lost her last two fights, has yet to make any announcement about her future in mixed martial arts.
She is a longtime pro wrestling fan and appeared in the ring as part of a storyline at WrestleMania in 2015.
Rousey was also featured Monday in a video on WWE.com that appeared to set up a possible storyline on a future card.
Struve OK after KO
Veteran UFC heavyweight Stefan Struve shared a message with fans shortly after suffering a third-round knockout loss to Alexander Volkov in the main event of UFC Fight Night 115 in Rotterdam, Netherlands on Saturday.
"I'm OK you all," the Netherlands native wrote with a post-fight photo from the locker room. "Sometimes you're the hammer, sometimes you get hammered. Congrats to (Volkov), you were the better man and wanted it more. Much love to you all!"
It was the fifth straight win for Volkov and third since entering the UFC in November 2016.
Also on the card, middleweight Siyar Bahadurzada knocked out Rob Wilkinson in the second round and Leon Edwards outlasted welterweight Bryan Barberena en route to a unanimous-decision victory.
More MMA: Follow all of our MMA and UFC coverage online at CoveringTheCage.com and @CoveringTheCage on Twitter.
Contact Adam Hill at ahill@reviewjournal.com or 702-277-8028. Follow @adamhilllvrj on Twitter.
Schedule
■ Saturday: UFC 215 (FS1/PPV), Edmonton, Alberta
■ Sept. 16: UFC Fight Night 116 (FS1), Pittsburgh
■ Sept. 23: UFC Fight Night 117 (FXX), Saitama, Japan
■ Sept. 23: Bellator 183 (Spike TV), San Jose, California