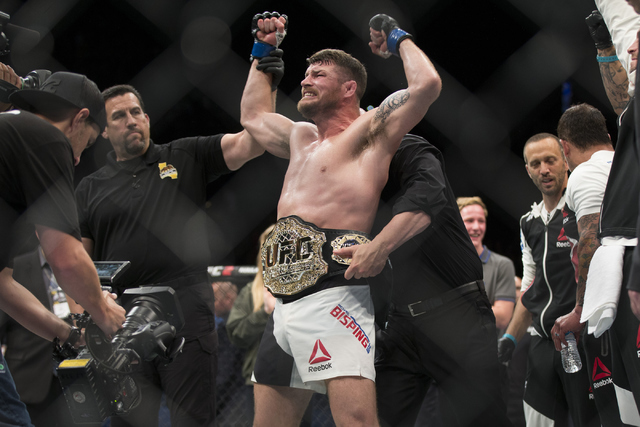 The champion has spoken and in the process confirmed what has been suspected for several weeks.
UFC middleweight champ Michael Bisping used his radio show Thursday to announce the first defense of his middleweight title will happen on Oct. 8 in his hometown of Manchester, England, against Dan Henderson.
Bisping, who won the belt with a first-round knockout of Luke Rockhold in June, requested a chance to avenge a 2009 loss to Henderson.
UFC officials have apparently granted that request. Henderson, 45, has said he will retire whether he wins the belt or not.
He is just 2-3 in his last five fights and has dropped six of his last nine, but did score a spectacular knockout of contender Hector Lombard on the night Bisping won the title.
That performance, combined with the storyline of the first matchup that ended with Henderson's one-punch knockout that has been featured on just about every highlight reel produced in the last seven years, was enough for the UFC to make the fight.
Rockhold, former champ Chris Weidman and top contender Ronaldo "Jacare" Souza have expressed disappointment in being passed over.
Bisping encouraged them to be patient after using some choice language to describe their complaining.
"They are still going to be there in eight weeks," he said.
No other fights have been announced for the card.
Contact reporter Adam Hill at ahill@reviewjournal.com or 702-224-5509. Follow @adamhilllvrj on Twitter.