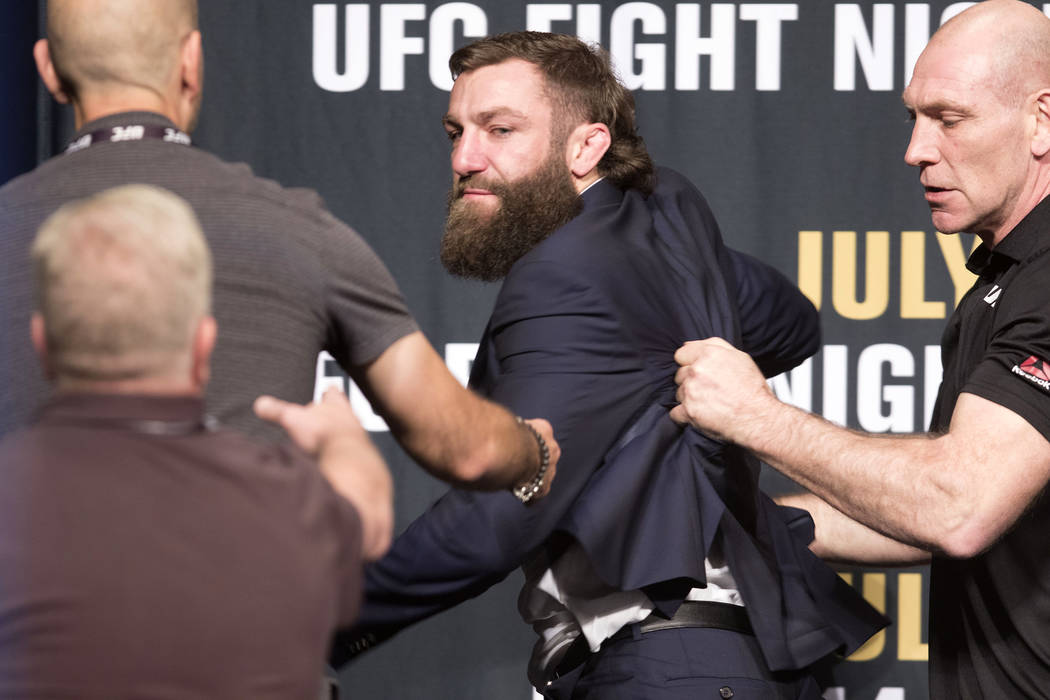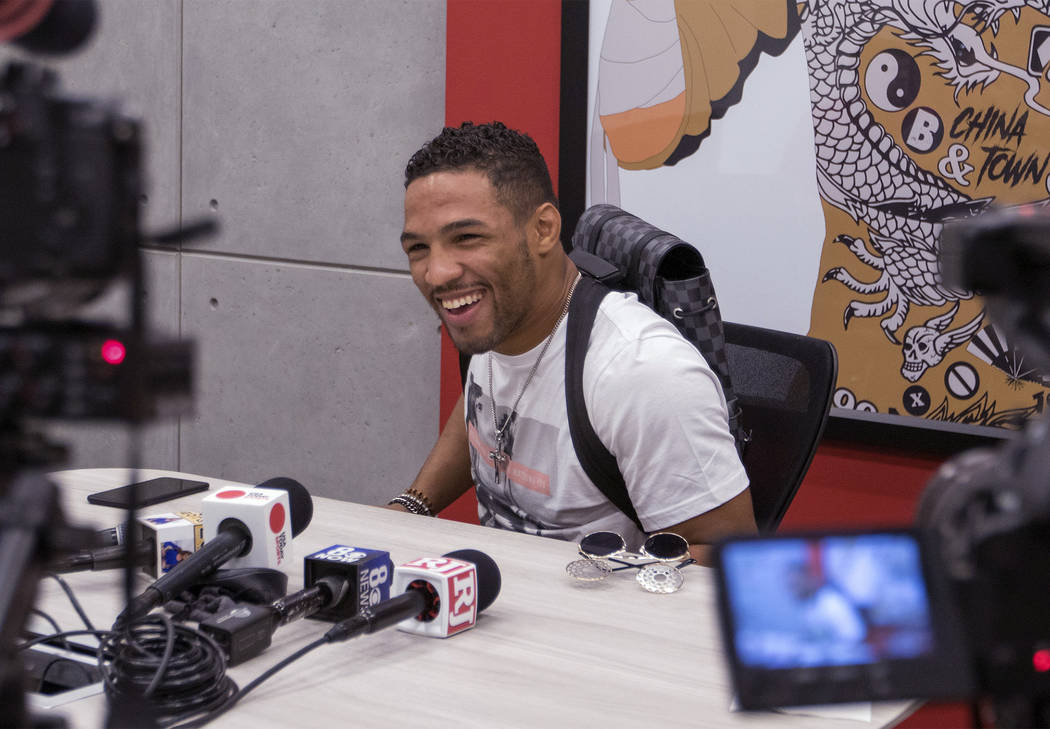 The first punch in Sunday's UFC Fight Night 112 main event between Michael Chiesa and Kevin Lee was thrown well before the opening bell.
Lee, a Las Vegas resident, landed a clean right hand as Chiesa charged at him during a May news conference in Dallas to promote the bout.
If the idea of a news conference is to generate interest in a fight, then the mission was accomplished. Clips of the incident were played on highlight shows for the next several days.
Now that the lightweights are set to fight for real Sunday at Chesapeake Energy Arena in Oklahoma City, Chiesa insists the drama is in the past.
"If he walked in a gym and started spouting off today, I wouldn't pay attention," Chiesa said on Fox Sports 1. "It was a one-time thing. I'm motivated to be world champion, not by that."
Chiesa, 29, admits his share of responsibility. He charged across the stage after he thought Lee had made an inappropriate comment about his mother, though it seems innocuous by trash-talking standards.
"I know his mama got tickets to the show," Lee said during the news conference.
Lee connected with a right hand just as two security guards stepped between the fighters and pushed Chiesa away. Lee was not sanctioned, and Chiesa is OK with that.
"I ran at him," Chiesa said. "The UFC is stoked the fight got promoted that way. I don't consider it a cheap shot that he got on me. I got stopped by a bodyguard, and he got a shot in. It's been over a year since I've fought, and I'm excited to be back fighting."
Chiesa had won his past three fights before missing the past 14 months with a back injury. He's a slight underdog at plus-110 against Lee, a role he says he is familiar with, even though he has been favored in five of his past six fights.
"I'm always overlooked," Chiesa said. "I'm not technical. In every fight, I have a spot that I could lose the first round. When do the oddsmakers ever like me? But it's not a math equation, it's a fight. I only care about becoming No. 1."
Same with Lee. He has won four straight fights and eight of nine, and hopes a victory over Chiesa will finally put him in title contention.
"The man's tough," Lee said entering his first five-round fight. "I give him respect, but I'm built for five rounds. He's going to take a whopping. This is going to let me beat him up. I'm a five-round championship fighter. If you look at my old fights, I get stronger as the rounds go on. This favors me. If he gets on my back, I've got to worry, but I won't worry about it."
Lee, 24, said he also has moved on from the drama in May.
"I don't make these fights personal," he said. "There's not room for emotion in these fights. He's already mentally broke. He knew that going into the press conference. This fight sells itself. You've got this country boy from the Redwoods driving the beat-up pickup truck against a young, flashy dude driving a Benz in Las Vegas."
The bout headlines a main card beginning at 6 p.m. on Fox Sports 1. Former welterweight champion Johny Hendricks will be in action in a middleweight fight against Tim Boetsch, and former two-division champ BJ Penn will meet featherweight Dennis Siver.
Four fights from the preliminary card will air on Fox Sports 2 at 4 p.m.
Contact Adam Hill at ahill@reviewjournal.com or 702-277-8028. Follow @adamhilllvrj on Twitter.
UFC Fight Night 112
Main card bouts for Sunday's 6 p.m. broadcast on Fox Sports 1. The card will be at Chesapeake Energy Arena in Oklahoma City.
— Michael Chiesa (14-2) vs. Kevin Lee (15-2), lightweights
— Tim Boetsch (20-11) vs. Johny Hendricks (18-6), middleweights
— Felice Herrig (12-6) vs. Justine Kish (6-0), women's strawweights
— Joachim Christensen (14-5) vs. Dominick Reyes (6-0), light heavyweights
— Tim Means (26-8-1, 1 No Contest) vs. Alex Garcia (14-3), welterweights
— BJ Penn (16-11-2) vs. Dennis Siver (22-11, 1 No Contest), featherweights