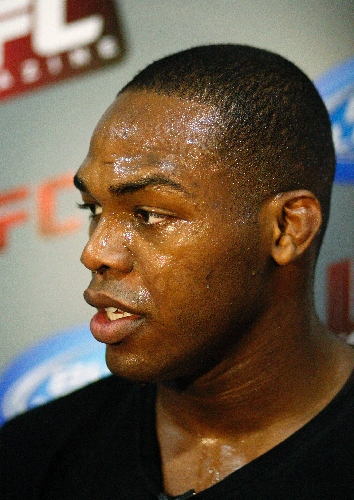 Based on how easily Jon Jones defeats opponent after opponent, it would be easy to assume he is one of the best mixed martial artists ever.
Now there are concrete numbers that might back up that assertion.
Rami Genauer, creator of MMA statistics and analysis company FightMetric, points to two key numbers that show just how good Jones has been.
During his 10-fight Ultimate Fighting Championship career, the 24-year-old phenom successfully has defended an astounding 100 percent of opponents' takedown attempts and has a strike differential of 2.4, meaning he lands 2.4 more strikes per minute than opponents do against him.
Jones defends his light heavyweight title against former friend and training partner but now bitter rival Rashad Evans in the main event of UFC 145 in Atlanta on Saturday.
Genauer's company, which started in 2007 and last year became the official stats provider for the UFC, has pored over every major MMA fight to develop statistics and a historical record and database for the sport. With all the disciplines involved and the various ways to win fights, Genauer says there is no "silver bullet or magic number" to look at to project outcomes or analyze matchups.
Takedown defense and strike differential prove to be important, he said.
"Does a fighter land a strike more often or get hit more often?" Genauer said. "While striking is not the entirety of the bout, obviously, and grappling is very important, it's difficult to win fights when you're getting hit just as often as you're hitting your opponent."
Genauer pointed out that only three fighters, all submission specialists, have held the UFC belt with a negative strike differential.
"I also like to look at takedown defense," he said. "If your takedown defense is poor, you will have a very difficult time winning fights. When you look at the guys who lead the category, it's littered with champions. People who are good at controlling where the action takes place are the ones getting to impose their will and they tend to be more successful."
Jones also has landed nearly 64 percent of his takedown attempts, the highest number in the history of the light heavyweight division. Genauer said it's difficult to find a weakness in Jones' game when looking at the numbers.
"You're looking at a guy who in some ways his numbers are nearly flawless. In his most recent fights, he has been spectacular in terms of his statistics," Genauer said. "It's interesting to look at his numbers and see things like he has never been taken down. He's spent 10 seconds of his UFC career on his back, and all of that time was because he dropped to his back himself. That means essentially every second you've been fighting you've been either in control or in a neutral position like toe to toe, which if you're as skilled there as he is, that can be an advantage for you as well."
Evans, the former champion, is No. 2 in the division in all-time takedown percentage, and Genauer said his grappling numbers are quite impressive.
"We took a look at some of the historical numbers, and I think you can easily make the case that Evans is one of the premier grapplers the light heavyweight division has ever seen," Genauer said.
The problem is Evans has focused far more on striking in recent fights and, though successful, he does not match up well with Jones on his feet.
While Jones lands 3.82 strikes per minute and absorbs 1.42, Evans is barely positive in strike differential, landing 2.12 per minute and absorbing 1.89.
Evans said even though it might appear he has gone away from what made him so successful early in his career, he's still the same fighter.
"I think I've just added to what I had before," he said. "I understand where I fight best."
The numbers should tell him that.
They also might help explain why Jones enters as a minus-600 favorite in one of the most anticipated matchups the division has seen.
Contact reporter Adam Hill at ahill@reviewjournal.com or 702-224-5509. Follow him on Twitter @adamhilllvrj.