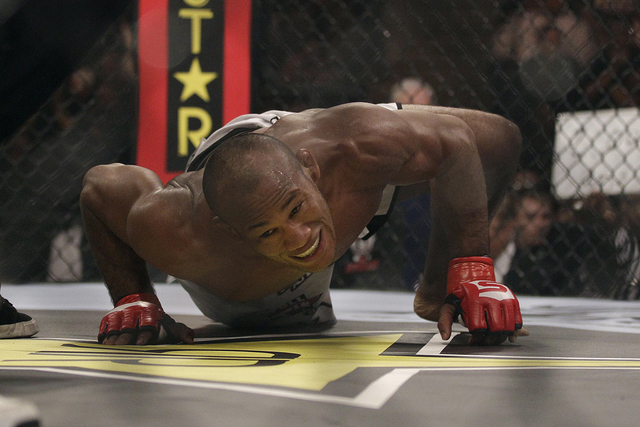 When Gegard Mousasi found out he'd be fighting on tonight's Ultimate Fighting Championship card at Foxwoods Resort, he was not happy.
It had nothing to do with the fact he had to travel to Ledyard, Conn.
Mousasi was supposed to fight Ronaldo "Jacare" Souza at UFC 176 in Los Angeles last month, but the card was canceled after the main event was called off.
The 29-year-old Dutchman went on social media to complain that he had learned his fight was off from an internet report before sarcastically thanking the UFC. He then responded to a question from a fan on Twitter that he felt as if he had gone through a training camp for no reason.
Mousasi calmed down when he learned the pivotal bout in the middleweight division would be rescheduled as the main event of tonight's Fight Night card.
"I was already training for six weeks so I was ready to fight. It was frustrating to have to start all over again. It just felt like a waste of all my work," Mousasi said of his original reaction. "I'm in better shape now though. It ended up giving me even more time to prepare, so I think in the end, I'll be able to perform even better."
Now the wait is finally over.
Mousasi will fight Souza, a former Strikeforce middleweight champ, in a bout that could go a long way to determine who will get the next shot at the UFC's 185-pound belt after Vitor Belfort challenges Chris Weidman for it in December.
Mousasi knows nothing is guaranteed, though.
"I would like to think so," he said of whether tonight's winner would be next in line. "Who knows what's next really? We just have to see how this goes."
What Mousasi doesn't expect is for the fight to go like it did the first time the two met back in 2008 on a DREAM card in Japan.
Mousasi won the organization's middleweight belt by knocking out Souza with an upkick just 2:15 into the bout.
"He's the No. 4 guy in the world right now," Mousasi said. "It was a long time ago and it was a very short fight. I see this as a whole new fight."
Souza is one of the most feared jiu-jitsu practitioners in the world. Mousasi said stopping the first fight quick enabled him to stay out of trouble on the ground.
Not that he's scared to test himself against Souza's strength.
Mousasi expressed confidence in his defense on the ground, which he said would enable him to stay out of trouble and get the fight back to a more advantageous position.
The bout headlines a card that will air on Fox Sports 1 (Cable 329) at 7 p.m. The main card also features a pair of heavyweight bouts.
Alistair Overeem will look to win his second straight bout after two consecutive losses when he fights Ben Rothwell. Also, Matt Mitrione fights Derrick Lewis in a matchup of sluggers that's not likely to last very long.
The six-fight preliminary card also airs live on Fox Sports 1, beginning at 4 p.m.
Contact reporter Adam Hill at ahill@reviewjournal.com or 702-224-5509. Follow him on Twitter: @adamhilllvrj.