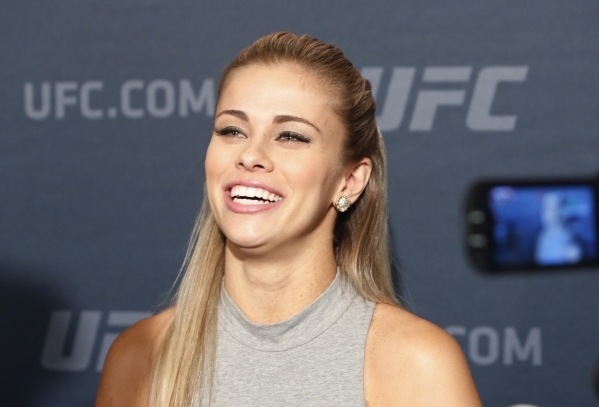 Before Paige VanZant stepped into an Ultimate Fighting Championship cage, comparisons to the sport's biggest star were being made almost every time her name was mentioned in the media.
Convincing victories in both of her UFC appearances have only strengthened the hype around the "next Ronda Rousey."
The 21-year-old VanZant, who grew up in Reno, is a fan of the women's bantamweight champion. But as VanZant prepares to fight Alex Chambers at UFC 191 on Saturday at the MGM Grand Garden, she hopes to continue to establish her own identity.
"Of course it puts a sense of pressure on me because I do want to live up to those comparisons," VanZant said Thursday. "Those are big shoes to fill. It's a tall order. I definitely want to follow in her footsteps because she's created a lot of opportunities for women in MMA, and I'm thankful for that. I want to create my own path, though."
She has certainly begun to leave her own mark. After knocking out Kailin Curran in the third round of her UFC debut in December, VanZant manhandled Felice Herrig for three rounds en route to a unanimous decision in April.
Her appeal goes far beyond her skills in the cage, however.
VanZant spent much of her youth as an aspiring dancer and did some modeling. The blond beauty has cited Rousey's appeal in Hollywood as a potential blueprint for her own career and isn't necessarily bothered by the frequent mentions of her attractive appearance.
"It's fine, but I definitely want to prove I'm more than just a pretty face," VanZant said. "I'm here for a reason. I've won my last two fights in dominating fashion, and I plan to do that in this fight as well."
UFC president Dana White said VanZant has star quality.
"The 'it' factor is a very real thing, and Paige absolutely has it," he said. "Obviously, she's beautiful. She's got personality. She's talented. The dancing thing is fun. She's got the whole package. She's very green, but she is tough, scrappy and she really, really just wants to win."
She also loves to smile. It's rare to see VanZant without at least a grin, and her expression gets especially jovial when she's inside the cage, in stark contrast to Rousey's trademark scowl.
"It's just because I love fighting so much," VanZant said. "It's like my birthday every time I get to fight someone."
The fights are getting more and more important as she ascends in the rankings. She's the seventh-ranked contender in the women's strawweight division and has a chance to set the record for the youngest champion in UFC history.
VanZant is in no hurry, however. Jon Jones was four months shy of his 24th birthday when he won the UFC light heavyweight belt in 2011, a record that still stands.
That gives VanZant more than two years to work on bettering that accomplishment.
"I try to look at it patiently," she said. "Don't rush me. This is my journey. I just turned 21 in March. I have plenty of time to do whatever I want with my career. I plan on taking a title shot when the time is right for me, and I want to take it. It's definitely a goal. It would be huge. But I don't want to try to rush it just to be able to say I was the youngest to do it. I'm going to make sure I'm completely ready, and when I get the belt, I'll hold it for a very long time. I'm going to take my time."
While there has been attention on VanZant since the day she signed a UFC contract more than a year ago, she feels it building with each fight.
There has been so much talk about her leading up to Saturday's bout that Chambers has become almost an afterthought.
Chambers said she's happy reaping the rewards of all the attention on her opponent.
"I try not to think about hype and those sorts of things," Chambers said. "But because she has a lot of fans and those types of things behind her, I get to fight at the MGM Grand in Las Vegas. I think it's going to be an exciting fight, and that's why they matched us up."
Along with increased attention often comes added pressure. VanZant said she has prepared for that by trying to put high expectations on herself every fight so that she is used to it when the stakes get higher.
Another element that's sure to increase as VanZant continues to make strides is those who want to disparage her accomplishments.
The ability to deal with detractors might be the area in which VanZant most looks to Rousey for a blueprint.
"The way she handles media attention and outside pressures is amazing," VanZant said. "She has a lot of critics, and when you look at someone as talented and successful as her and see she still has those critics is comforting for me because I have them as well. She just handles it with such poise."
VanZant has another chance to silence her doubters Saturday. Whatever happens, she'll probably be smiling.
Contact reporter Adam Hill at ahill@reviewjournal.com or 702-224-5509. Follow him on Twitter: @adamhilllvrj.