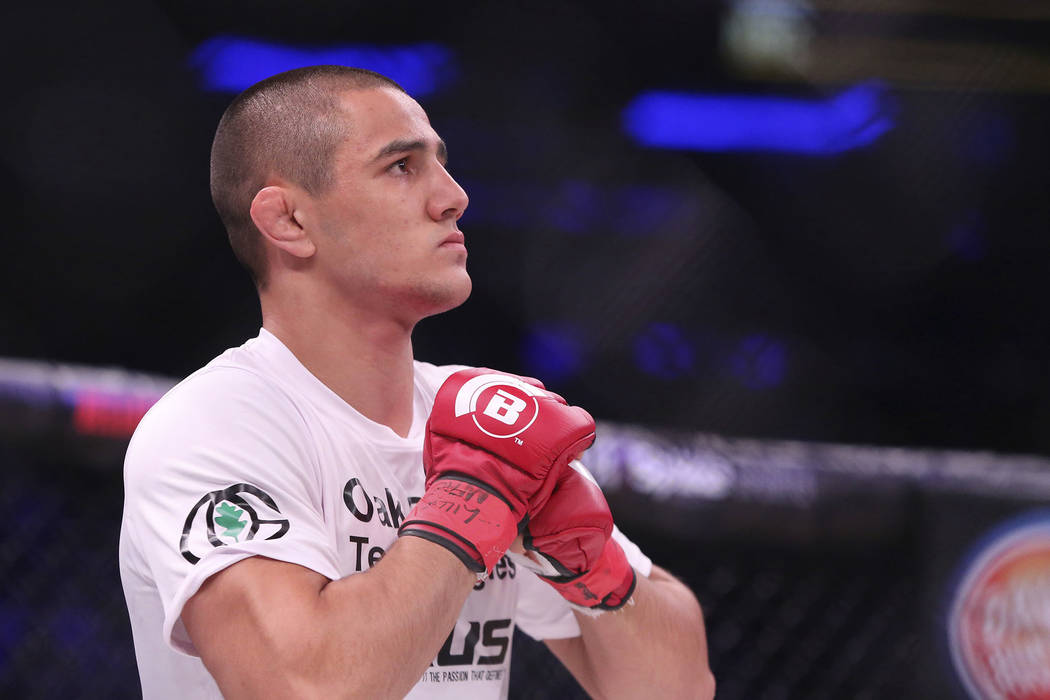 Patricky "Pitbull" Freire wanted to knock out Benson Henderson to exact revenge for his brother's loss to the former UFC champion last year.
Freire had to settle for a split-decision victory over Henderson in the main event of Bellator 183 in San Jose, California, on Saturday night.
Neither fighter could gain much of an advantage over the three rounds. Henderson was a bit more aggressive than usual and had Freire looking for counters, several of which found their mark.
Henderson, who is now 1-3 since signing with Bellator, defeated Patricio Freire last year when Freire suffered a leg injury during the second round.
Patricky Freire hopes the win will catapult him into another shot at the lightweight title.
"I eat former champs for breakfast," he said. "I want (Bellator lightweight champ) Brent Primus. Stop running from Pitbull."
Freire has been a contender in the division for the better part of four years, but came up short in his only title shot against Michael Chandler in 2016.
Welterweight Paul Daley knocked out Lorenz Larkin with his trademark left hook in the second round of a matchup of former UFC competitors.
Daley grazed Larkin with a spinning back elbow and then delivered the crushing finishing blow at 2:40.
"The fight went as planned," Daley said. "I felt great and I knew how this would end. Lorenz Larkin was acting very uncharacteristically leading up to the fight and when I saw all of his antics and whatnot, I knew the fight would only end one way and that's with him flat on the canvas."
Las Vegan Roy Nelson took down Javy Ayala in all three rounds en route to a unanimous-decision victory in his Bellator debut.
The former UFC standout got off to a good start toward his goal of pursuing the vacant heavyweight belt in his new organization.
Nelson has grown reliant on his overhand right in recent years, but returned to his roots to win the fight with his grappling.
"I thought I was doing a good job with my standup against him, but he's really tough," Ayala said. "I just wasn't able to stop the takedowns and his top control is at the elite level."
Nelson was pleased with the victory.
"The goal was just to go out there, get the win and work my game a little bit," he said.
Aaron Pico bounced back from a loss in his professional debut to celebrate his 21st birthday on Saturday with a brutal second-round knockout of Justin Linn.
Pico, one of the most-hyped prospects to ever make his debut, was stunned by a 24-second submission loss in June.
He dropped to featherweight and righted the ship by knocking Linn cold with a left hand.
"It feels good to go out there and do what I do," he said. "I'm really happy right now. It's a proud moment to get my first victory, something I'll always remember, on my 21st birthday."
Pico, an elite wrestler with an amateur boxing background, knows he still has plenty of time to develop as a mixed martial artist.
"Right now, I'm still young," he said. "I just need to stay in my lane and do what I do. I will be the world champion one day, but I'm going to take my time."
Lightweight Goiti Yamauchi opened the main card with a first-round submission of Adam Piccolotti.
More MMA: Follow all of our MMA and UFC coverage online at CoveringTheCage.com and @CoveringTheCage on Twitter.
Contact Adam Hill at ahill@reviewjournal.com or 702-277-8028. Follow @adamhilllvrj on Twitter.