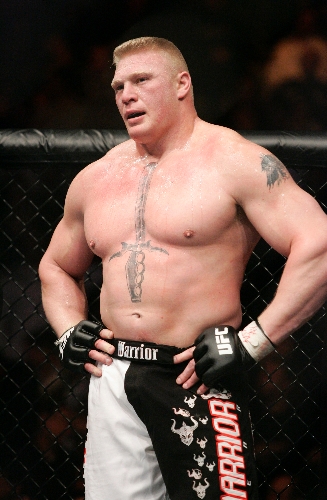 No gimmicks. No convoluted bargaining sessions. No deal to allow a special guest appearance at Wrestlemania.
How exactly did the Ultimate Fighting Championship convince its biggest star, Brock Lesnar, to be a coach on its reality show and spend the next six weeks far from the remote Midwestern isolation he so enjoys?
"Benjamins," Lesnar said Tuesday on the set of "The Ultimate Fighter: Season 13."
With whatever bonus he's being paid, plus a likely increase in marketability and pay-per-view dollars from a weekly spot on cable TV, it wouldn't make sense for Lesnar to turn down the reality show.
It also didn't hurt that the weather back home in Alexandria, Minn., is "30 below right now."
The coaching gig also gives Lesnar a clear path to regain the heavyweight title he lost to Cain Velasquez in October.
Velasquez was due to defend the belt against Junior dos Santos but underwent surgery to repair a torn rotator cuff and will be sidelined for an extended period of time.
Lesnar would earn a title shot by beating his opposing coach, dos Santos, at the end of the season.
"When I beat Dos Santos, then I get a rematch with Velasquez and get my (expletive) belt back," he said. "That's how I'm looking at this."
There were rumors after the loss to Velasquez that Lesnar's heart was no longer in mixed martial arts and that the former professional wrestling star wanted to return to the scripted world of the WWE.
Lesnar said he has no idea where that came from but acknowledged that he did little to stop the rampant speculation.
He insisted that his appearance on the reality show proves his commitment to MMA.
"I'm a fighter," he said.
Lesnar also fired back at critics who question his qualifications to serve as a coach of young fighters, many of whom have more pro fights than him, after just two years in the sport.
"I've been the UFC champion. What more qualifications do you need?" he said. "I've been competing my whole life. I've got a great coaching staff, guys that have been coaching top fighters, top wrestlers, national championship teams. I think we're well capable of coaching guys to become the next ultimate fighter. I've got faith in my people. These guys made me a champion. Why can't we make these kids successful?"
The cast members, who still can't be identified, seem to agree.
"What he's accomplished in two years is pretty crazy. When he first came to MMA, everyone thought it was a joke, and obviously it's not," one fighter said. "What he's done and what he's accomplished in just two years, there's got to be some kind of formula to it."
Lesnar said he won't get caught up in some of the antics that have highlighted past seasons.
He said he has no issues with dos Santos and even called him a nice guy.
Ironically, the polite and easygoing Brazilian unleashed the only verbal jab Tuesday when discussing Lesnar's struggles with big strikers in his last two fights.
"He doesn't accept punches well. I am from boxing, so I have no problem with punches. Guys can punch me and I feel nothing, just keep going. That doesn't happen with him," dos Santos said with a characteristic smile. "I don't know why, I guess he's got a weak chin.
"I believe I can knock him out."
The two will coach opposing teams of welterweights in a tournament that will be filmed over the next six weeks. Lesnar will meet dos Santos in June after the final episode of the season airs.
It is expected to be the most-viewed season to date of the popular Spike show. Lesnar knows that's mostly because of his name.
It won't be because Lesnar is playing practical jokes or manufacturing friction on the set.
"It's not a game to me. I don't have to go around playing pranks and stirring up rivalries," he said. "These other fighters have to do that stuff because nobody will watch it otherwise. I don't need no storyline. I'm Brock Lesnar, and people want to see me fight."
The season premiere is scheduled for March 30.
Contact reporter Adam Hill at ahill@reviewjournal.com or 702-224-5509.