Post-fight craziness overshadows record-setting UFC 229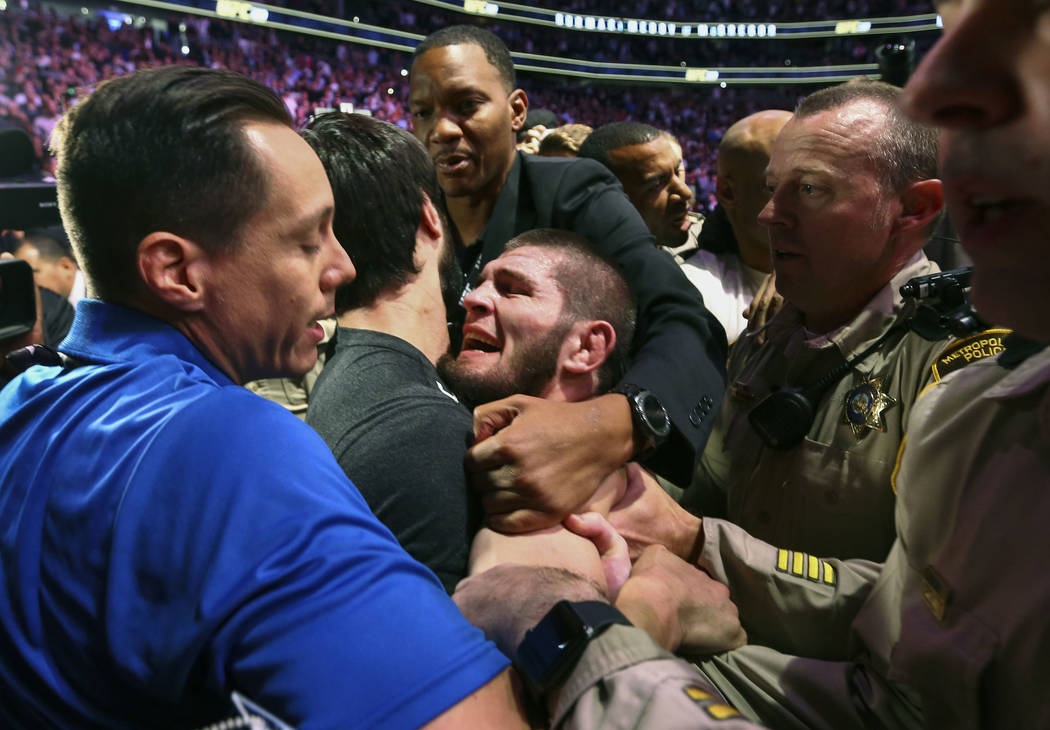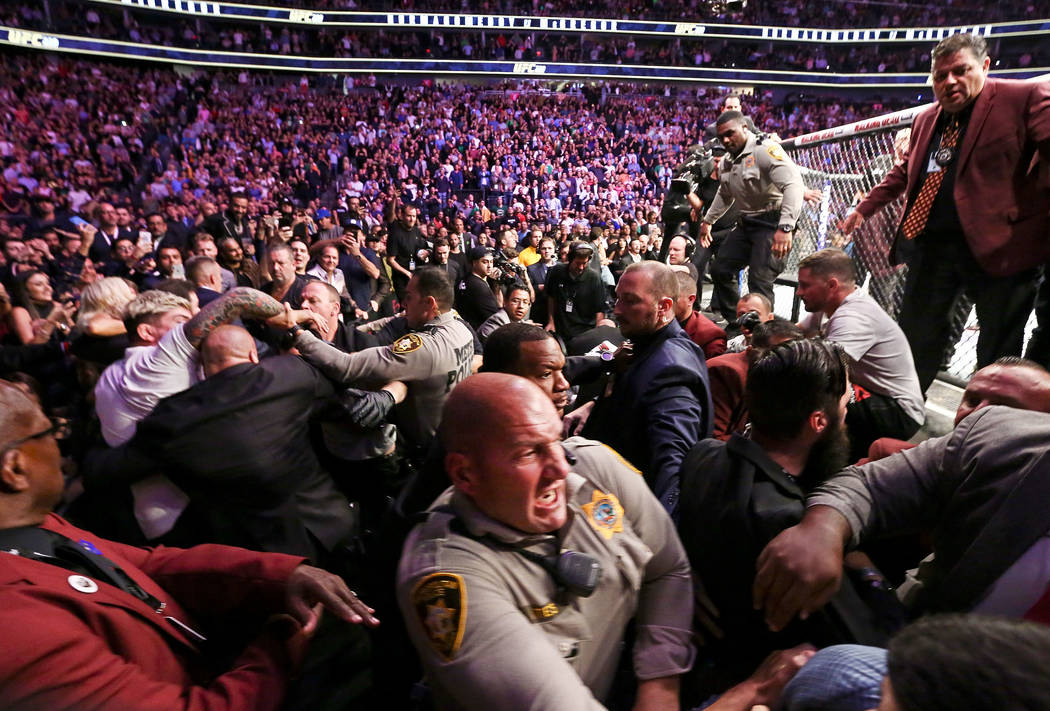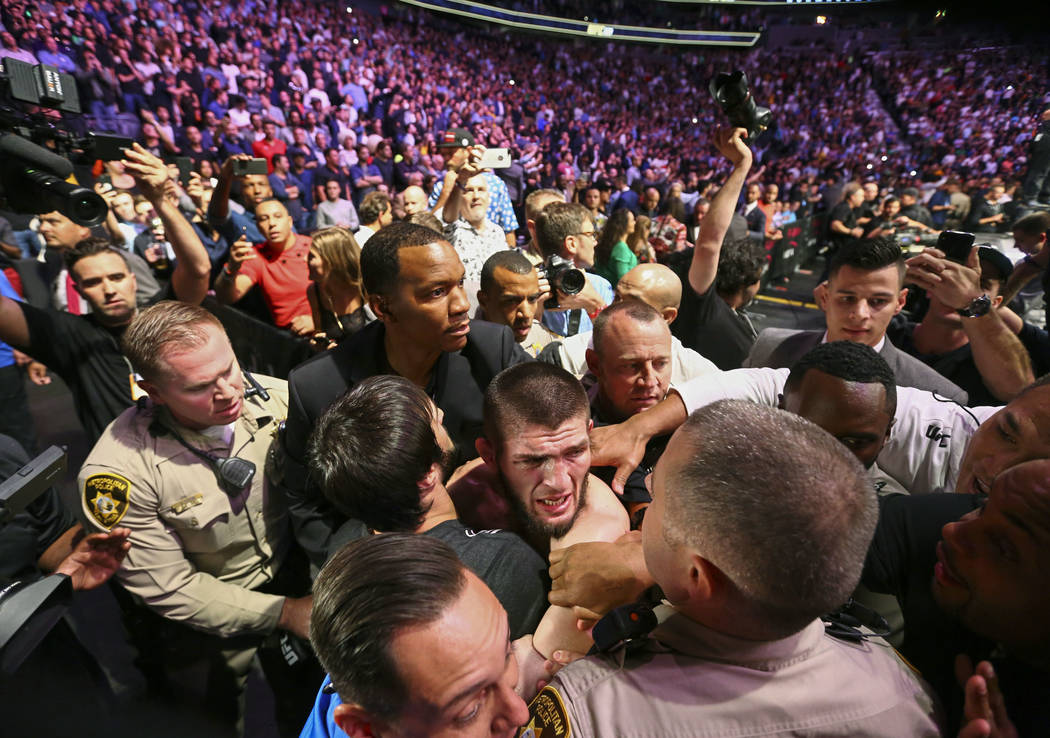 Saturday night was shaping up to be what Dana White dreamed about when he took over as UFC president nearly two decades ago.
Yet he was in no mood to celebrate after an ugly brawl marred the conclusion of UFC 229 at T-Mobile Arena.
"The biggest night ever and I couldn't be more disappointed," White said in the early hours of Sunday morning after an event that brought an announced crowd of 20,034 to T-Mobile Arena, drew a live gate of $17.2 million from ticket sales and could set the organization's record for pay-per-view buys.
"It's unfortunate that the night that the most people are watching, this (expletive) show goes on."
A long, nasty history between the camps of Russian Khabib Nurmagomedov and Irishman Conor McGregor boiled over into an all-out melee when Nurmagomedov jumped over the cage after submitting McGregor in the fourth round and attacked one of his training partners, who was screaming at Nurmagomedov.
Chaos reigned outside the cage with fans trying to push their way into the fracas. McGregor attempted to follow Nurmagomedov over the fence, only to be pulled back by security. As McGregor sat atop the cage, he appeared to strike one of Nurmagomedov's teammates, setting off a separate skirmish that triggered another teammate of Nurmagomedov to hop the fence and sucker punch McGregor from behind.
One of the men appeared to be Zubaira Tukhugov, a UFC featherweight who is scheduled to fight McGregor's friend and teammate Artem Lobov this month.
UFC officials who were contacted Sunday did not confirm Tukhugov's involvement, but White said anybody under contract who participated in the melee other than McGregor and Nurmagomedov would not fight in the organization again.
Police handcuffed several people, and McGregor and Nurmagomedov were escorted from the cage before the official announcement was made declaring Nurmagomedov the winner.
Nevada Athletic Commission Executive Director Bob Bennett confirmed that the commission is looking into the brawl, which White ranked "No. 1, 2 and 3" among the worst fight-night situations he's dealt with at the helm of the organization.
"We have a pending investigation to determine the facts of the altercation," Bennett told the Las Vegas Review-Journal on Sunday.
Commission representatives initially withheld the checks of both fighters but released McGregor's $3 million share of the purse upon a preliminary review of video evidence and a brief interview with McGregor.
Nurmagomedov will not receive his $2 million share, pending the outcome of the commission's investigation in case substantial fines are levied against him.
"There's going to be fines," White said. "There's going to be God knows what. Can these guys get visas to get back in the country?
"These guys are in big trouble. It's going to be ugly."
According to UFC officials, three members of Nurmagomedov's team were detained by Metropolitan Police Department officers. A department spokesman later said no arrests had been made.
Metro officers were called to T-Mobile Arena about 10:20 p.m. Saturday for "unknown trouble" and again about 10:50 p.m. for an "assault/battery," according to police event logs.
"As of now, there were no arrests related to the incident at the fight tonight," Metro Lt. Jason Johansson said Sunday morning.
Johansson did not know whether anyone was seriously injured and was unable to provide further details.
Arena officials noted that order was restored without major injury.
"Arena security reacted quickly and in close coordination with Metro and UFC to resolve the situation," read a statement from MGM Resorts that was provided to the Review-Journal.
One arena employee told the Review-Journal that several security staffers suffered minor injuries during the fracas, but MGM officials would not confirm that claim.
White said the organization was prepared for a potential situation after the history of bad blood between the fighters' camps.
"Did you see how many police were here? I think every cop in town was here," White said. "We had an unbelievable amount of security here, and we had meetings all throughout the week and even during the event about how to handle the (post-fight). We went above and beyond anything we've ever done in the history of the company tonight to make sure this didn't happen. And it still happened. What are you going to do when a guy flies like a monkey over the freaking cage?
"Fortunately, they did a great job of containing that and stopping it."
Nurmagomedov took just one question after remaining undefeated by dominating McGregor for four rounds .
He expressed dismay that the attention was on his actions instead of what escalated the rivalry.
"First of all, I want to say sorry to the Nevada (Athletic) Commission," Nurmagomedov said during his three-minute news conference. "Sorry to Vegas. I know this is not my best side.
"I don't understand how people can talk about (how) I jumped the cage, but what (about McGregor)? He talked about my religion, he talked about my country, he talked about my father."
McGregor did not appear at the news conference but posted on Twitter and Instagram that he wants another shot at Nurmagomedov.
"Good knock," he wrote on Twitter. "Looking forward to the rematch."
More MMA: Follow all of our MMA coverage online at CoveringTheCage.com and @RJ_Sports on Twitter.
Review-Journal staff writers Gilbert Manzano and Kimber Laux contributed to this report. Contact Adam Hill at ahill@reviewjournal.com or 702-277-8028. Follow @AdamHillLVRJ on Twitter.