Resurgent Mir embraces 'Moneyball' in UFC
September 4, 2015 - 11:00 pm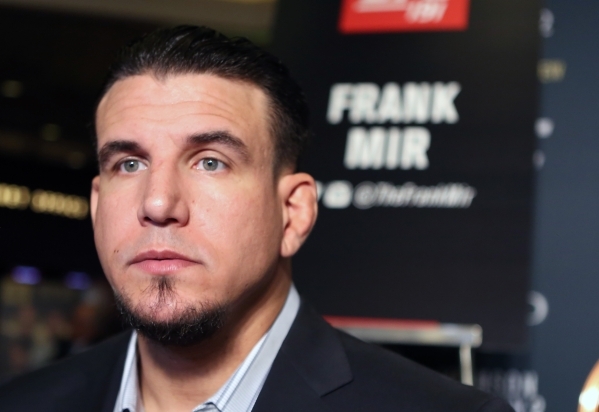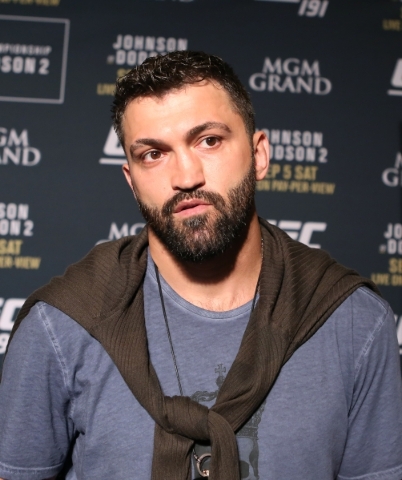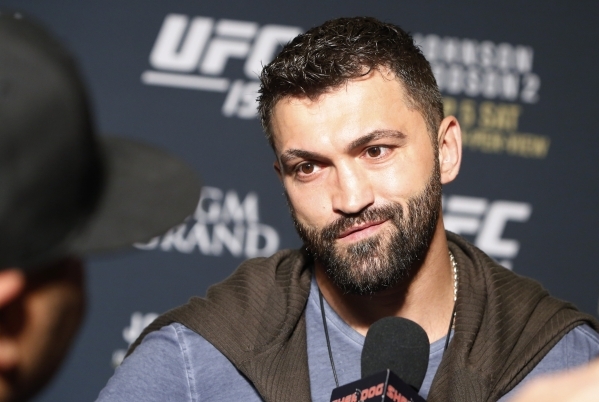 Las Vegan Frank Mir has embraced the concept of training smarter, and it has helped spur a resurgence that has the 36-year-old former Ultimate Fighting Championship heavyweight champ on the verge of title contention again.
His head coach, Ricky Lundell, is the brains of the operation and might be at the forefront of a revolutionary approach to the sport.
Coaches and trainers have been studying film for as long as technology has made it possible, but Lundell incorporates data from his own comprehensive database that goes back more than a decade to cater a training camp specifically to the tendencies of an opponent.
While analytics has become a common part of the vocabulary in other sports, it's an approach that is still in its infancy in mixed martial arts.
"I don't know of anyone else who has taken it into the coaching realm in MMA, but I know it's only a matter of time," said Lundell, who also serves as the wrestling coach at Bishop Gorman High School. "It's so cutting edge, and it's clear everyone should be doing it. Every other sport has figured it out. I believe our camp has figured it out, and we've been lucky enough to be on that edge to really push it to that next level. But everyone's going to get there. I can see with how much it's giving us and how much we're winning because of it, other people are going to catch on, too. It's only a matter of time."
It certainly has paid off for Mir, a Bonanza High alumnus who was mired in a four-fight losing streak when he hired Lundell. Mir will be seeking his third straight win in 2015 when he fights Andrei Arlovski, another former heavyweight champion in the midst of a career resurgence, at UFC 191 tonight at the MGM Grand Garden.
"From the beginning of my career all the way up until I made Ricky Lundell my head coach, I never even game-planned," Mir said. "I actually believed against it. I had this thought that I'm a martial artist, and we're fighters, and in a fight out on the street, you don't get to game-plan, you just go fight.
"Ricky brought in this approach, and he just told me, 'Look, the best teams in football and baseball do this.' I realized he was right. Why not take advantage of the fact we have footage and statistics on all my opponents, and we can train specifically for them?"
Mir has even taken to calling Lundell "Moneyball," a reference to the book and movie about Billy Beane, the Oakland Athletics' general manager and analytics proponent.
Lundell's fascination with math-based analysis of sports began in college. While attending Iowa State and Utah Valley, from which he earned a degree at just 18, he extensively studied and wrote several papers about how to apply mathematical principles to wrestling and jiu-jitsu.
"I was looking at what was working in matches and what wasn't," Lundell said. "Whether they were scoring in the first minute or the last minute and how you could use that information. Now, I spend a lot of time on analytics looking at both my fighters and their opponents. Based on those numbers, I can maneuver my fighter's training to make sure they have better success in the fight."
As a rudimentary example, if Lundell's numbers say an opponent tries to get back up to his feet 90 percent of the time from his back and only tries to engage in grappling 10 percent of the time, they can devote their training sessions accordingly.
It goes far beyond that.
"We also know exactly what their go-to escapes are and how often they use each one," Lundell said. "Then you can look at how those numbers change as the fight progresses and how their tendencies change as they get tired."
There hasn't been much time for Mir's opponents to get tired lately.
He ended his slide with a first-round knockout of Antonio "Bigfoot" Silva in February, followed by a first-round knockout of Todd Duffee in July.
"My training is much more effective," Mir said.
Mir has used Lundell's methods to improve his game as a whole, but it has been his boxing that seems to have developed the most in recent fights.
Credit for that goes at least in part to Angelo Reyes, a boxing coach who learned his craft under famed trainer Freddie Roach. Reyes raves about Lundell's methods.
"He's the Freddie Roach of MMA, dude, and he's only 29," Reyes said. "Me leaping into this world, I'm really lucky that I'm being mentored by who I feel is the Freddie Roach of this industry.
"People tell me, 'Hey, you're doing a great job with Frank.' And I'm just like, 'I'm the lucky SOB that gets to be the assistant to Ricky Lundell.' He's the best coach in the world."
The use of mathematical data has increased recently on UFC broadcasts through the work of such companies as FightMetric, and there was even a panel discussion on the topic at the famed MIT Sloan Sports Analytics Conference. But Lundell relies on his own data and thinks he has been the first to fully integrate advanced metrics in his training camps.
Lundell, who also has worked with UFC veterans Carlos Condit, Joe Lauzon and Miesha Tate, knows eventually the rest of the industry will catch on and make him take his analysis even further.
"It's one of those things where the more people figure it out, the tougher this sport is going to get and the harder my job becomes," Lundell said. "I'm glad I stumbled upon it in the beginning, but as soon as people jump on, there's just so many great minds in this sport that it's going to get harder."
By that time, Mir might be a champion again.
He will need a win over Arlovski to stay in that conversation. The bout is part of a pay-per-view event that begins at 7 p.m.
The card is headlined by a flyweight title fight between John Dodson and champion Demetrious Johnson.
Four fights from the preliminary card will air live at 5 p.m. on Fox Sports 1 (Cable 329).
Contact reporter Adam Hill at ahill@reviewjournal.com or 702-224-5509. Follow him on Twitter: @adamhilllvrj.