Rousey puts in serious workout for Australians before UFC 193
November 12, 2015 - 1:22 am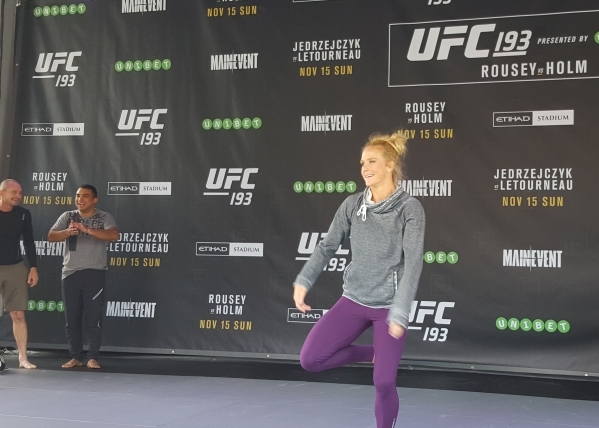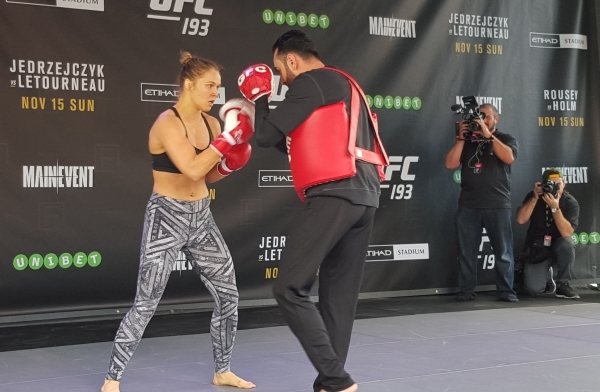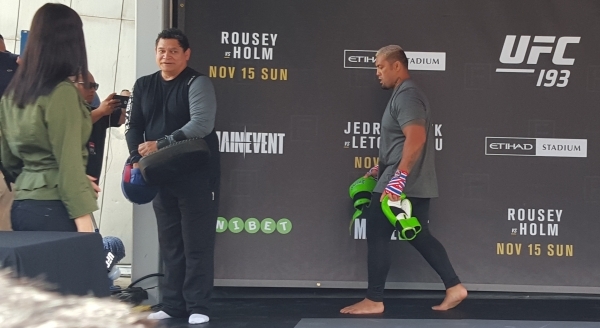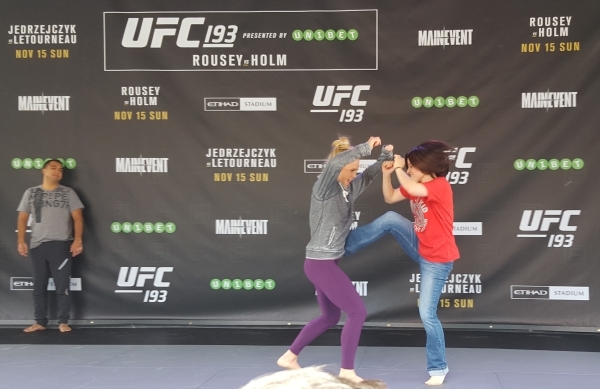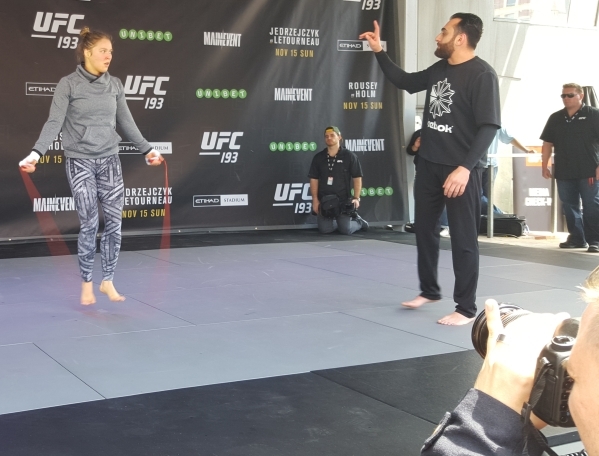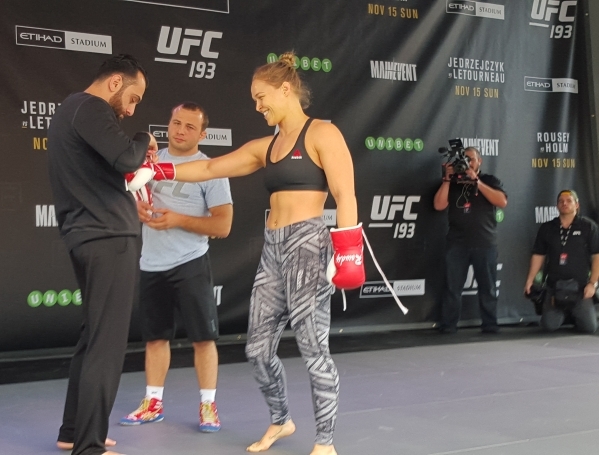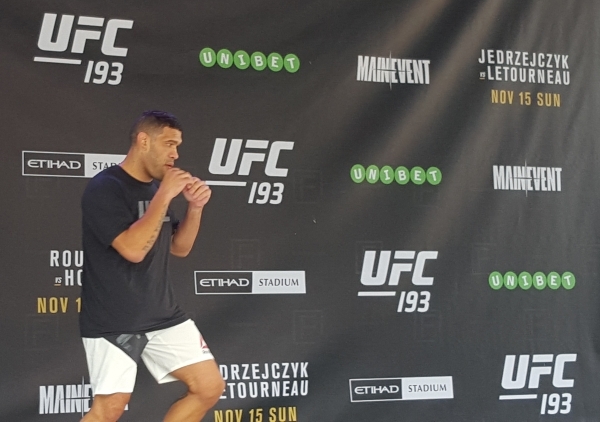 MELBOURNE, Australia — Ronda Rousey stepped on the stage before a throng of screaming fans at Federation Square for open workouts Thursday afternoon and did exactly what she does when nobody is around.
She went to work.
Rousey, the sixth and final Ultimate Fighting Championship competitor to appear onstage at the event, went through the most intense workout of the group. She grappled, hit mits, even jumped rope and did gymnastics just days before her women's bantamweight title defense against Holly Holm in the main event of UFC 193 at Etihad Stadium.
"And this is my rest week. This is one of my easy days," she said with a laugh. "I don't go up there just for show. I'm really training when I'm up there. I'm not just going up there doing as little as possible for the fans."
Rousey said she thinks her success is largely based on her work ethic.
"That's why I'm better than all of these girls," she said. "Whatever Holly thinks working hard means, I work 10 times harder than that."
Whatever her methods, her success is unquestioned. Rousey is undefeated, and only one of her 12 career fights has gone past the first round.
Some coaches might be concerned about their star fighter going through a vigorous session so close to a fight, particularly in such a public session at which she might be inclined to show off to impress the fans.
But Rousey's longtime trainer, Edmond Tarverdyan, knows they have a successful formula.
"I love it. It works, right? No (expletive) around," Tarverdyan said. "She's on. Ronda takes everything seriously. I'm not just going to wrap her hands and she's going to tip-tap. Everything we do is 100 percent or we don't do it. It's great for the fans to see."
Not that Holm wasn't fan-friendly. If she is nervous going into the biggest mixed martial arts fight of her career, she certainly didn't show it.
The challenger appeared to have more fun than anyone else Thursday. After going through some obligatory shadow boxing, she danced on stage and smiled throughout her session.
Then, she grabbed the microphone and asked for a volunteer.
Kelly Ross, a Colombia native who moved to Melbourne four years ago, gladly obliged.
Holm brought Ross onstage and exchanged playful kicks.
The former professional boxer said enjoying this part of the job is something she picked up before her UFC debut in Los Angeles in February.
She remembers briefly wondering what she should do, but quickly came to a realization.
"This is for the fans, not me," she said. "I mean, it's for me in the sense that you get that energy and it's amazing. But I went in there and just shadow boxed and jumped rope, and fans were calling out moves and I was able to do it. If they're going to come out here and watch an open workout, I want to be involved with them."
Rousey gave the fans their time at the end of her session, too. Many of them had been chanting her name and screaming at the mere mention of her for the better part of three hours before her scheduled arrival.
Though she was asked not to go over to the fans for security reasons, Rousey said she would take pictures and sign autographs with one caveat.
"Just please don't knock down the railings," she said.
The champion said she has been contemplative recently about her popularity.
"There's just so much positivity and support. Sometimes I think, 'I really hope I deserve this,'" she said. "I'm trying my best to deserve it. I really, really am. Sometimes you just get wrapped up in how amazing this all is. This fight has been a real opportunity to see that.
"I'm going to show my appreciation for them by winning in the most fantastic way possible and making them happy they were there to see it."
Her popularity is not the only thing she has been emotional about. Rousey said she was brought to tears looking at judo mats recently, thinking about how much love she has for the years of work that brought her an Olympic bronze medal and eventually led to fame and fortune in the UFC.
"That's why I'm going to win," she said. "You think Holly Holm ever looks at a boxing ring and cries because she loved it so much? No."
There can be a strategic element to the fight-week open workout sessions. Some fighters analyze what their opponents do on the mat as if it may hold clues in terms of a potential game plan.
While Rousey is aware of the possibility, she never has dwelled on it.
"Whenever I do these, I throw out a couple decoys," she said. "Things I'm not really planning on doing, but I show it anyway. It's up to my opponent and their interpretation, but they could watch every one of my training sessions and they could have known me since I was 5 and I'm still going to beat them. It doesn't matter."
So far, she's been correct.
* NOTE — Rousey was asked about a recent conference call promoting the event when her line "disconnected" after a question about whether she was upset at her boyfriend, UFC heavyweight Travis Browne, for publicly announcing their relationship so close to a fight. Rousey cut off the reporter with a quick "Next question."
Contact reporter Adam Hill at ahill@reviewjournal.com or 702-224-5509. Follow him on Twitter: @adamhilllvrj
RJ's new MMA site: CoveringTheCage.com
Las Vegas Review-Journal MMA reporter Adam Hill will bring online readers the following, with fresh content daily:
* Fighter profiles.
* Rankings of all UFC classes.
* Previews and coverage of bouts.
* Videos of fighters on and off the mat.