Silva quells concern, wins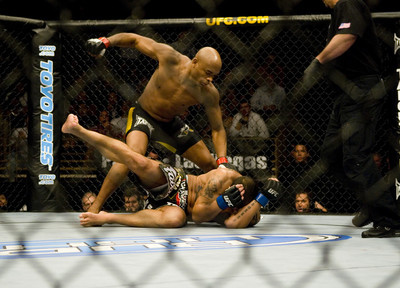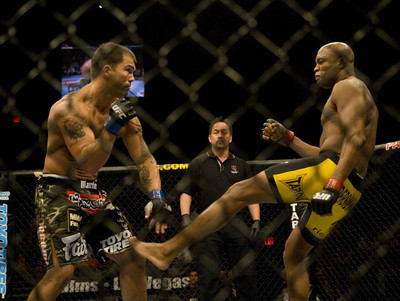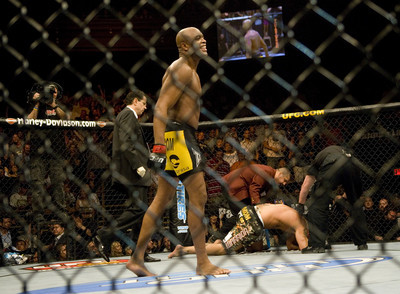 Anderson Silva admitted that some members of his camp were skeptical about his decision to move up to the light heavyweight division for one fight.
It took him only 1 minute, 1 second to assure them that they had nothing to worry about.
The Ultimate Fighting Championship middleweight champion looked as impressive as ever competing 20 pounds above his normal fighting weight as he scored a vicious knockout over James Irvin in the main event of a UFC card at the Palms on Saturday night.
"I felt like I was fighting at my regular weight. I felt good at this weight," Silva said through a translator.
Silva caught a right leg kick attempt by Irvin and unleashed a right hand to the face that lifted Irvin off the ground and onto his back.
The fight essentially was over at that point.
Silva threw six punches to his downed opponent that only partially landed. The seventh punch slipped cleanly between Irvin's fists and prompted the referee to stop the fight.
"Like in a chess game, he happened to move the wrong piece, and I countered," Silva said. "I was able to capitalize on his mistake."
Silva said after the victory that although he might take more fights at light heavyweight in the future, he is committed to remaining the middleweight champion.
"My weight class is 185, and that's the belt I'm going to defend," he said.
Aside from Silva, the most impressive fighter on the card might have been Cain Velasquez. The highly touted heavyweight made quick work of Jake O'Brien, winning by knockout at 2:02 of the first round.
Velasquez, a former wrestler at Arizona State, quickly worked to top position on O'Brien. He then worked himself to a point where O'Brien's arms were pinned at his side.
Velasquez then pounded on O'Brien with hard right hands until the fight was mercifully stopped.
Frankie Edgar and Brandon Vera each scored fairly decisive unanimous-decision victories, though Edgar's lightweight clash with Hermes Franca featured more action than Vera's battle with Reese Andy.
Vera was fighting for the first time at light heavyweight, as well, but he was moving down from heavyweight. He said it was the first time in nine years that he had to cut weight for a fight, and it had a big effect on him as the bout progressed.
"Going into the fight, people were asking me if it would be a big deal to cut down, and I was saying 'No way,' " Vera said. "But after the first round, I was just thinking, 'What the hell is going on here? This is crazy.' "
Vera, normally a crowd favorite, was roundly booed as his victory featured little action. He doesn't blame the fans for their reaction.
"That wasn't the performance I am supposed to be putting on," he said.
C.B. Dollaway, another former Arizona State wrestler, submitted Jesse Taylor with an unusual move.
Dollaway executed the creative "Peruvian Necktie." The maneuver is a choke that involves the arms and legs.
Anthony Johnson suffered the most unfortunate loss of the night.
Johnson was well on his way to a victory in the third and final round when he caught a forceful finger to the eye from Kevin Burns.
Johnson went to the mat in pain, but referee Steve Mazzagatti never saw the eye poke. Burns hesitated before pouncing on Johnson and beginning to throw punches.
At that point, Mazzagatti stopped the fight and declared Burns the winner by technical knockout.
The card was put on to offer a basic cable alternative to startup promotion Affliction's first pay-per-view event.
UFC president Dana White doesn't think the rival company will be around for long, and he predicts some of the talent that the fledgling promotion has assembled will be headed to the UFC.
"After tonight those guys are going out of business and (the fighters) will be over here," White said before he even knew how Affliction's card went on Saturday night. "They spent a lot of money tonight, and I know a lot more about this business than they do."
On the UFC undercard, Rory Markham, Tim Creduer and Brad Blackburn all won by knockout.
Markham's was the most impressive as he appeared to be in trouble before knocking Brodie Farber out cold with a head kick.
Shannon Gugerty and Nate Loughran each scored first-round submission victories.
Contact reporter Adam Hill at ahill@ reviewjournal.com or (702) 224-5509.
EMELIANENKO WINS HEAVYWEIGHT TITLE ANAHEIM, Calif. — Fedor Emelianenko didn't need much time to pound out a victory over Tim Sylvia on Saturday, becoming the first World Alliance of Mixed Martial Arts heavyweight champion in the process. Emelianenko threw a flurry of punches and quickly got Sylvia, a two-time UFC heavyweight titlist, down to the mat. Emelianenko (28-1, one no contest) then got Sylvia (24-5) in a rear naked choke, ending the bout 36 seconds into the first round. Also on the card, Andrei Arlovski (13-5) knocked out Ben Rothwell (29-6) at 1:13 of the third round in a heavyweight bout. REVIEW-JOURNAL