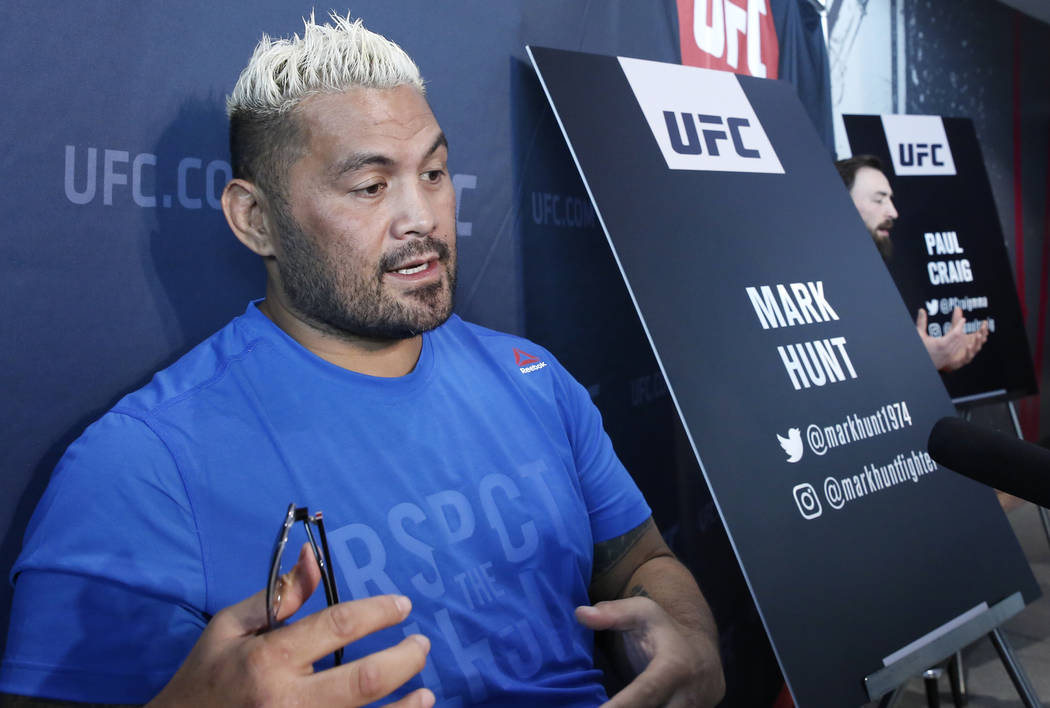 A main event victory in his first professional MMA fight in his native country would have served as a perfect way for 43-year-old UFC heavyweight star Mark Hunt to end his storied career.
Instead, his impressive win over Derrick Lewis appears to have served as just the motivation Hunt needed to keep fighting.
"I've only got a few more fights left, so for me, if it (would have) ended here tonight, so be it," Hunt said in the cage after stopping Lewis in the fourth round at UFC Fight Night 110 on Saturday night. "I've had a good run. I've had a lot of fun, traveled the world. But it looks like it's still continuing."
He was even more definitive once he arrived at the post-fight news conference.
"I don't think so," Hunt said of whether he planned to walk away from the sport. "I like to get beat up. Shucks, there's nothing else I'm good at. But I've got a couple of fights I want to finish. Why not see the contract out and then retire?"
The fights he has in mind for the immediate future are rematches of losses he hopes to avenge. Hunt wants to fight either Junior dos Santos or Alistair Overeem, though he's particularly focused on getting another shot at Overeem.
"He's always going to be a cheating bum to me, regardless of whether he beat me," Hunt said. "All of his achievements, you don't know whether they're done by steroids or not. Sorry, Alistair, you're a cheat."
Hunt is currently involved in litigation in Nevada over the UFC's handling of Brock Lesnar before he returned from professional wrestling to defeat Hunt in July 2016. A sample submitted before the fight by Lesnar came back positive after the bout and Hunt has argued there is not enough safeguards in place to dissuade fighters from using performance-enhancing drugs.
Hunt's crusade against steroid users doesn't end with those who have handed him losses.
"I think taking away the financial gains to start with," Hunt said of how to cut down on usage. "I think if you take away the financial incentive, then the cheaters will think twice. You take away the money, they wouldn't do it. It's just a clause in the contract saying the cheater doesn't benefit at all. Because right now, it pays to cheat."
The UFC's anti-doping policy, administered by USADA, was only a beginning for Hunt. He has advocated for the fight purse of fighters who test positive to go to their opponent.
Punches before brunch
Fight fans will have to wake up very early to catch UFC Fight Night 111 from Singapore on Saturday.
Either that or stay up very late.
The main card, headlined by a women's bantamweight bout between Bethe Correia and former champion Holly Holm, will stream live on Fight Pass at 5 a.m.
Preliminary card action will also stream on the online platform, beginning at 1:45 a.m.
A heavyweight bout between Marcin Tybura and former champion Andrei Arlovski is also featured.
Tuff-N-Uff
Local amateur organization Tuff-N-Uff will host its fourth-annual "Pack The Mack" night at Thomas & Mack Center on Saturday.
Free tickets to the event, which begins at 6 p.m., are available at unlvtickets.com.
Six title belts will be on the line at the event, which features fighters from Nevada, California, Arizona, Utah, Kansas, Colorado and Ohio.
Cheyanne Vlismas, who trains at Xtreme Couture in Las Vegas, will fight Ohio's Crystal Demopolous for the women's strawweight championship in the main event.
Also, twin brothers Josh and John Kim of San Diego will both be in action in separate title fights.
Contact Adam Hill at ahill@reviewjournal.com or 702-277-8028. Follow @adamhilllvrj on Twitter.
Schedule
— Saturday:UFC Fight Night 111 (Fight Pass), Singapore
— June 24:Bellator 180 (PPV), New York
— June 25: UFC Fight Night 112 (FS1), Oklahoma City
— July 7:"The Ultimate Fighter" Season 25 Finale (FS1), T-Mobile Arena
— July 8: UFC 213 (FS1/PPV), T-Mobile Arena