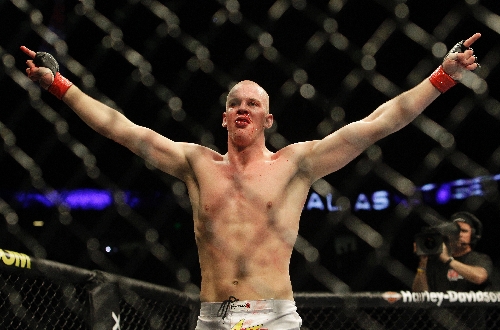 Rising UFC heavyweight contender Stefan Struve reached a major milestone even before he stepped in the cage for his main-event fight last week.
A huge one. Giant even.
Struve finally measured out at 7 feet tall.
He was 6-10 when he joined the Ultimate Fighting Championship and 6-11 for his last few bouts, but the UFC's tallest fighter is now officially a 7-footer.
Struve's growth in the cage has been even more dramatic. He won his fourth straight fight, all by stoppage, battering previously unbeaten Stipe Miocic for a second-round knockout Saturday at Nottingham, England, at UFC on Fuel TV 5.
Struve, 24, has won six of his last seven fights and is 9-3 in the UFC. The win over Miocic puts him squarely in the top 10 among UFC heavyweights and probably closer to the top five, according to UFC president Dana White.
Struve said he knows he's not up for a title shot yet, but that opportunity is drawing near.
"I don't think there's a lot of other guys on four-fight winning streaks in the heavyweight division right now, and I have finishes in all four fights," he said at the post-fight news conference. "I think I'm closing in on (a title shot), but still there's no rush. I'm only 24. Imagine what I can do in four or five years.
"But still, I'm only a win or two away right now."
Struve has always used his long limbs to his benefit on the ground as one of the most talented submission artists in the heavyweight division. He has not always taken full advantage of his size in the standup, however. In his three UFC losses, Struve fell victim to opponents getting inside of his reach and finding his chin with big knockout punches.
That leads to the other question about Struve that he hopes to have answered by taking some big shots from Miocic.
"I think I showed I've got a hard chin," he said, while conceding he needs work in that area despite feeling he used his jab effectively to keep Miocic at a distance.
Stuve's growth as a fighter continues at a rapid rate. As for his height, he's got to be close to finished.
■ BACK TO THE GRIND – After a stretch of nearly six weeks without a live event, mostly because of the cancellation of UFC 151 on Sept. 1, the UFC returns for the third straight week with UFC on FX 5 on Friday night at Minneapolis.
Travis Browne meets Antonio "Bigfoot" Silva in the heavyweight main event.
Las Vegan Jay Hieron will fight welterweight contender Jake Ellenberger in a bout that was originally scheduled for UFC 151. Hieron, 36, is competing in the UFC for the first time since 2005.
The card airs tape-delayed on FX (Cable 24) at 8 p.m., preceding the new episode of "The Ultimate Fighter."
■ MUAY THAI RETURNS TO HARD ROCK – Joe Schilling will defend his WBC interim world title against Eddie Walker on a Lion Fights Muay Thai card at the Hard Rock on Oct. 13.
The card, which includes six pro fights and five amateur bouts, also features European champion Gregory Choplin in action against Joseph Valtellini.
Las Vegan Anthony Castrejon will meet Andy Singh for the WBC 118-pound national title.
Several local amateurs are scheduled to fight on the card, which begins at 5 p.m.
■ INVICTA STREAMS FREE – All-female MMA promotion Invicta Fights will stream Saturday night's event from Kansas City, Kan., free on its website, Invictafc.com, starting at 4 p.m.
The 14-fight card is headlined by the first-ever Invicta title fight, between Jessica Penne and Naho Sugiyama.
Contact reporter Adam Hill at ahill@reviewjournal.com or 702-224-5509. Follow him on Twitter: @adamhilllvrj.