Ticket refunds available for UFC 200 with Jon Jones off main event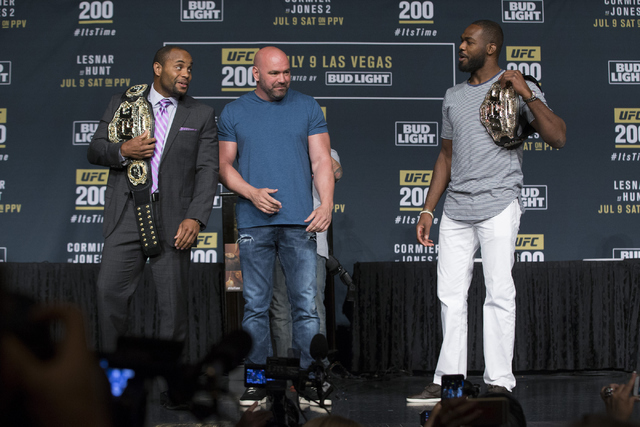 Fans with tickets to UFC 200 who were disappointed in Wednesday's stunning main event switch will be able to collect a refund.
The organization announced the policy in the last sentence of a late-night statement about former champion Jon Jones being removed from his rematch against Daniel Cormier for a potential violation of the anti-doping policy.
Refunds for the UFC's first show at T-Mobile Arena on Saturday will be available upon request at primary point of purchase. Of course, fans who purchased tickets on the secondary market won't have that option.
It was not a decision the UFC made out of sympathy to fans who purchased expensive tickets to the historic card. Under Nevada Athletic Commission rules, refunds must be offered any time there is an alteration to the main event.
A heavyweight bout between Mark Hunt and Brock Lesnar will now headline the card, which includes a women's bantamweight bout between Amanda Nunes and Miesha Tate and an interim featherweight title bout between Frankie Edgar and Jose Aldo.
The rest of the statement involved the organization's official announcement of Jones' removal from the card.
"The UFC organization was notified tonight that the U.S. Anti-Doping Agency (USADA) has informed Jon Jones of a potential Anti-Doping Policy violation stemming from an out-of-competition sample collection on June 16, 2016," the statement began. "USADA, the independent administrator of the UFC Anti-Doping Policy, will handle the results management and appropriate adjudication of this case. It is important to note that, under the UFC Anti-Doping Policy, there is a full fair legal review process that is afforded to all athletes before any sanctions are imposed.
"However, because Jones was scheduled to compete against Daniel Cormier this coming Saturday, July 9 in Las Vegas, there is insufficient time for a full review before the scheduled bout and therefore the fight has been removed from the fight card. As a result, the three-round heavyweight bout between Brock Lesnar and Mark Hunt will become the UFC 200 main event. Consistent with all previous potential anti-doping violations, additional information or UFC statements will be provided at the appropriate time as the process moves forward."
Jones is scheduled to hold a news conference at 8:30 a.m. Thursday at the MGM Grand.
Contact reporter Adam Hill at ahill@reviewjournal.com or 702-224-5509. Follow him on Twitter: @adamhilllvrj