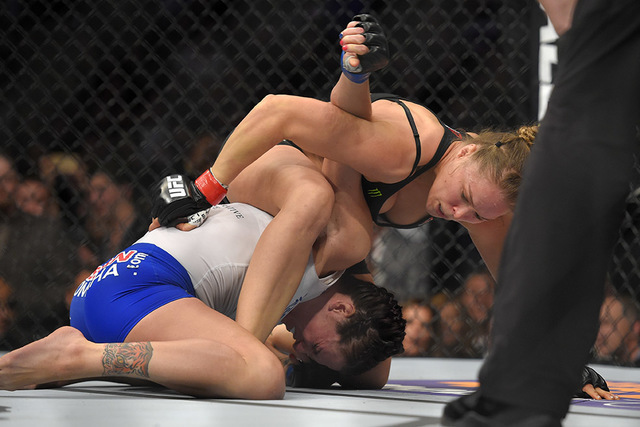 The staff of CoveringTheCage.com will present a list each day leading up to Saturday's UFC 200 at T-Mobile Arena. Today: Top 10 submissions
10. Nate Diaz def. Kurt Pellegrino at UFC Fight Night 13: Diaz landed a flying triangle choke on Pellegrino and made the finish more memorable by flipping birds in the air while it happened.
9. Frank Mir def. Tim Sylvia via armbar at UFC 48: Massive confusion ensued as Mir technically submitted Sylvia with an armbar to win the UFC heavyweight title. No one knew Sylvia's arm had broken except for the people in the cage. Even Bruce Buffer was lost amid the chaos and didn't announce Mir as the new heavyweight champion when the result was announced.
8. Royce Gracie def. Gegard Gordeau at UFC 1: No one had given Gracie a chance to win the first UFC event ever. But the diminutive competitor managed to finish all three of his adversaries to win the first UFC tournament.
7. Jon Jones def. Lyoto Machida at UFC 140: Jones retained his UFC light heavyweight belt when he put Machida to sleep with a standing guillotine choke. It was the first time Machida was submitted.
6. Ronda Rousey def. Cat Zingano at UFC 184: Rousey broke records in retaining her belt with her ninth armbar. At the time, she also had recorded the quickest finish in UFC title fight history.
5. Matt Hughes def. Frank Trigg at UFC 52: Trigg had almost sealed a victory over Hughes in their rematch until his rival locked in a rear-naked choke and took home the UFC welterweight championship in an amazing comeback.
4. Anderson Silva def. Chael Sonnen at UFC 117: Sonnen was outpointing Silva until "The Spider" pulled off his comeback. He retained his belt when he triangled-choked Sonnen in the fifth round.
3. Frank Mir def. Antonio Rodrigo Nogueira at UFC 140: Known for snapping limbs, Mir locked in a kimura and cranked on it, but "Big Nog" did not tap. Instead, Mir would break Nogueira's arm to force the finish.
2. Chan Sung Jung def. Leonard Garcia at UFC Fight Night 24: When the Korean Zombie submitted Garcia with a Twister, it was a never-seen-before move in the octagon. To top it, Jung secured it with one second left in the second round.
1. Ben Saunders def. Chris Heatherly at UFC Fight Night 49: For the first time in the UFC, fans witnessed an omoplata finish when Saunders ended Heatherly's night with the rare submission.