Troubled former NFL star Greg Hardy gets UFC developmental deal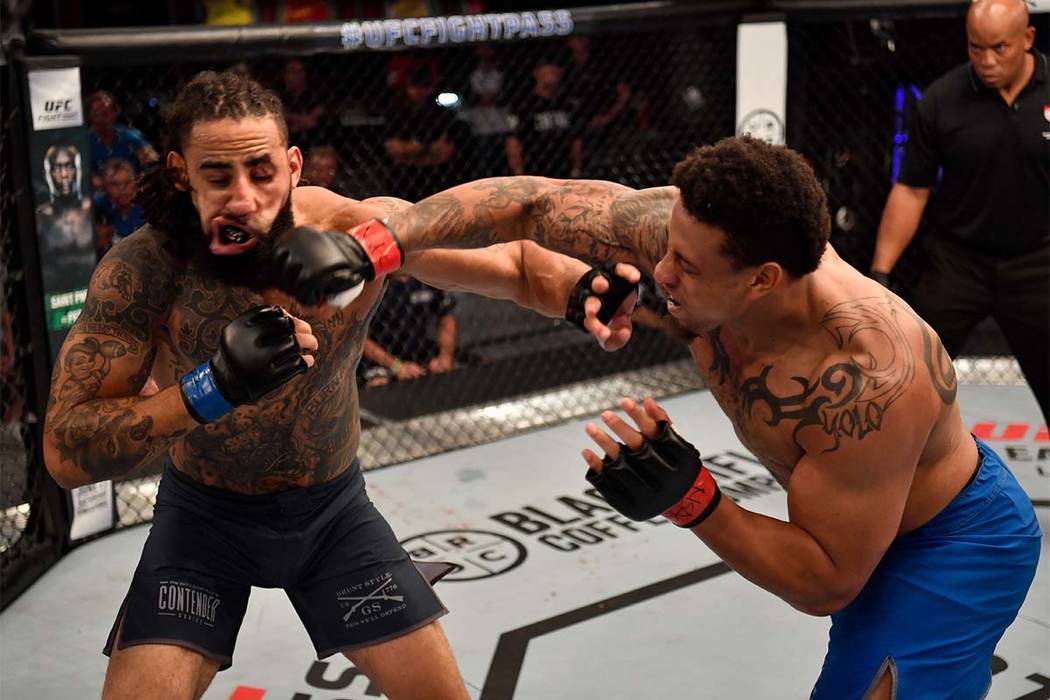 Former NFL star Greg Hardy needed just 57 seconds to end his professional mixed martial arts debut with a knockout of Austen Lane in Las Vegas on Tuesday night.
It still wasn't quite enough to earn a full-time spot in the UFC.
The organization announced Hardy would be inked to a developmental deal where the UFC would control his rights and place him in various bouts outside the promotion or on future UFC projects until he's seasoned enough to join a UFC heavyweight division desperate for fresh stars.
Hardy, 29, certainly showed his raw ability and the kind of athleticism that helped earn him a trip to the Pro Bowl in 2013.
Of course, there is a reason Hardy is no longer in the league during what should be the twilight of his prime.
Hardy was convicted of domestic abuse in 2014, though the finding was vacated when the victim refused to testify at his appeal. He got another chance with the Dallas Cowboys the following year, but wore out his welcome after one season between reports of being difficult in the locker room and an eventual drug charge.
While Hardy has said he wants another chance in the NFL, he has been working toward a fighting career and took a big step in that direction with the win on Dana White's Tuesday Night Contender Series.
He also earned the support of his new boss.
"People make mistakes," White said. "The thing about making mistakes is how you recover from them. How do you act after you've done something bad? This guy has paid his dues. He's done all the things right so far. He hit rock bottom and built himself back up and now the guy is out there trying to make a living.
"He's off drugs. He's off alcohol and he's trying to change his life. You can point the finger at a guy all you want, but you can't look down on someone for trying to turn their life around and be a better person," White said. "I believe that's what he's doing and he's obviously the type of guy that if he does anything wrong, there will be no mercy for him. Everybody's going to jump on him. But you talk to anyone from his camp, guy or girl, they love the guy. They think he's a great guy and a guy that was probably doing drugs and drinking and made a big mistake."
Hardy has publicly denied ever hitting his ex-girlfriend. He insists he just wants a chance to showcase his talents and understands he might never change opinions regardless of how he lives his life moving forward.
"I don't know how people are going to react, but I know my message to everybody in the world is that I'm willing to go up against it every day of my life to prove that I am a human being," he said after he was informed of his UFC deal. "I have worth and I'm willing to earn everything I get."
Hardy had only three amateur fights under his belt before making his pro debut Tuesday on the show where UFC hopefuls vie to catch White's eye.
He beamed at the mention of finally having a professional record of 1-0 next to his name after knocking out Lane, who was actually selected ahead of Hardy in the 2010 NFL Draft.
"It's the greatest feeling in the world," Hardy said of the win. "It's like sacking 100 quarterbacks."
Even the knowledge the organization wanted him to continue to progress before bringing him into the mix couldn't dampen his mood.
"I want to earn this," he said. "It's a perfect opportunity for me to perfect my game and continue to grow."
White hadn't met Hardy before their discussion about his potential contract on Tuesday night in Las Vegas.
Instead, he said the UFC chose to vet Hardy by talking to people around him to determine how committed he is to not only the sport, but staying on the straight and narrow.
"Meeting him wasn't as important to me as talking to people around his gym that talk to him every day and I got nothing but rave reviews about the guy," White said.
Still, he knows he will face criticism for aligning the organization with the troubled former football star.
He also knows it will be even worse for Hardy.
"The reality is, if this guy stays clean for the next 10 years, goes on to win a world title and becomes one of the greatest mixed martial artists to ever live, he's always going to hear it," White said. "It will always be in every article written about him. Opponents are going to call him a woman beater. It's going to follow him the rest of his life. You don't shake that. It stays with you forever."
Light heavyweight Alonzo Menifield earned a UFC promotion on Tuesday night with his second win on DWTNCS.
Contact Adam Hill at ahill@reviewjournal.com or 702-277-8028. Follow @AdamHillLVRJ on Twitter.