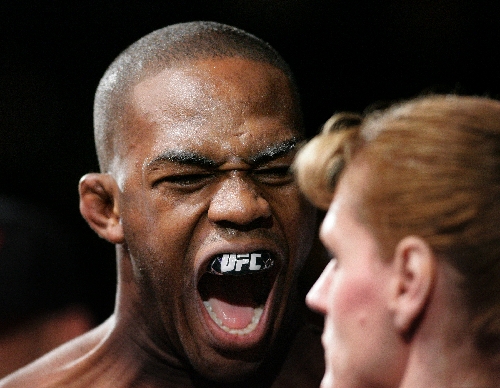 Ultimate Fighting Championship president Dana White placed the blame entirely on light heavyweight champion Jon Jones and his coach Thursday after having to cancel a UFC card for the first time in his 11 years in charge.
"UFC 151 will be remembered as the event Jon Jones and Greg Jackson murdered," White said, referring to the called-off Sept. 1 event at Mandalay Bay Events Center.
White insists he was left with no choice after Jones, on the advice of Jackson, declined to fight fill-in opponent Chael Sonnen when original challenger Dan Henderson suffered a right knee injury and had to pull out of the bout.
White said he began scrambling for a replacement opponent Wednesday night when he learned Henderson would not be able to fight because of a partially torn medial collateral ligament. White thought it would be difficult to find someone willing to fight the dominant Jones on such short notice, but was pleasantly surprised by the enthusiasm with which Sonnen accepted.
"Not only did he say he would take the fight, he told me, 'I'll fly to Las Vegas tonight and fight him at any hotel you want,' " White said.
That was about 8 p.m. Wednesday. Later, White got word from Jones' camp that the light heavyweight champion refused to fight the new opponent.
"The one thing I never thought would happen in a million years happened," said White, who added that he is "disgusted" with Jones. "A guy who's the world champion and one of the pound-for-pound best in the world turned down the fight. That has never happened in the history of the UFC, a guy who is a champion refusing a fight."
Sonnen, one of the most notorious trash-talkers in the sport, recently announced a move back to light heavyweight (205 pounds) after having fought at middleweight (185) since 2005, following two unsuccessful middleweight title bouts, including a knockout loss to Anderson Silva on July 7. Sonnen went on ESPN's "SportsCenter" on Thursday to express his outrage at Jones' decision.
"This guy is an entitled brat," Sonnen said. "What else does he have to do Saturday? I don't know what his deal is, maybe Dana didn't make it clear enough that he was willing to fly Jon Jones out, maybe Jones thought he had to drive."
Jones pleaded guilty to a DUI charge this year. He also recently signed a major endorsement deal with Nike, a fact that Sonnen also referenced, saying: "Nike with Jon Jones will have to change their slogan to 'Just Do Nothing.' "
While Jones has yet to comment on the situation, White pinned much of the blame on noted trainer Jackson. According to White, Jones conferred with Jackson on whether to take the fight and Jackson said it would be a mistake to switch opponents on such short notice.
"This guy is a sport killer," White said of one of MMA's top coaches. "He told Jon Jones taking the fight against Sonnen would be the biggest mistake of his entire career. This guy should never be interviewed by anyone ever again except for maybe a psychiatrist."
White has often expressed pride in the UFC's ability to keep cards together through any kind of adversity and was clearly irate his backup plan failed this time. White said that while the organization will lose a great deal of money it had invested in the card, the real fallout of the cancellation is the many others who rely on major events for revenue.
"Sure, Jon Jones is rich. What does he care if he cancels the fight?" White said. "But 20 other fighters on the card added up to almost half a million dollars in purse money that Jones and Greg Jackson's decision stole from them.
"Many people, from fans to (pay-per-view) distributors, TV networks, sponsors and more importantly fighters who are working hard to support their families and build their careers are hurt badly by this selfish decision."
Charlie Brenneman, scheduled to fight on the undercard, tweeted an address at Jones and jokingly requested a check, preferably by the time rent is due.
Jones will now defend the belt against Vitor Belfort in the main event of UFC 152 in Toronto on Sept. 22. After originally announcing that card would be changed to UFC 151, the organization announced via Twitter that the Toronto card would remain UFC 152 and UFC 151 would simply never take place.
Henderson said Thursday his injury won't require surgery.
Fans who purchased tickets to the Sept. 1 card at Mandalay Bay can receive a refund from the point of purchase.
Contact reporter Adam Hill at ahill@reviewjournal.com or 702-224-5509. Follow him on Twitter: @adamhilllvrj.