UFC champ Daniel Cormier to defend title with rival Jon Jones watching
Updated April 7, 2017 - 11:45 pm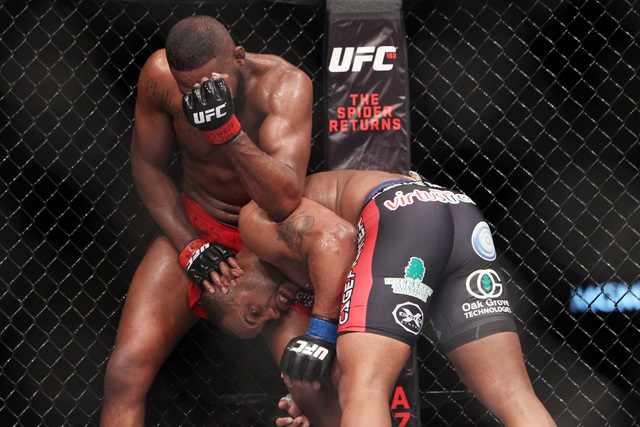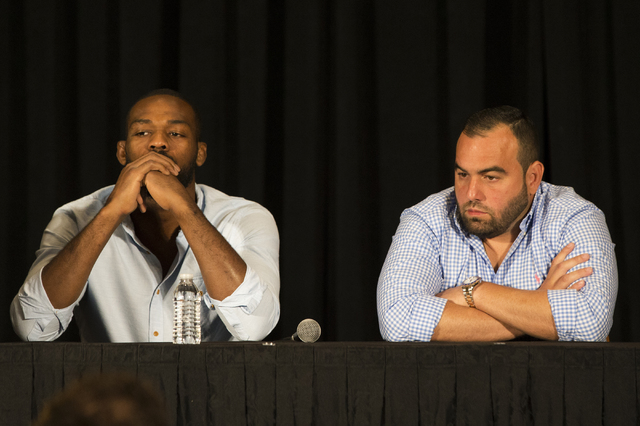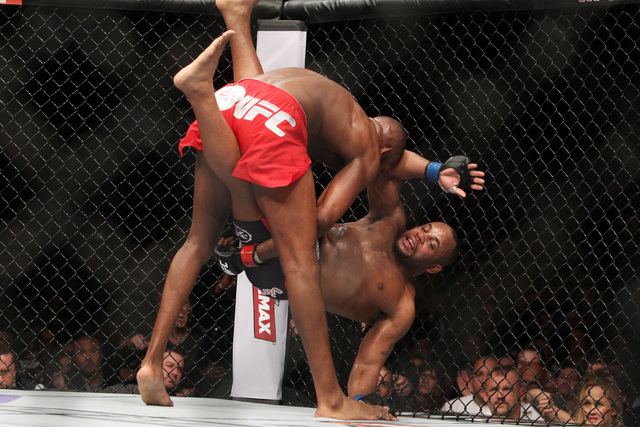 BUFFALO, N.Y. — Daniel Cormier has been the UFC light heavyweight champion for almost two years, but he still can't escape the shadow of Jon Jones.
And Jones says he'll be watching when Cormier defends the title against Anthony Johnson on Saturday in the main event of UFC 210 at KeyBank Center.
Jones, a native of nearby Rochester, New York, who is eligible to return in July from a suspension for a violation of the UFC's anti-doping policy, held a news conference Friday night at the arena and said he will attend the event.
Cormier has taken notice of the advertisements promoting Jones' UFC 210 after-party around the city.
"We're in the championship fight in his backyard, and he's going around signing autographs and hosting after-parties," Cormier said. "Get it together. Come on, man.
"The guy still isn't eligible to fight. He's here, but he still can't fight. I think it's pretty embarrassing that he's actually in public right now. I think you should still be staying back until you're eligible."
That has been a constant battle for Jones. He was stripped of his title in early 2015 after he was charged in a hit-and-run accident, which happened just months after he tested positive for cocaine during training camp before his win over Cormier.
Jones and Cormier were scheduled to meet at UFC 200 last year, but the fight was canceled the week of the card after Jones failed an out-of-competition test for an estrogen blocker he claims came from a tainted sex pill.
Cormier left the door open for return fire when he initially missed weight Friday. He tried again two minutes later and had dropped 1.2 pounds, making the title fight official, but it was unclear how it happened.
Jones said he thinks Cormier used a towel as leverage to trick the scale and called it "blatant foul play" and "one of the dirtiest things I've ever seen in sports."
That was before Jones really took aim at the champion.
"I really don't feel like I have unfinished business with Daniel Cormier. I beat him fair and square," Jones said. "I'm the only one to ever beat him. If anyone has unfinished business, it's him with me. He's no greater than any other person I've beat. I look at him like he's Stephan Bonnar or whoever else I've beat in the past.
"I think he's just really upset I'm here and I may have stolen some of his spotlight, but that wasn't my intention. I just wanted to come here and watch two guys that I may be fighting. He hates me, that's safe to say. I annoy him a lot, and it definitely works to my advantage to be so deep in this guy's head."
Even though they have only fought each other once, Jones and Cormier have quite the history. They've had several scheduled bouts postponed, they have sparred verbally often, and both were disciplined for a melee after a news conference in the lobby of the MGM Grand.
Cormier warned there could be a repeat if he wins Saturday and Jones tries to enter the cage to challenge him for the title.
"He better not come in my cage after I win," Cormier said. "He's not welcome in there, he's still suspended. When he's eligible to fight, then he can walk in the cage, but if he dares to step foot in that octagon, something bad will happen."
That's usually a place where Cormier is at his best.
The former Olympic wrestler's only loss came against Jones, but in his next fight he defeated Johnson to win the title.
Cormier then retained the belt with a narrow victory over Alexander Gustafsson, and in his only fight of 2016, he dominated late-notice replacement Anderson Silva at UFC 200.
But Cormier still can't avoid the presence of Jones. Even though the former champion has fought just once since their January 2015 bout, Cormier knows his legacy is tied to Jones.
"Under the circumstances of which I won the championship, I have to beat him or it will forever cast a shadow on what I've done," Cormier said. "It's very sad, too, because I've done a lot of things in my career that should separate me from one night in January."
He could get the chance in July. Jones becomes eligible before UFC 213 on July 9 at T-Mobile Arena, and all indications are he will headline the event against Cormier — Jones' pick to win Saturday — or Johnson.
The pay-per-view broadcast begins at 7 p.m.
Contact Adam Hill at ahill@reviewjournal.com or 702-277-8028. Follow @adamhilllvrj on Twitter.
UFC 210 main card
The main card for UFC 210 on Saturday at KeyBank Center in Buffalo, New York. The pay-per-view broadcast begins at 7 p.m.
— Daniel Cormier (18-1) vs. Anthony Johnson (22-5), for Cormier's light heavyweight title
— Chris Weidman (13-2) vs. Gegard Mousasi (41-6-2), middleweights
— Cynthia Calvillo (4-0) vs. Pearl Gonzalez (6-1), women's strawweights
— Thiago Alves (26-12) vs. Patrick Cote (24-10), welterweights
— Will Brooks (18-2) vs. Charles Oliveira (21-7, 1 No Contest), lightweights