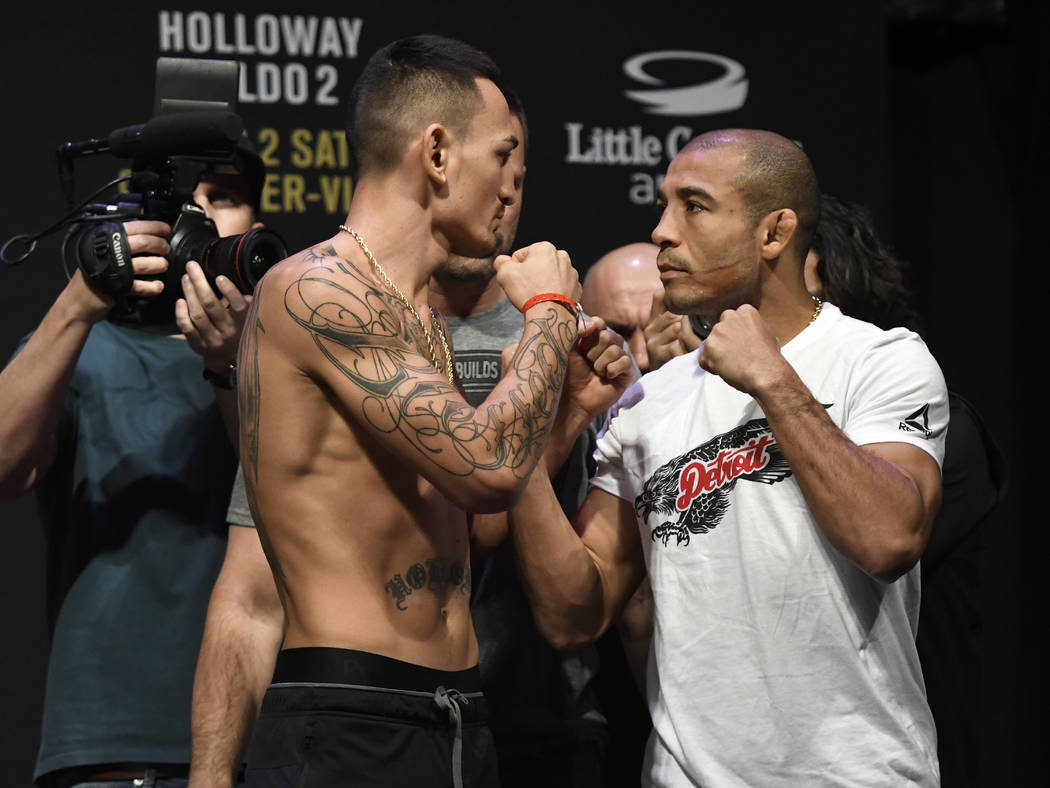 Athletes have been compared to fictional and mythical characters for as long as sports has been a part of pop culture.
It might seem unusual, however, to hear UFC featherweight champion Max Holloway explain what he has in common with the little blue fish that suffers from short-term memory loss in "Finding Nemo."
"You can call me Dory," he said as he prepared for his first title defense, against Jose Aldo, whom he took the belt from in June. "I don't even remember fighting this guy. It's a whole new guy, and I'm going down and I'm going to fight him. This is what I have to do."
The rematch headlines UFC 218 on Saturday in Detroit. But Holloway, who has won 11 straight fights, wasn't supposed to fight Aldo again.
He had been booked for a fight against Frankie Edgar, but Edgar suffered a broken bone in his face while training and pulled out of the bout.
Aldo was quick to step in on late notice for the opportunity to regain the title.
"I think this is a new chapter in my story," he said. "I think that the first fight was great, and I think that we gave our all. We both came out as champions. I think it was a great fight, and I think that the fans are the ones who win."
Holloway had been ready to move on to a new challenge, but wasn't about to turn down an opportunity to defend his belt and get a second win over the longest-reigning featherweight champion in UFC history.
"I'm just having a fight," Holloway said. "I told the people of Detroit, I told my fans, I sacrificed too much time not to fight on that card, and he's the guy that pulled the straw and he's the next guy up. I get to prove it to everybody again that I'm the best in the world.
"I'm in the hurt business. I want to get my belt, and I want to win. I don't care who I fight. I can fight this guy 10 times in a row, I'll be motivated. That's just what I am. It doesn't take much to be motivated."
Holloway has been on a tear since losing to Conor McGregor in August 2013. The defeat seemed to unleash something in the 25-year-old Hawaiian that took him all the way to the title.
He insists he is as driven now that he has accomplished that goal.
"The belt is great," he said. "What comes with the belt? Bigger paydays, more pay per views and a lot more stuff. A belt is a belt, a fight is a fight. I'm not trying to go out there and get my butt whooped in front of millions of people watching at home, thousands of people in the arena."
Aldo knows what being a champion is all about, too. He held the belt from the time the division was created in 2011 until he was knocked out by McGregor in 2015.
Aldo won the belt back in his next fight when he beat Edgar for the interim title and McGregor vacated the crown by moving up in weight.
Saturday marks the first time Aldo will fight as a challenger since 2009 when he was a top contender in World Extreme Cagefighting.
"This is going to be the first UFC fight he's walking out first, and he's going to be announced first," Holloway said. "There's a lot of weird things that I think is weird for him."
The bout headlines a pay-per-view card that includes a heavyweight contender bout between Alistair Overeem and Francis Ngannou. A lightweight bout between Justin Gaethje and former champion Eddie Alvarez, who served as opposing coaches on Season 26 of "The Ultimate Fighter," is also featured.
The pay per view begins at 7 p.m. The preliminary card airs on Fox Sports 1 at 5.
More MMA: Follow all of our MMA and UFC coverage online at CoveringTheCage.com and @CoveringTheCage on Twitter.
Contact Adam Hill at ahill@reviewjournal.com or 702-277-8028. Follow @AdamHillLVRJ on Twitter.
UFC 218
Main card bouts for Saturday's 7 p.m. pay-per-view event in Detroit:
— Max Holloway (18-3) vs. Jose Aldo (26-3), for Holloway's featherweight title
— Alistair Overeem (43-15, 1 No Contest) vs. Francis Ngannou (10-1), heavyweights
— Henry Cejudo (11-2) vs. Anthony Pettis (16-2), flyweights
— Eddie Alvarez (28-5, 1 No Contest) vs. Justin Gaethje (18-0), lightweights
— Tecia Torres (9-1) vs. Michelle Waterson (14-5), women's strawweights