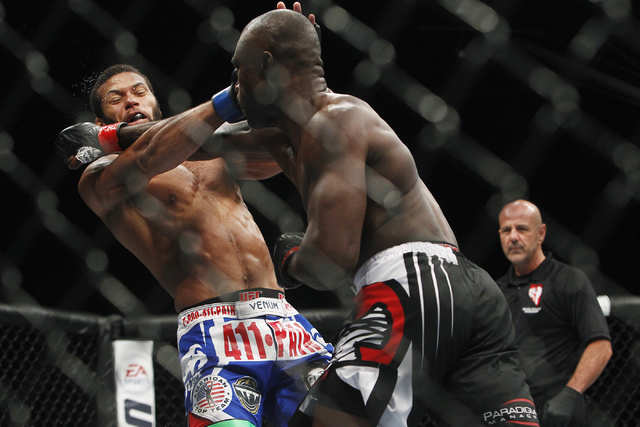 UFC FIGHT NIGHT 94 MATCHUPS
A breakdown of the fights on the main card of Saturday's UFC Fight Night 94 event in Hidalgo, Texas:
Dustin Poirier (20-4) vs. Michael Johnson (17-10)
CLASS: Lightweight
LINE: Poirier -165
STORYLINE: Two of the most dynamic athletes in the lightweight division face off in what promises to be an explosive main event. While recent results suggest fighters going in different directions, that is a bit misleading. Johnson inexplicably lost a decision to Beneil Dariush in a fight in which he easily could have been awarded all three rounds and then dropped a close decision to Nate Diaz when Diaz delivered one of the best performances of his career. Poirier finally appears to be living up to his full potential, but his four straight wins since returning to 155 pounds haven't come against elite competition. This fight feels like it should be closer to even on the betting boards. Johnson is capable of beating anyone in the division and he is now healthy after shoulder surgery. Poirier is one of the most purely talented fighters in the organization, but has been prone to letdowns throughout his career. Both fighters are very dangerous, so there may be more caution than expected early in the fight. The value is just too good on Johnson as an underdog.
PICK: Johnson by decision
Uriah Hall (13-6) vs. Derek Brunson (15-3)
CLASS: Middleweight
LINE: Brunson -190
STORYLINE: There's not much mystery to how these fighters are going to approach this bout. Hall is a pure striker with vicious knockout power and several highlight-reel knockouts on his resume. Brunson is a solid wrestler that will have a huge advantage in that aspect of this matchup. While Brunson has developed some impressive power, recording three consecutive first-round knockout victories, expect him to take the path of least resistance against Hall. Brunson has won six of seven fights since signing with the UFC and knows the importance of securing the victory as he continues his ascension in the division. Hall has just been far too inconsistent after generating a ton of hype with his performances on "The Ultimate Fighter." Even when he's been able to keep fights standing, he has too often been hesitant to initiate the action. Hall is certainly more than capable of putting Brunson away, much as he did against Gegard Mousasi last year, but far too often bettors holding tickets on Hall are just left shaking their heads at the end of his fights.
PICK: Brunson by decision
Evan Dunham (16-6) vs. Rick Glenn (18-3-1)
CLASS: Lightweight
LINE: Dunham -310
STORYLINE: Dunham was booked for a big showdown with Abel Trujillo, but will instead fight late-replacement after Trujillo was forced out of the bout due to injury last week. While it's a step down in competition, the Las Vegan still has a chance to pick up a fourth straight victory. It's risky to lay this big of a price on Dunham, who too often elects to engage in brawls instead of taking advantage of his superior grappling skills. He is on a great run, however, and insists he has the right mentality to make a real run in the division. Glenn, the former World Series of Fighting featherweight champion, accepted the fight at lightweight on less than two weeks' notice in order to finally get his shot in the UFC. He is more than capable of winning fights at this level, but a matchup with the larger Dunham is a tall order.
PICK: Dunham by second-round submission
Roan Carneiro (20-10) vs. Kenny Robertson (15-3)
CLASS: Welterweight
LINE: Robertson -120
STORYLINE: Carneiro is 1-1 in his second stint in the UFC nearly a decade after he made his debut in the organization. He was released in 2008 and had success on the regional circuit to earn another shot last year. Carneiro is very skilled in jiu-jitsu and has power in his hands. He does tend to wear down quickly, however, and he could be in trouble against the scrappy Robertson if he can't finish the fight early. Robertson is a solid wrestler that should be able to neutralize Carneiro enough in the first few minutes to extend the fight. Look for him to take over in late in the first round and eventually stop Carneiro, whose conditioning issues may be compounded by cutting down to welterweight, late in the fight.
PICK: Robertson by third-round knockout
Chris Wade (11-2) vs. Islam Makhachev (12-1)
CLASS: Lightweight
LINE: Makhachev -120
STORYLINE: Makhachev entered the UFC with a great deal of hype, largely due to his success in combat sambo and his affiliation with phenom Khabib Nurmagomedov. Some of the luster was lost when Makhachev dropped his second fight in the organization to Adriano Martins last year. He then missed an extended period of time due to a positive test for meldonium, but that was lifted in July and he is ready to resume his career. Wade is also coming off his first UFC loss after the talented wrestler won his first four fights in the organization. The matchup between his wrestling and Makhachev's sambo should provide for some fascinating moments. If they neutralize each other, Wade probably has a striking edge. There were signs of trouble for Wade in his last fight beyond just taking a loss. He wasn't able to take Rustam Khabilov down and Wade was dragged to the mat several times. Makhachev is a somewhat similar opponent and it could turn into a repeat of a show Wade didn't like very much.
PICK: Makhachev by decision
Chas Skelly (15-2) vs. Maximo Blanco (12-7-1, 1 No Contest)
CLASS: Featherweight
LINE: Skelly -180
STORYLINE: Blanco is one of the most inconsistent fighters in the entire organization. He has mixed puzzling performances in with spectacular finishes and has yet to put his skills together enough to get any kind of momentum. Skelly has a solid wrestling base and will likely look for the fight to be free of the drama that tends to characterize Blanco's fights. He will likely hunt takedowns early and often to try to control the pace and dictate where the fight takes place. It could be a frustrating night for Blanco.
PICK: Skelly by decision