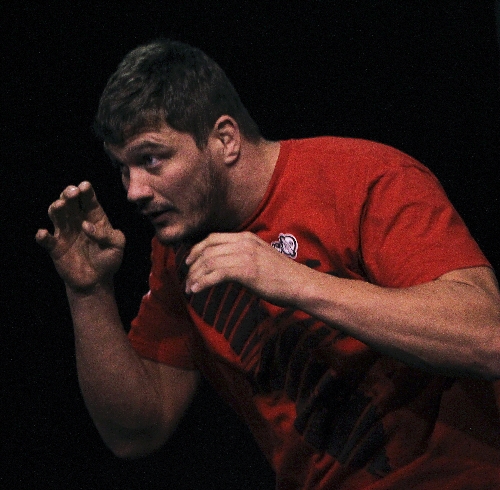 Ultimate Fighting Championship heavyweight contender Matt Mitrione harbors no regrets for not making the switch from football to mixed martial arts earlier in life.
Instead of being an unbeaten 33-year-old prospect, his career might well have fizzled before it ever started had he taken up MMA much sooner than 2009.
"I partied hard for a long time, so I probably would have been a flash in the pan if I was even a flash. I might have just been cooked up in the pan," he said. "It's something that I'm mature enough to be able to handle now. When I was younger, I was a dumb-ass and I was drunk and I partied way too hard, so I would have (messed) it up somehow."
Mitrione has four knockouts in five fights, all in the UFC. He will take a big step up in competition Saturday when he meets Cheick Kongo in UFC 137 at Mandalay Bay Events Center.
"If Kongo's not the gatekeeper, he's a dude who's mad tough, and you find out where you're at," Mitrione said. "He's a measuring stick, if you will."
Mitrione is ready to find out where he is in MMA, just more than six years after he realized his football career was over.
A defensive tackle out of Purdue, Mitrione played in nine games for the New York Giants in 2002. He found himself hanging on to a roster spot for the Minnesota Vikings in 2005 when he was released during Week 6 to make room for an offensive lineman to replace an injured player. A week later, his oldest son, Jacob, was born.
Each week, the Vikings told Mitrione to hang tight and he would be re-signed. Eventually, his patience wore thin.
"I was just like, 'Go to hell, man.' I can't wait on my paycheck. My paycheck can't rely on other people. I didn't get cut because I screwed up. So I could do everything right and still get cut," he said. "I can't do that. It's not fair to my family; it's not fair to my kids. So I bounced and went to corporate America for a bit. That was probably the thing that made me grow up the most.
"Don't get me wrong. I still screw up plenty but just much less often."
Between football and MMA, Mitrione spent four years in a less thrilling occupation, designing and selling employee benefit packages for corporations.
"It was not a lot of fun," he said. "I covered the entire state of Wisconsin, minus Milwaukee and Madison."
Then came a call from then-Philadelphia Phillies outfielder Jayson Werth, who wanted to gauge Mitrione's interest in fighting on an MMA card that Werth was putting together.
Mitrione, who had studied karate as a kid and participated in a tough man-style kick-boxing tournament as a teenager, agreed but ended up missing the card because of an injury. Still, the relationships he made with Indianapolis UFC fighters Chris Lytle and Jake O'Brien while training piqued his interest in the sport, and less than six months later, Mitrione found himself on "The Ultimate Fighter."
Neal Melanson, one of his coaches, says Mitrione's football background has been helpful in his transition to MMA.
"He's extremely explosive and the best pure athlete I've ever trained," Melanson said. "Plus, he kind of brings a unique approach to training where he treats it kind of like he plays in football. You might have one bad play, but don't get all bent because the next play you get to start over, which is kind of a neat idea for training rounds."
Mitrione appears to have come a long way from pure athlete appearing on "TUF" to on the verge of the upper echelon of the heavyweight division, but his success doesn't surprise him.
"I'm arrogant enough to think I could always get here. I believe in myself," he said. "I always think when it comes to something athletic or intellectual, like chess-matchwise, I can hold my own. But I really haven't accomplished anything."
That could start to change with a win over Kongo.
Contact reporter Adam Hill at ahill@reviewjournal.com or 702-224-5509. Follow him on Twitter: @adamhilllvrj.