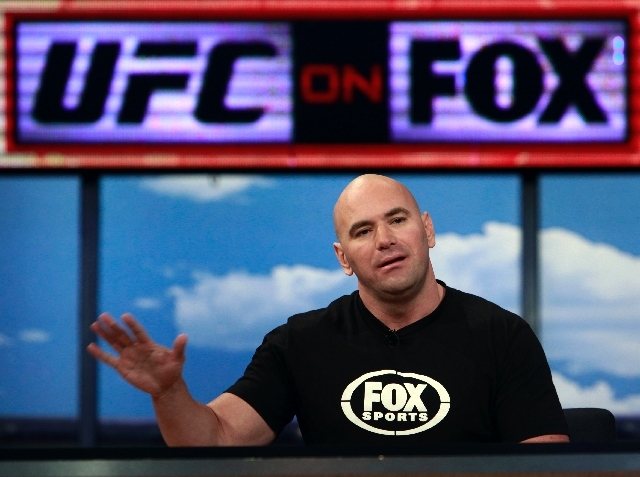 Ultimate Fighting Championship, the Las Vegas-based combat sport juggernaut, has launched a bold TV initiative in Latin America and Mexico with a joint-venture deal with Televisa Networks to air UFC programming in 20 Spanish-speaking countries while also launching a subscription UFC TV channel.
Under the exclusive distribution agreement, Latin American and Mexican viewers — except those in Brazil — will have access to more than 20,000 hours of UFC content, including 35 live annual events. The new UFC subscription network, available in late 2013, will feature original programming such as reality series to be broadcast in Spanish.
The deal with Latin American TV powerhouse Televisa mirrors UFC's arrangement in Brazil, where UFC commenced a joint-venture agreement with media company Globo to distribute free and paid programming in 2002. The current deal runs 10 years from 2013-23. UFC is very popular in Brazil, which has produced one of the MMA's biggest names — UFC champion Anderson Silva.
"We replicated the strategy in Latin America," said Lorenzo Fertitta, owner and co-founder of Zuffa LLC, UFC's parent. "The obvious partner is Televisa. They're the dominant player."
The potential eyeball numbers are staggering. The UFC Channel's potential reach in Latin America outside of Brazil is 40 million households. If you include the reach in Brazil with the paid UFC Combate network, the combined reach would be 55 million. The Combate channel costs $20 a month in U.S. dollars.
UFC prefers to partner with TV content distribution companies such as Televisa and Globo rather than sell its content in conventional broadcast licensing deals because it allows UFC to work closely on the marketing and promotion of its brand and TV channel with its partners while also sharing revenues.
Fertitta does not know how much revenue the new deal will generate for UFC.
"We're still working on what the market will bear. It's too early to tell," he said.
He said creating a UFC channel in Mexico and Latin America is similar to the NFL creating its own TV network.
"We feel our content is the driving force. We want to participate. We have evolved to the point where we want a channel to carry programming and we wanted to have ownership in that channel," Fertitta said.
The TV deal is part of UFC's overall global strategy of expanding its brand around the world, Fertitta said.
Future frontiers for UFC are Asia and Europe, he said.
UFC has already extended its brand globally to a major degree. Its television programming is available in more than 800 million homes in more than 145 countries, in 28 different languages. UFC also has offices in London, Toronto and Beijing.
In Mexico alone, the UFC fan base exceeds 33.4 million people. It's a ripe market for UFC content, Fertitta noted, because its research shows the UFC brand ranks in the top five sports in Mexico.
"We always thought Mexico was going to be a good fit for us. From a cultural standpoint, Mexico had a large fan base for boxing and combat sports," Fertitta said. "They have a younger demographic that would be looking at UFC as their combat sport while boxing is your father's combat sport."
Fertitta said the four free premium TV fight events in Mexico and Latin America will also expose the UFC product in markets where the billion-dollar organization plans to stage live shows in as early as 2014.
Bruce Boren, Televisa Networks general manager, issued this statement: "The new UFC Channel occupies a coveted position in both sports entertainment and lifestyle ecosystems. Through live fights, UFC classic bouts, Strikeforce, Pride, and other related content for the mixed martial arts fans, this 24/7 channel further strengthens Televisa Networks' offering."
Besides the TV deals with Televisa and Globo, UFC last year also cut a seven-year broadcast agreement with FOX Sports Media Group for live events and thousands of hours of programming. It includes TV's longest-running sports reality show, The Ultimate Fighter, which moves to FOX Sports 1 in September.
The Televisa deal goes into effect quickly as the company has the rights to air UFC content starting in June.
Fans can watch UFC programming on TDN in Mexico and Golden Channel in Latin America, including four live events broadcast on Televisa free-to-air Channel 5 in Mexico and other free-to-air networks in Latin America, annually.
Contact reporter Alan Snel at asnel@reviewjournal.com or 702-387-5273.