UFC star Cris 'Cyborg' Justino wants to try her hand at boxing
December 25, 2017 - 5:32 pm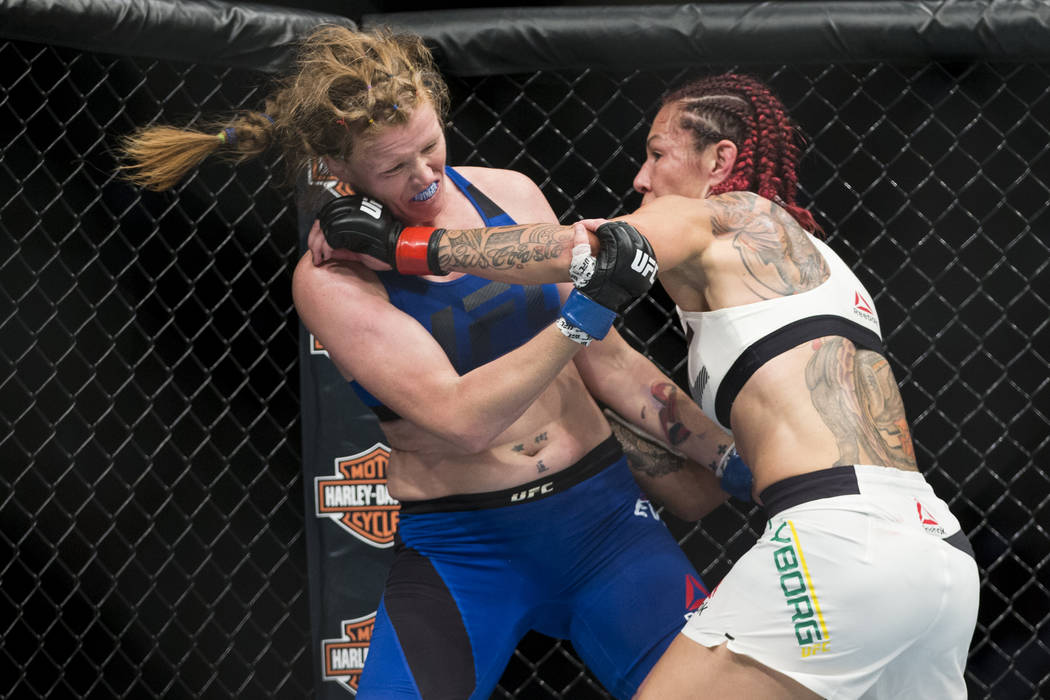 UFC women's featherweight champion Cris "Cyborg" Justino is on the verge of finally headlining her first pay-per-view event for the organization. Yet she already has one eye on the future.
Justino, who will put her belt on the line against former women's bantamweight champion Holly Holm in the main event of UFC 219 at T-Mobile Arena on Saturday night, would love to follow in the footsteps of Conor McGregor one day.
McGregor ventured from the cage to the boxing ring in the same building in August for a historic bout against Floyd Mayweather Jr.
"It would be really nice to finish my career and maybe do one boxing fight, but I don't know if that will happen," Justino said on a conference call. "I love to compete. I was competing when I was 12-years-old. Sometimes you win, sometimes you lose, but you learn. "I like to compete in everything. I like to compete in jiu-jitsu, I like to compete in wrestling and Muay Thai, and if I have a chance to compete in boxing one day, why not? I think when you train in just one sport separately you learn more."
Justino has developed into one of the most feared female strikers in the history of mixed martial arts. After dropping her professional debut in 2005, she has won 18 straight fights.
She had been considered the best 145-pound female fighter in the world for several years, but the division was not part of the UFC.
Justino tried on several occasions to cut down to 135, but couldn't safely do so.
She took a couple catchweight bouts at 140 until finally getting her chance to shine when the featherweight division was added at the beginning of 2017.
Now Justino will get the chance to end the year on the marquee for a major event in Las Vegas against an opponent with a counter-punching style that may be the perfect antidote for Justino's aggression.
It's the kind of challenge that could take Justino to another level in her career.
"I think the fight is going to be great," Justino said. "Holly has experience. It's hard to say it's going to be the hardest fight because I don't know what the future will hold, but I think it will be a different fight. Maybe I can show more parts of my game. People don't know I'm a two-time world champion in jiu-jitsu. I think it will be amazing because of that.
"Whenever I go inside the cage, I never think that I'm 10 years undefeated and that I'm the champion. I never think like that. I leave it to other people to think about me like that; I just have to think about getting better each time I fight."
Then she can start to think about the future.
UFC president Dana White has indicated he intends to test the waters and expand his reach in the boxing world, though he says he plans on promoting boxers and not just bringing his UFC fighters over to the ring.
Justino hopes to at least give it a try and she has made it known to White.
"Dana knows that," she said of her desire to box. "I told him if I had an opportunity like McGregor to do one boxing fight, yeah I would like to do that. I love my job, I love to fight and I love to compete. I don't want to end my career and think about why I didn't do it. I want to do it. I must train hard and do what I have in front of me when they have an opportunity for me."
The bout against Holm headlines a 7 p.m. main card on Saturday.
Lineker out of UFC 219
Bantamweight contender John Lineker underwent emergency surgery in Las Vegas due to an infection in his wisdom teeth on Sunday and will be unable to fight Jimmie Rivera on Saturday night.
Lineker had stepped in as a replacement for former bantamweight champion Dominick Cruz, so now Rivera is again left without an opponent.
Rivera and Marlon Moraes have gone back-and-forth on Twitter and appear to have agreed to fight at UFC 219, but there has been no word from UFC officials as of Monday evening.
Woodley expects quick return
UFC welterweight champion Tyron Woodley underwent surgery on his injured shoulder, but hopes to be back early in 2018.
"With the stem cell and (platelet rich plasma injections), the new technology and science, I'm going to be fighting in the first quarter of next year," he said on his TMZ show. "In two months, I'll be punching something."
Famed sports surgeon Dr. James Andrews performed the procedure.
Contact Adam Hill at ahill@reviewjournal.com or 702-277-8028. Follow @AdamHillLVRJ on Twitter.
Schedule
■ Saturday: UFC 219 (FS1/PPV), T-Mobile Arena
■ Jan. 13: Invicta FC 27, Kansas City, Missouri
■ Jan. 14: UFC Fight Night, St. Louis
■ Jan. 20: Bellator 192 (Spike), Inglewood, California
■ Jan. 20: UFC 220, Boston