UFC's Rosholt seeks to improve striking but relies on wrestling
February 5, 2016 - 12:24 am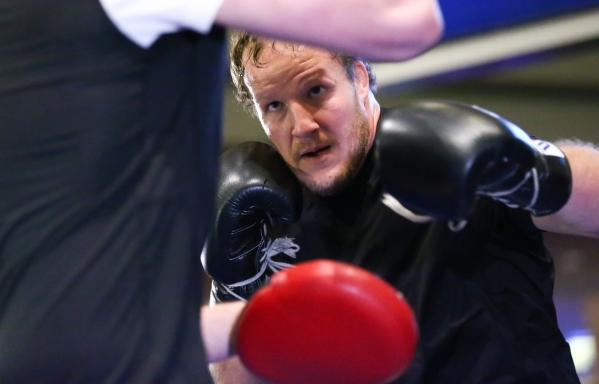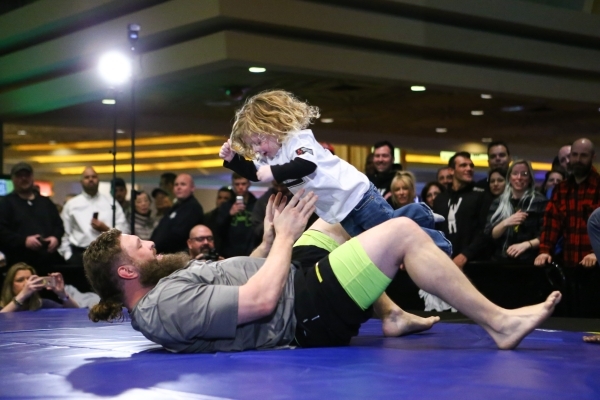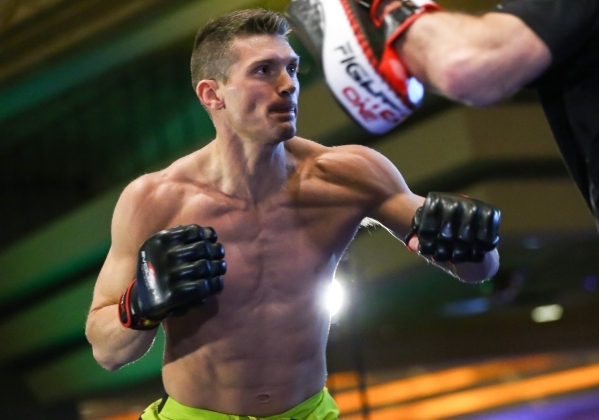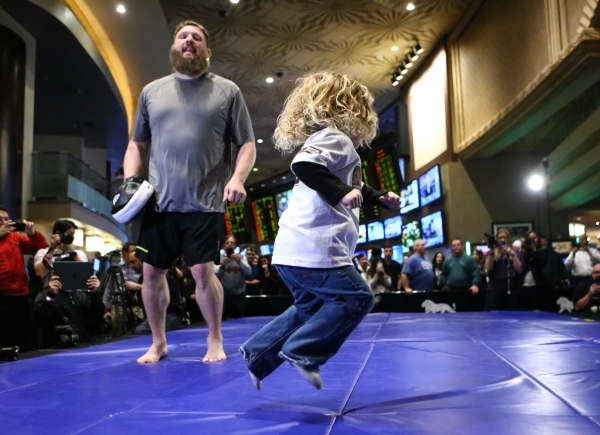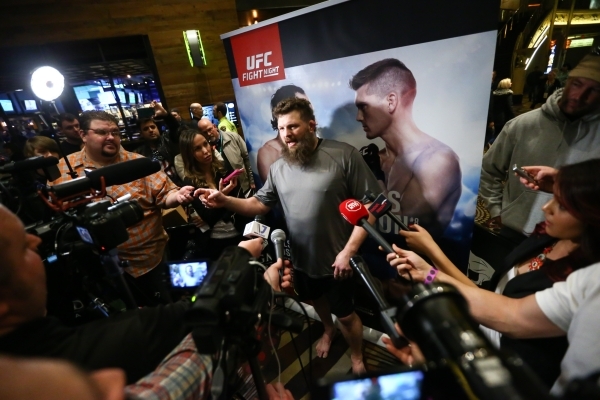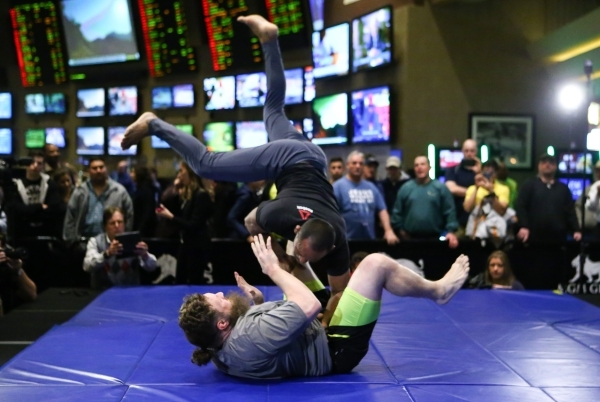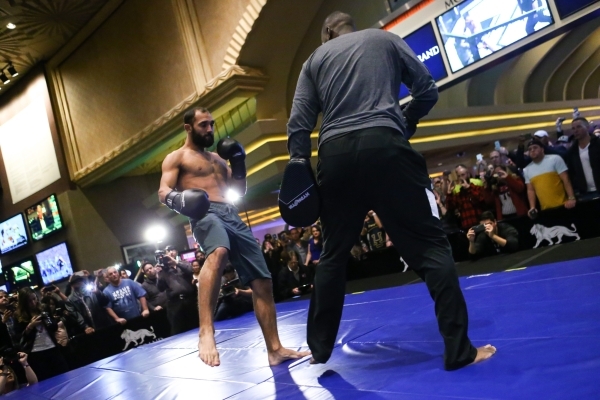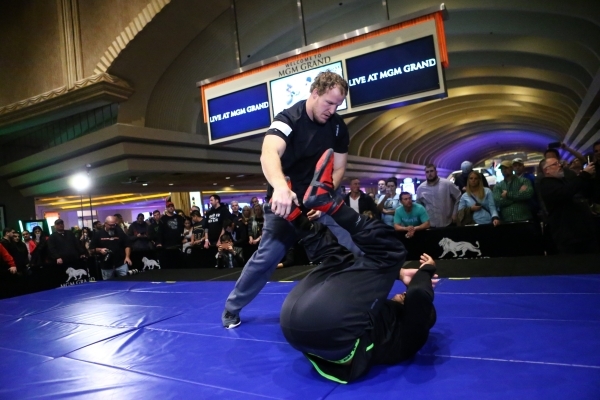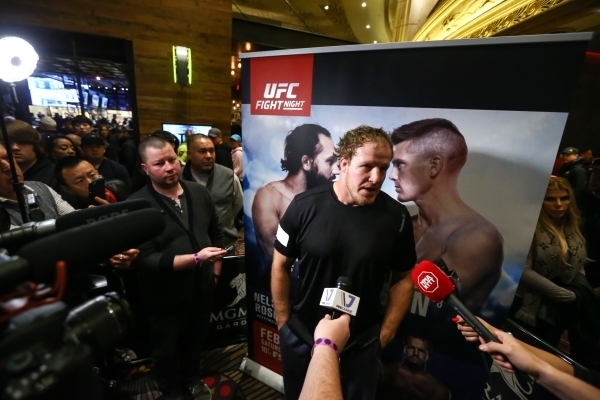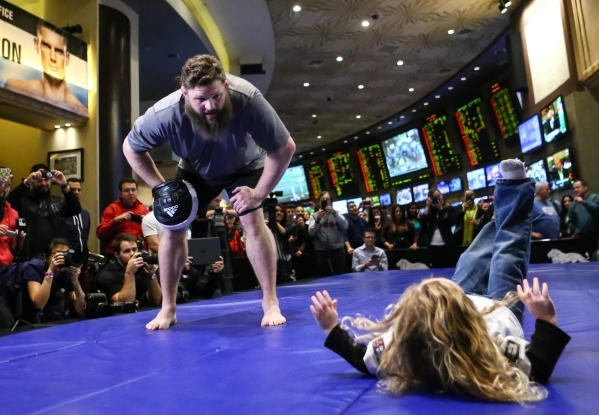 All of the amateur coaches out there should probably just not waste their time when it comes to doling out advice to Jared Rosholt.
The Ultimate Fighting Championship heavyweight doesn't need the help.
Rosholt, a three-time All-American wrestler at Oklahoma State, knows that he must continue to work on his striking if wants to reach his full potential as a mixed martial artist.
"It's funny, you go on social media, and somebody's always telling you, 'You need to go work on your boxing,'" Rosholt said Thursday at an open workout in advance of his Saturday bout against Las Vegan Roy Nelson on the UFC Fight Night 82 card at the MGM Grand Garden.
"I'm like, 'Listen, bud, this is what I do every single day of the week. I go and work on my striking.' I have no problem seeing my weaknesses, and I work on them all the time. I definitely think I'm still developing. Everybody knows I need to work on my striking and get better there before I get toward a title shot. I know that. Nobody's holding blinders over my eyes. I know I need to work on that if I want to be the best. So I'm just going to take my time and fight whoever they want me to fight and keep working."
Despite the limitations, the 29-year-old Idaho native has done pretty well in the UFC. He has won three straight fights and six of seven since joining the organization in 2013.
He has done so largely by relying on the wrestling ability that made him so successful at the collegiate level during a career that ended with a loss in the finals of the 2010 NCAA heavyweight championships.
"You work all those five years of college, four years competing, and you lose at the biggest time in your life," he said. "At that point, I was just kind of done with wrestling, but I wasn't done as a competitor. I wanted to do something competitive. This kind of came up. I thought I could do it pretty well, and here I am."
That foundation has served him well.
"I'm definitely a wrestler," he said. "I have that base, and I look for control and top position. That's where I want to be. I know what my strengths are, and I know what my weaknesses are. I just stick with what I know and what got me here. A lot of people lose track of that. They get to the UFC and say, 'I have to do this flashy, Bruce Lee-looking stuff.' It's like, 'Hey, remember what got you here.' These guys go two-and-out in the UFC and they're done with their career. I remember what got me here. It wasn't boxing, and it wasn't kicking."
That and his quiet, country demeanor have led to Rosholt often being labeled as boring.
There could be pressure on him to either win fights in a more exciting manner or at least start creating some sort of drama outside the cage to build his brand as he rises up the ranks.
Rosholt, however, hopes being himself is enough.
"I think if I was going to act like that or try to be that person, I'd just come off looking like a fool," he said. "It's not really me. The people I know and respect would just kind of look at me and say, 'What are you doing?' I couldn't do that to myself.
"I don't think it's in my favor, but there's guys that get away with it like a Cain Velasquez, guys that seem pretty humble. Even (Daniel) Cormier and some of those guys. But Conor McGregor does what he does and backs it up."
Nelson might fall into the category of UFC competitors who haven't played to their strengths at the highest level of the sport. He wrestled in high school and is a jiu-jitsu black belt, but he has become largely a power puncher at this stage of his career.
He hopes to keep Rosholt from simply grinding out a win.
"I'm going to try to make it at least a fight," said Nelson, who doesn't appear to be entertained by the way Rosholt has won his fights.
"Boring fighter? If you have the word fighter, it means you go out and fight. I'm an old-school guy. When the UFC was founded, there was no time limit. You just had to finish the guy. I still have that mentality."
When asked specifically how he would characterize Rosholt, Nelson thought for a moment.
"I think he's a UFC athlete," Nelson said.
Nelson, 39, is seeking to end a three-fight losing streak. He said that while he still will be looking for the type of one-punch knockout with his right hand for which he has become known, he also might look to use the grappling skills he has all but abandoned in recent fights to try to submit Rosholt.
"I have this hammer, and it's like I forgot I have this drill, too, and I can drill people to death," Nelson said. "It's nice to have more tools."
So Rosholt plans to just keep being himself and winning fights the only way he knows how.
As for the social media haters that still feel the need to criticize his style and lack of a flamboyant persona, Rosholt also has a plan for that.
"I just block people that bother me, and I reply to the people who are nice," Rosholt said. "For every jerk I get, I get like 50 compliments. I have better stuff to do than sit around and listen to that stuff. I just block them and never think of them again. Ever."
The card is part of an event headlined by a welterweight contender bout between Stephen Thompson and former champion Johny Hendricks that will air at 7 p.m. Saturday on Fox Sports 1.
Contact reporter Adam Hill at ahill@reviewjournal.com or 702-224-5509. Follow him on Twitter: @adamhilllvrj